Michelle V. Porche, Ed.D.
Senior Research Scientist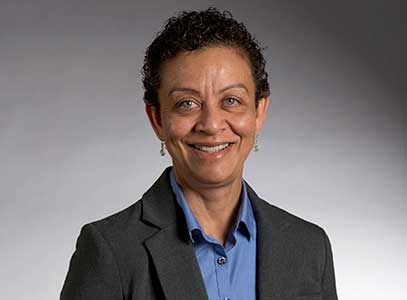 B.A., University of California-Los Angeles; M.Ed. and Ed.D, Harvard University
mporche@wellesley[dot]edu
Studies academic achievement for young children and adolescents, examining implications and factors related to gender, race/ethnicity, mental health and other social-emotional influences.
Michelle V. Porche, Ed.D., is a senior research scientist and former associate director of the Wellesley Centers for Women, studying academic achievement for young children and adolescents. In her investigations of achievement, the role of gender and socio-emotional factors, including childhood adversity, play a major part in her work. Her primary goal is to integrate research and practice in ways that contribute to programs and interventions that foster academic achievement for children from low-income families.
Dr. Porche is currently involved in several research projects:
She is directing the Gender, Achievement and Risk project, a study of the impact of childhood adversity on mental health and achievement outcomes for adolescents, and the ways that teachers can be supported in their instruction of troubled students. As a part of this project, she is partnering with University of Massachusetts Medical School researchers in the investigation of risk for substance use among adolescents who suffer from trauma and mental health disorders.
She is directing several evaluations of the Open Circle project, including a pilot of mindfulness and reflective practice within the Open Circle curriculum, and the scale up of Open Circle as part of a district-wide implementation. She is also directing an evaluation of the SEED Project on Inclusive Curriculum.
She is working with African refugee ethnic leaders in New Hampshire to implement a parenting intervention for families in transition to the U.S. This work is a follow up of the collaboration with researchers at Dartmouth University and University of Massachusetts Medical School for a Needs Assessment of Resettled African Refugee Youth in New Hampshire.
As Principal Investigator of the Success in Science, Technology, Engineering, and Mathematics (SISTEM) study, she is helping to learn more about why girls and underrepresented minority boys drop out of this academic pipeline. Although data collection and initial analyses have been completed, a series of papers are currently in development that describe findings.
Previous projects:
To discover more about ethnic/racial minority identity development, she was a Co-Investigator of the study of Adolescent Mixed Ancestry Identity: A Measurement Pilot.
Dr. Porche also led two evaluation projects of literacy interventions:
She directed an evaluation of the Collaborative Language and Literacy Instruction Project (CLLIP), a professional development intervention implemented in districts across Ohio. CLLIP has shown success in helping to narrow the achievement gap for low-income children from preschool to middle school in rural and urban districts.
She initiated the evaluation of Boston Ready, in order to assess the effectiveness of this professional development intervention for preschools using a randomized controlled trial. Boston Ready was led by the University of Massachusetts Boston, Institute for Community Inclusion in partnership with Boston Public Schools and the Wellesley Centers for Women (WCW).
Dr. Porche's literacy research is informed by work of the Home-School Study of Language and Literacy Development at Harvard Graduate School of Education, where she had been a research team member for over 10 years, and where she received her doctorate. Her book, Is Literacy Enough? Pathways to Academic Success for Adolescents (Snow, Porche, Tabors, & Harris, 2007), is a culmination of work on the Home-School Study and details achievement trajectories for children in the study followed from preschool to high school. In addition, Dr. Porche is a proud recipient of the Albert J. Harris Award for 2002 from the International Reading Association. This award honors an article making an outstanding contribution to the prevention and/or assessment of reading or learning disabilities: Jordan, Snow, & Porche, (2000). Project EASE: The effect of a family literacy project on kindergarten students' early literacy skills. Reading Research Quarterly, 35(4), 524-546.
Dr. Porche was the Associate Director of the Gender and Sexuality Project during its tenure at WCW. As primary methodologist on the longitudinal studies for that project, she helped develop several gender ideology scales: the Adolescent Femininity Ideology Scale (Tolman & Porche, 2000) and the Adolescent Relationship Masculinity Ideology Scale (Chu, Porche, & Tolman, 2005). She obtained her B.A. from University of California at Los Angeles in 1984 and her Ed.D. in Human Development and Psychology, Harvard University Graduate School of Education 1999.