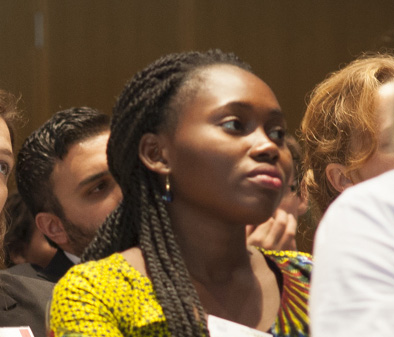 A Reformed Peace Conference Skeptic
Earlier this summer I attended--even though I was a skeptical about peace conferences and felt they were a waste of time, energy, and resources--the Third Annual Hague Peace Conference in Holland.
Living in a post-conflict country, Liberia, I had become aware that peace was simply not the absence of war, and until the international community recognized that, peace conferences would amount to nothing. Since attending this conference, however, my skepticism has been replaced with hope.
The Hague University of Applied Sciences organized the Third Hague Peace Conference, "not for government delegations but for the new generation of students who have a keen interest in contributing to better ideas on how to improve the maintenance of peace and humanitarian law." The Conference should have taken place originally 100 years ago, in 1915, but the outbreak of the First World War made it impossible.
The Conference evolved around an essay competition in which over 140 essays were received and of these, 75 students from 33 countries were selected, including mine. My essay highlighted my rather "unconventional" suggestions to contributing to peace around the world. Just like former Secretary-General Kofi Annan, I argued that gender equality is a perquisite to maintaining peace around the world. I drew my conclusions from one of his favorite quotes on gender equality--that it is "more than a goal in itself. It is a precondition for meeting the challenge of reducing poverty, promoting sustainable development, and building good governance." To illustrate my point, I gave an example of a research done by Saferworld which revealed that there is strong evidence that the gender norms which underpin gender inequality can drive conflict and violence, particularly where cultural notions of masculinity are associated with violence, domination, and control. A case study focused on some communities in South Sudan which revealed that participation in violent cattle raids, which perpetuates conflict between communities, was seen as a prerequisite to manhood and a rite of passage for young men in South Sudan.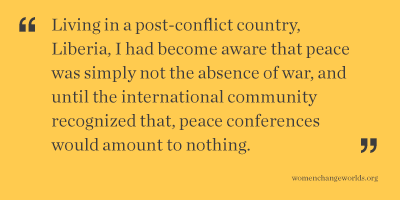 The three-day conference was full of conversations and speeches by professors, politicians, lawyers, and students from around the world and it helped further shape my ideas about peace and how, instead of been skeptical, I can contribute to achieving world peace. It wasn't merely these conversations or speeches that shaped my thinking, but mostly by being a part this global community I had the opportunity to use my voice--and the voices of other participants--to rally behind a common good. The conference exposed me to a lot of factors undermining peace around the world as well as possible solutions to tackle them. It brought me face to face with other young people from around the world who had similar experiences as mine but who had examples of proven and possible solutions for peacebuilding. One of those participants was a Canadian law student, originally from Rwanda, who became an immigrant at a tender age because of the genocide in her country. She stressed her idea that peace is possible but only if we focus our efforts on changing international humanitarian laws.
Lastly, while at the conference, I realized how interesting and complicated the concept of peace is and how it means different things to different people. For example, a participant from Ghana told me peace is when "two opposing parties agree to pursue an agenda although it doesn't favor their interest and philosophies." Robert Fulghum, an American author, once said that "peace is not something you wish for, it is something you make, something you are, something you do, and something you give away." I see peace as not merely the absence of war but an "era" where every individual have the opportunity to grow, develop, and envision the future they want.
More importantly, the conference has made me more determined to stop being a skeptic--not that it is wrong--but to be more hopeful and put that hope into work for better world. It showed me that more emerging leaders should have such opportunities. I have been able to build networks around the world that will surely be useful to me in the future and the work that I will do. This conference was 100 years in the making, and there's much work to do, together.
Laura Golakeh, M.A. is founder and executive director of Right to Read Liberia, a Mandela Washington Fellow 2014, member of the 2014/2015 Gender and Peacebuilding class at the United Nations mandated University for Peace, and a 2015 summer intern at the Wellesley Centers for Women.