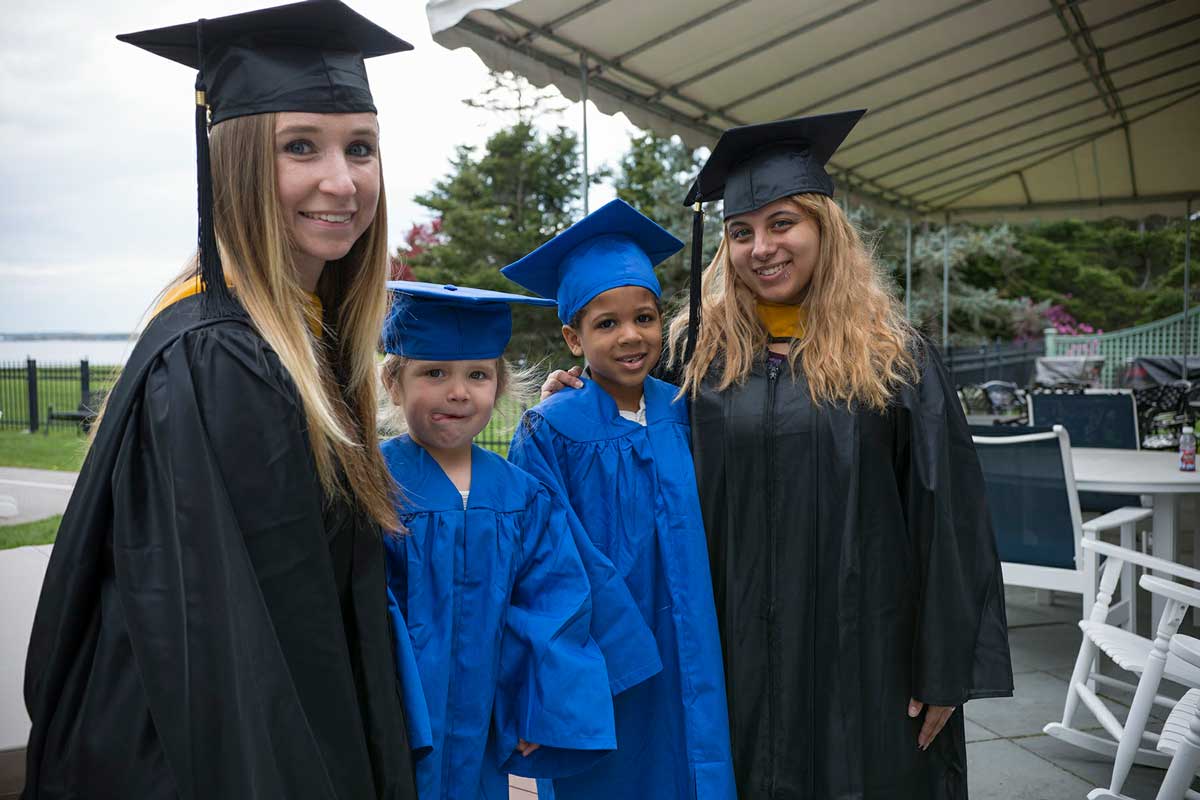 Environmental Sustainability Advocate Anna Grimes and her daughter Audrey, and Child Psychology Specialist Esraa Amira and her son Jaden share a two-generational graduation at the Keys to Degrees program celebration at Endicott College in 2017. Photo courtesy of Autumn Green.
Almost one in five undergraduate women are unmarried mothers with dependent children. Single mothers face significant barriers to completing their degrees, but aren't often at the forefront of college access and success policies. Part of what makes it challenging to advocate for them is that colleges currently do not count how large their population is or track their educational outcomes. Federal data sources don't count them very well either.
In partnership with the Urban Institute and supported by a $1.1 million grant from ECMC Foundation, the Wellesley Centers for Women recently launched the Data-to-Action Campaign for Pregnant and Parenting Student Success. The goals of the campaign are to identify the most effective strategies for implementing data tracking and reporting systems that identify parenting students enrolled in college, as well as follow their educational outcomes like grades, retention, and graduation.
These systems must allow students to be characterized in other ways—including by partnership status, gender, age, income level, and race/ethnicity—in order to help colleges and higher education systems identify segments of their student populations who may especially struggle to stay in school and graduate, like single mothers, young parenting students, and student parents of certain racial and ethnic backgrounds.
The campaign also aims to help make sure the data that are tracked and reported are used effectively toward ensuring equity in educational access, inclusion, and degree attainment.
The Data-to-Action Campaign is organized and co-led by WCW Senior Research Scientist Autumn R. Green, Ph.D., director of the Higher Education Access for Parenting Students Research Initiative, and Theresa M. Anderson, Ph.D., a principal research associate at the Urban Institute's Income and Benefits Policy Center. The campaign is the inaugural project of the Student Parent Action through Research Knowledge (SPARK) Collaborative, a national partnership initiative that will be formally announced later in 2022 that supports connections between research and efforts to effect change for student parents.
"The call for better data on student parents has been growing in policy and advocacy spaces, and several states have taken action on requiring new data—led by Oregon," said Green, who provided expert testimony in support of Oregon's Senate Bill 564 in March 2021. "This project is all about developing a clear understanding of what comes next, and how to make sure that data collection processes actually work effectively."