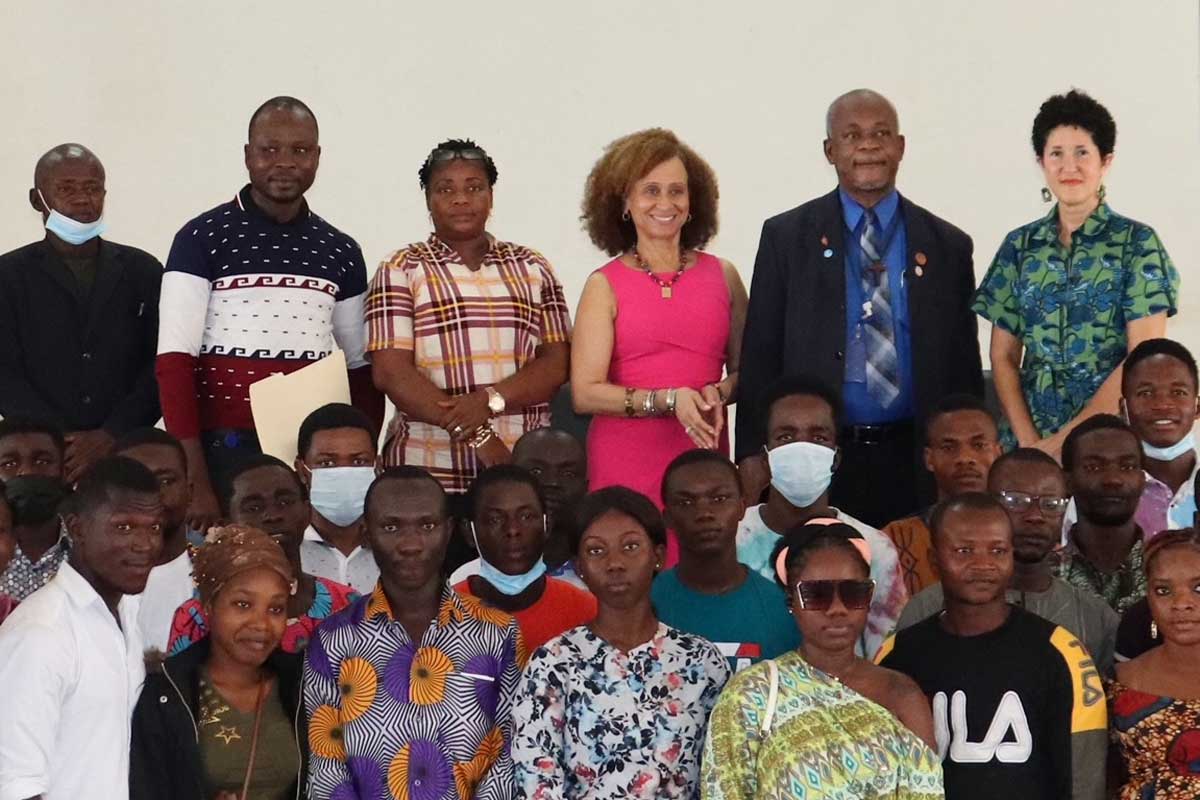 WCW Executive Director Layli Maparyan, Ph.D., (back right) with attendees, presenters, and organizers of the "When You See It, TALK It!" workshop in Monrovia, Liberia, during March 2022. Photo courtesy of Layli Maparyan.
WCW recently hosted two workshops aimed at countering human trafficking in Liberia.
The first workshop, "Trapped in Transit," was held virtually in November 2021 for members of the transportation, travel, and tourism industries. Speakers included U.S. and Liberian government officials, air travel industry representatives, and trafficking experts, including WCW Senior Research Scientist Linda M. Williams, Ph.D., and Visiting Scholars Kate Price, Ph.D., and Hauwa Ibrahim, J.D., S.J.D., M.L., as well as Lenni Benson, J.D., of New York Law School. Over 90 people, mostly Liberians, attended the event.
The second program, "When You See It, TALK It!", took place in March 2022 in Monrovia and focused on the market sector. Presenters included representatives from the Liberian Ministries of Labor and Gender, a local NGO leader, Liberian journalists, and adult survivors of child trafficking. One highlight was a special video presentation prepared by Clare Littlechild, a Wellesley College exchange student. Following the workshop, the market leaders delivered anti-trafficking trainings in five local area markets.
"Trafficking in Liberia is an outgrowth of extreme poverty," said WCW Executive Director Layli Maparyan, Ph.D., who co-led both workshops. "But when people in everyday settings learn to recognize it as a form of violence that is often hidden in plain sight, they are motivated to do something about it."
The program, funded by the U.S. Embassy Monrovia, was developed in partnership with the University Consortium for Liberia (UCL), a nonprofit organization based in Atlanta, Georgia, dedicated to coordinating diverse academic efforts between Liberia and the global community, and led by Cynthia L. Blandford, Honorary Consul, Republic of Liberia, State of Georgia