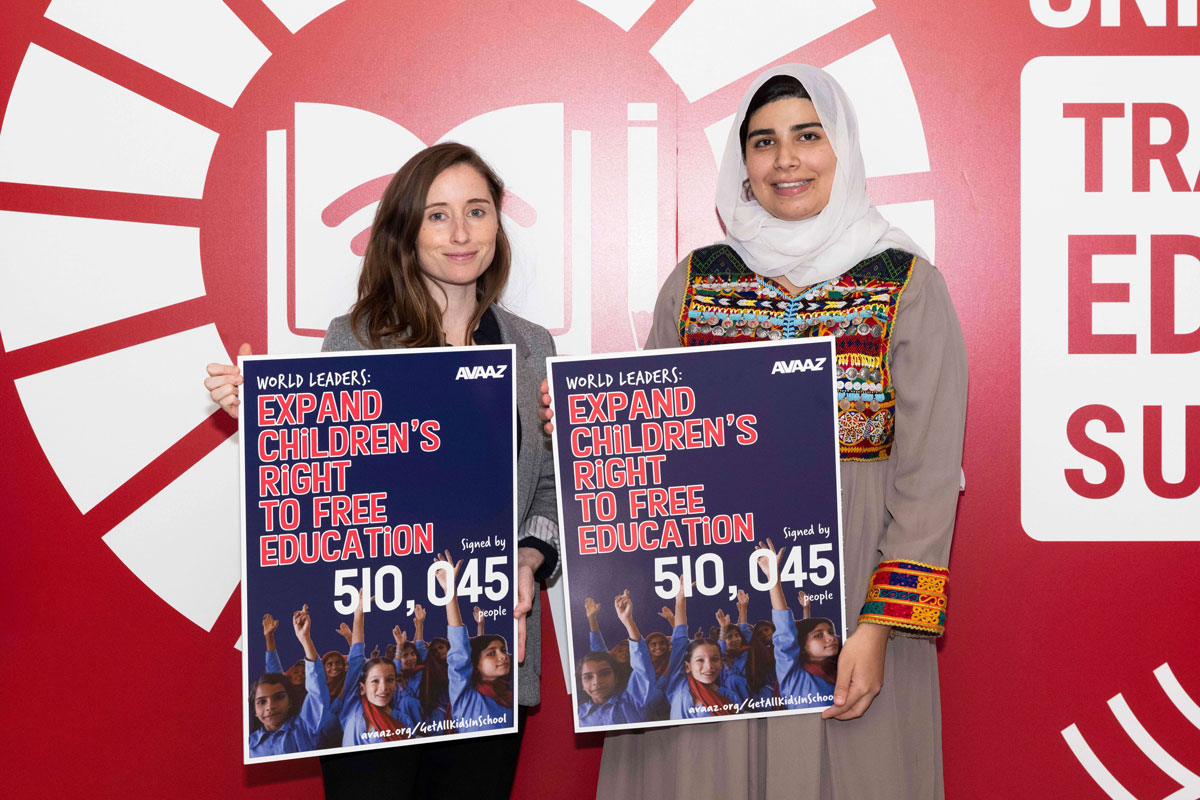 Avaaz Campaign Director Sarah Morrison (L) and Pashtana Durrani (R) urge world leaders at the UN "Transforming Education Summit" to back a new global treaty to expand children's right to free education on Sept. 16, 2022. (Avaaz/Andrew Kelly for AP Images)Pashtana Durrani joined WCW as a visiting fellow in September 2021. She is an Afghan human rights activist and community development expert who is the founder of LEARN Afghanistan, a grassroots organization established to safely and securely provide education to girls.
What has it been like settling into your life at Wellesley over the past year?
The first few months were very hard. The community was very warm and welcoming—students, faculty, and staff members reached out and offered to do things like drive me to get my social security card or my SIM card for my phone. A lot of people reached out to me to ask about LEARN or my other work, and they didn't have to. I am utterly grateful for that. I did, however, go through a phase of depression. I missed my home a lot. I started going to therapy, and now I'm getting back to normal. One thing I have learned that's made me so grateful over the course of this year is, I don't always have to be happy. I don't have to be at the top or in the news all the time. I don't have to be all-important. I just have to do my work, and I can sleep in peace.
Speaking of sleeping in peace—I was recently in Texas for a game, and beforehand there were fireworks, and to me, fireworks sound like bombs going off. Every time a firework went off, I jumped out of my chair. That fear has stuck with me, even though I know I'm safe here. I was talking to my mother yesterday, and she said, "It's the first time in years I can sleep in peace knowing that you won't be blown up." I know it sounds extreme, but sleeping in peace, waking up in peace, that's something I'm very grateful to Wellesley for.
Can you tell us about your recent trip to the United Nations General Assembly?
I was recently accepted as a member of the feminist coalition of the UN Girls' Education Initiative, and through that I was invited to the two-day Transforming Education Summit. LEARN was given a lot of visibility, and I was given a space where I felt like I grew. I also presented to the UN Secretary General a petition signed by 500,000 people that calls for the right to a free education for all children throughout the world, no matter their religion, ethnicity, geography, or social status. If they're a refugee, if they're poor, if they're rich, they need education. The end goal is access to education for every child, especially young girls in the global south.
I know it sounds extreme, but sleeping in peace, waking up in peace, that's something I'm very grateful to Wellesley for.
How has your organization, LEARN, made school accessible to girls under Taliban rule?
By now, girls in Afghanistan have been at home and not allowed to attend school for more than 365 days: One academic year has been wasted. In response, LEARN has opened two more underground schools, so we now have four schools, and we don't plan to stop there. We also partnered with the U.S. government's Radio Free Europe/Radio Liberty—in Afghanistan, they work under the name of Radio Azadi or Freedom Radio. They take our content that we have on our website for our students, and they broadcast it to listeners all across Afghanistan. The best thing about this is students don't need internet access, and we don't need to hire a lot of teachers. So LEARN right now is trying to grow both its physical presence and its audio presence, so that we can reach students who don't have electricity or internet access or a laptop.
What kinds of topics do girls study through LEARN?
We're exploring how to make our curriculum more inclusive and accessible. So we're focusing on STEM lessons in biophysics, chemistry, and mathematics, and we have partnered up with Wheeling University in West Virginia, which will be providing free ESL (English as a Second Language) classes. We are also offering courses in animation, graphic design, and website development, so at the end of the day, students have practical skills they can use to get jobs. Future students will have a full week of classes: two days of STEM, two days of animation, graphic design and web development, and two days of ESL. So this way, their STEM skills, their job skills, and their English skills are covered.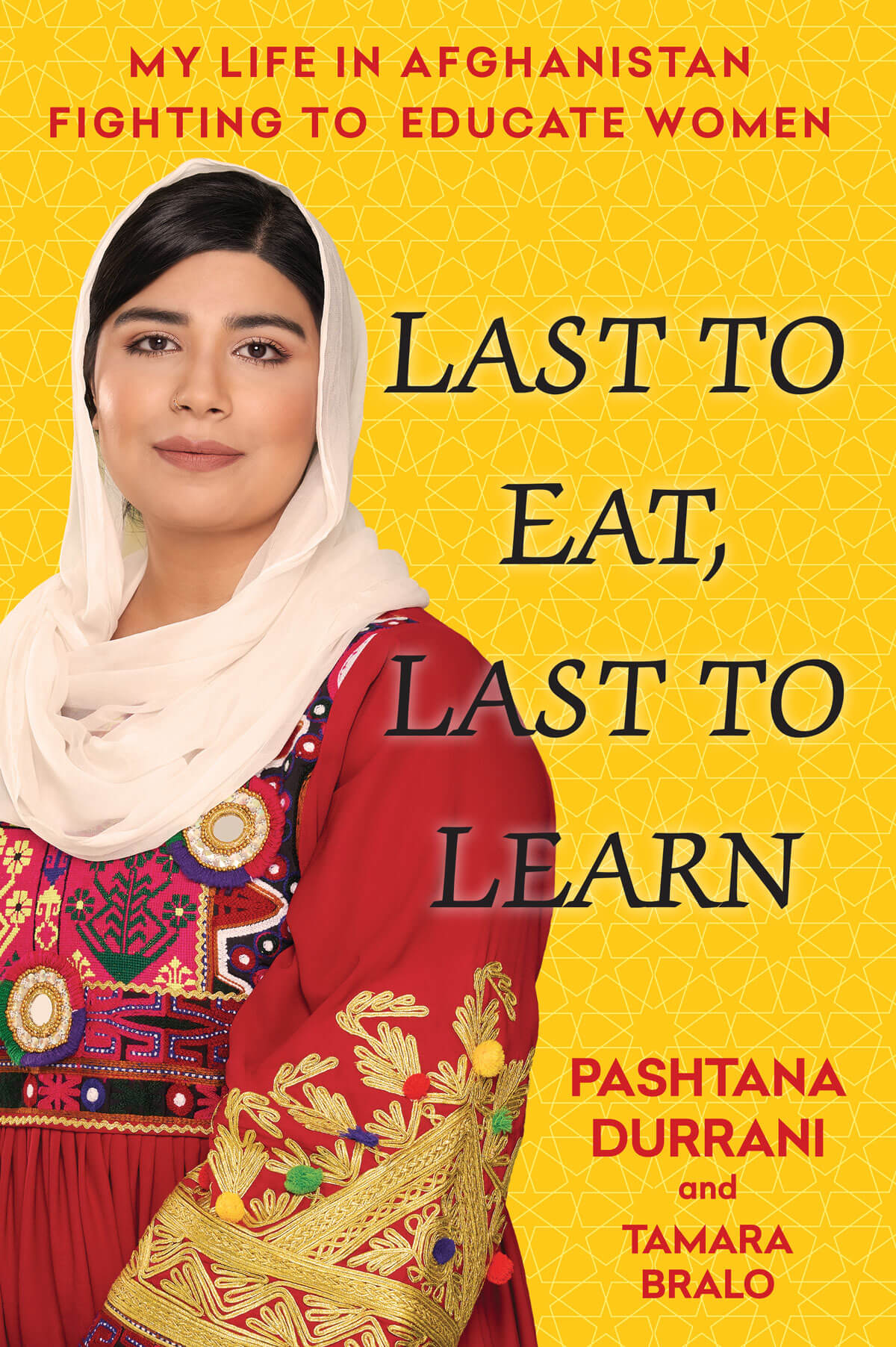 Last to Eat, Last to Learn is the inspiring memoir by Pashtana Durrani. The book goes on sale in May 2023.What is your upcoming memoir about?
My book, which will be published in the U.S. in the spring, focuses on girls' education, my life, and how I am the person I am today. And most importantly, how the political dynamics of the past two decades—the international politics, the national politics, and the tribal politics—failed girls in Afghanistan so deeply. It's a very political book; it focuses on why we need to be our own leaders and why we cannot wait for someone to rescue us. But it's also very funny. I'm very happy about that.
What do you like best about WCW?
At WCW, I don't have to explain myself. WCW supports me, lets me grow, and most importantly, allows me to be who I am, no matter what political statements I make or how much I travel. In the past year, I've traveled more than 20 times to 11 different states in the U.S., which is more than most U.S. citizens. I haven't heard once from WCW, "Why are you not showing up at the office?" They know I'm doing my work. I appreciate that. So the room to grow, the ability to be flexible, the fact that everyone cheers me on—even if I don't know them—and supports me in my work and will always be there for me. Those are the things that I like about WCW.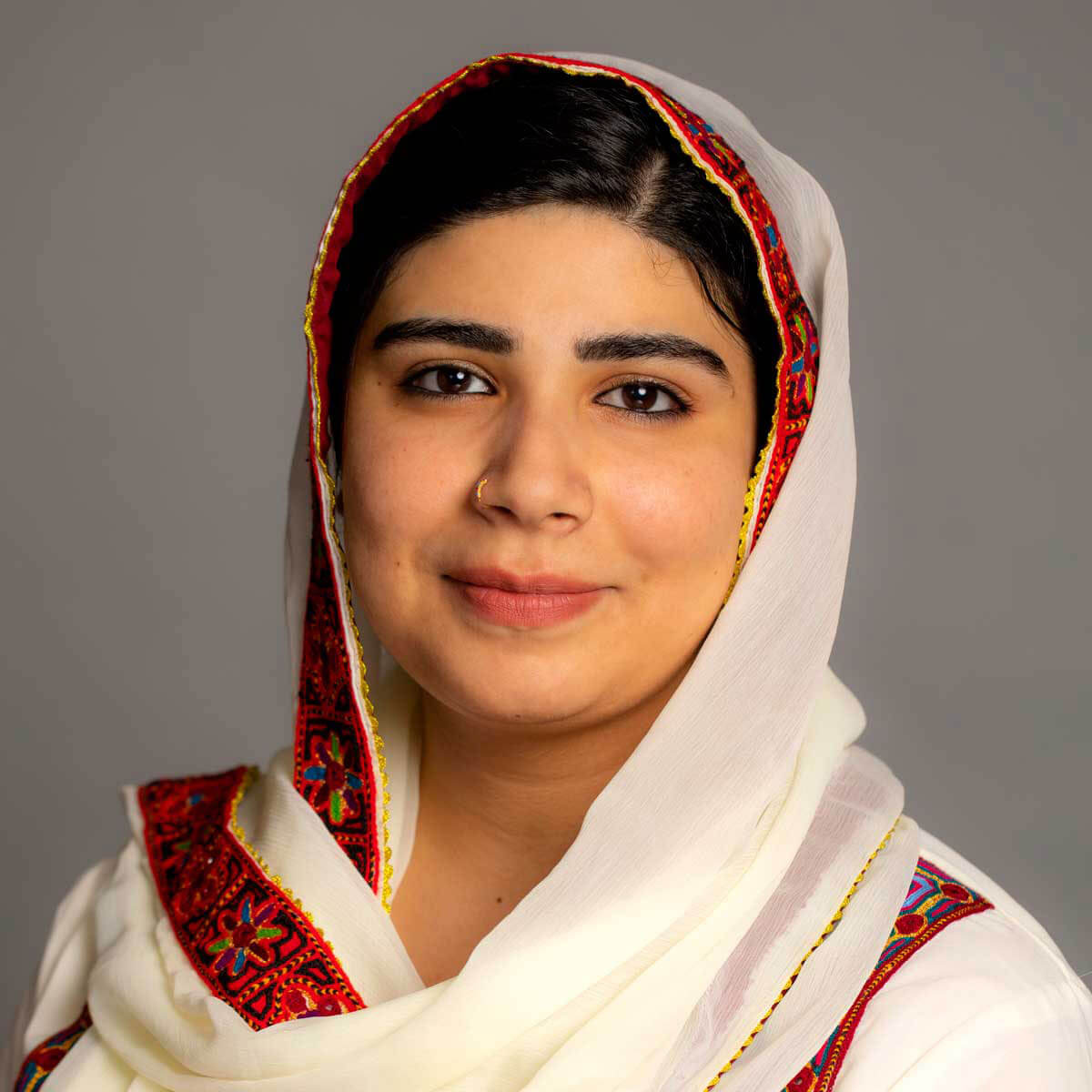 Pashtana Durrani is a visiting fellow at the Wellesley Centers for Women. Her book, Last to Eat, Last to Learn, will be released in the U.S. in spring 2023, and she will be included in a documentary called the Superwoman Series by Afghanistan International.