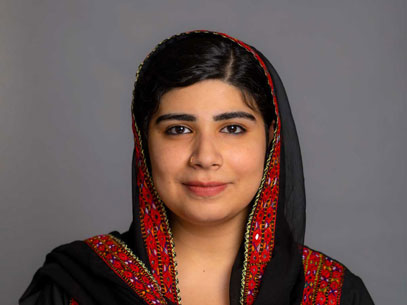 Pashtana Durrani
International Scholar-in-Residence
Research area: Education, health, and menstrual hygiene for Afghan women and girls
Pashtana Durrani is a visiting fellow at the Wellesley Centers for Women. She is an Afghan human rights activist and community development expert whose focus is girls' education. During her time at WCW, she is continuing her research to help Afghan women and girls pursue education and support the health of Afghan mothers and babies.
Durrani is the founder of LEARN Afghanistan (@LearnAfg), a grassroots organization established to safely and securely provide education to girls through a distributed network of tablet computers using an offline platform. Through LEARN, she has developed models on education, healthcare, and menstrual hygiene management. LEARN has educated 7,000 girls and boys in Kandahar, Afghanistan, trained more than 80 teachers in digital literacy, and trained 700 girls in menstrual hygiene management.
Durrani was named an Education Champion by the Malala Fund for her outstanding work to advance Afghan girls' education. She was a global youth representative for Amnesty International and served on a climate change committee of the United Nations Development Programme. She is also a winner for the 2021 Tällberg-SNF-Eliasson Emerging Leader prize, which recognizes leaders who have addressed complex global challenges in innovative ways. Pashtana Durrani was among the BBC's and Times 100 influential women list of 2021.