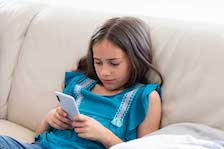 Little is known about the effects of social media initiation on digital behaviors from middle childhood to early adolescence, a critical developmental period marked by peer influence and initial access to mobile devices.
In this study, 773 participants from middle schools in the Northeast U.S. completed a cross-sectional survey about social media initiation, digital behaviors, and parental restrictions on digital use. The results demonstrated that overall, early adolescents more frequently engaged in positive digital behaviors compared to negative ones. The results also showed that using Instagram or Snapchat before age 11 was significantly related to more problematic digital behaviors. These problematic behaviors included having online friends or joining social media sites parents would disapprove of, more problematic digital technology behaviors, more unsympathetic online behaviors, and greater likelihood of online harassment and sexual harassment victimization.
Additionally, the youngest social media initiators were more likely to engage in supportive online behaviors. And limiting access to social media lessened some of the negative effects of early social media use.
Research reported in this publication was supported by the Eunice Kennedy Shriver National Institute of Child Health and Human Development of the National Institutes of Health under award number 1R15HD094281-01. The content is solely the responsibility of the authors and does not necessarily represent the official views of the National Institutes of Health. Related pilot funding was provided by Children and Screens: Institute of Digital Media and Child Development.