THANK YOU to all who joined us!

Daytime Symposium: Reflections, Conversations, New Directions
November 13, 2010
Wellesley College Campus, Wellesley, MA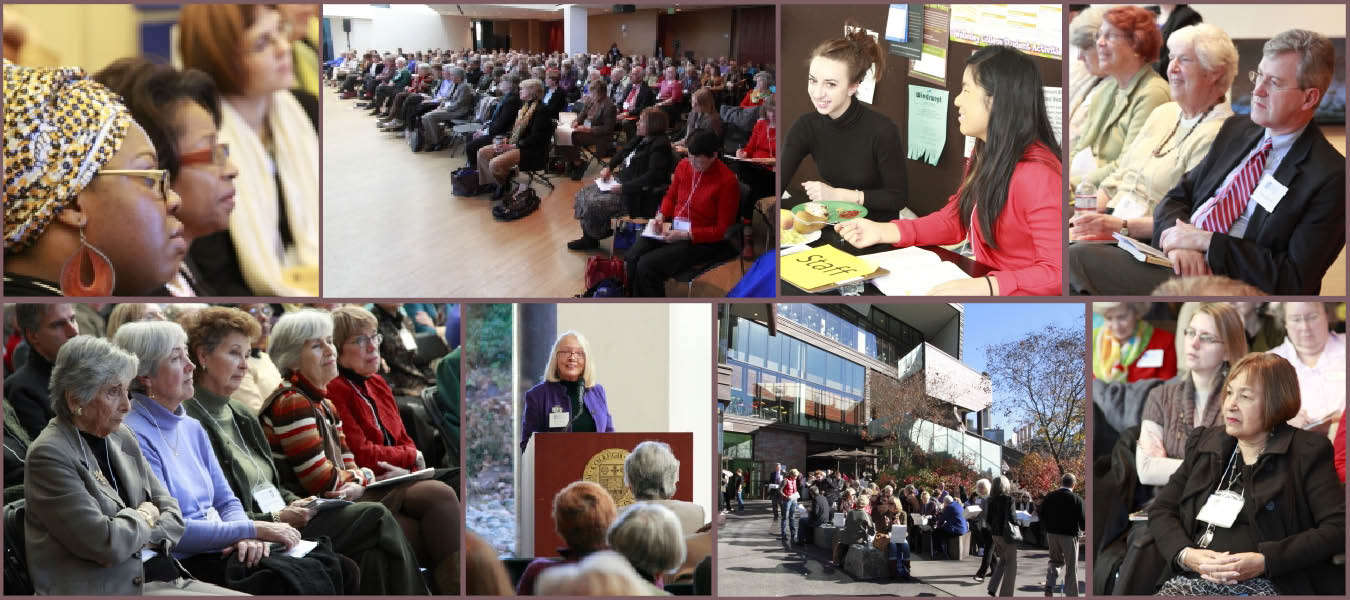 WCW scholars, past and present – and some very special friends – share their perspectives and insights during a program of thought-provoking seminars. Join us as we take a fresh look at some all-too-familiar issues and explore new challenges. Listen to presentations online (or download MP3 files!).
Gala Dinner: 35 Years of Research & Action | 25 Years of Visionary Leadership
November 13, 2010
JFK Library & Museum, Boston, MA

WCW and special guests, including Anita Hill, Luis Ubiñas, Linda Wertheimer, and Lynn Sherr gathered to celebrate 35 years of innovative research and action and to honor
Susan McGee Bailey
for 25 years of visionary leadership at the Wellesley Centers for Women.
View program highlights online!
35th Anniversary Kickoff Celebration
Saturday, May 2, 2009
John Joseph Moakley Courthouse, Boston, MA
Judge Nancy Gertner and actress-activist Tyne Daly, shared their inspiration and wit during the 35th Anniversary Kickoff celebration.
Dinner Speaker:

Judge Nancy Gertner is a graduate of Barnard College (B.A. 1967) and Yale Law School (J.D. 1971) where she was an editor of The Yale Law Journal. She also received her M.A. in Political Science from Yale University. She has been an instructor at Yale Law School teaching sentencing and comparative sentencing institutions since 1998. Appointed to the bench in 1994, in August 2008, she received the Thurgood Marshall Award from the American Bar Association, Section of Individual Rights and Responsibilities, only the second woman to receive it (Justice Ginsburg was the first). She has been profiled on a number of occasions in the Boston Globe, the ABA Journal, Boston Magazine, and The Wall Street Journal. In September 2008, Judge Gertner became a Leadership Council Member of the International Center for Research on Women (ICRW). Judge Gertner currently partners with the Wellesley Centers for Women's international initiatives to promote the human rights of women and children. Judge Gertner has written widely on various legal issues and has been a keynote speaker or panelist at many conferences concerning civil rights, civil liberties, employment and criminal justice and procedural issues, both throughout the United States and world wide.
Mistress of Ceremonies:

Tyne Daly is an acclaimed actress and activist. Her commitment to women's issues is demonstrated through her work to promote the rights of women and to ending domestic violence. This commitment is also reflected through her decades of work on television and in the theatre. Featured in pioneering roles that capture the complex lives of women, Ms. Daly is most recently known for her role in the dramatic series "Judging Amy." She earned her sixth Emmy Award, and five additional nominations, for her portrayal of a social worker and the mother of the lead character in the series, Amy, a family court judge. In 1996, Ms. Daly had already set an Emmy Award record, becoming the Academy of Television Arts and Science's most honored dramatic actress when she won her fifth Emmy Award for role of Alice Henderson in the series, "Christy." She won her four prior awards for her work in the groundbreaking series, "Cagney and Lacey," one of the first dramas to not only feature two female leads, but to incorporate controversial stories that grew from working women's experiences. Ms. Daly won a Tony Award in 1990 for her portrayal of Mama Rose, in "Gypsy" and she received a second nomination for her performances in the Broadway play, "Rabbit Hole."
The Kickoff event was sponsored by: