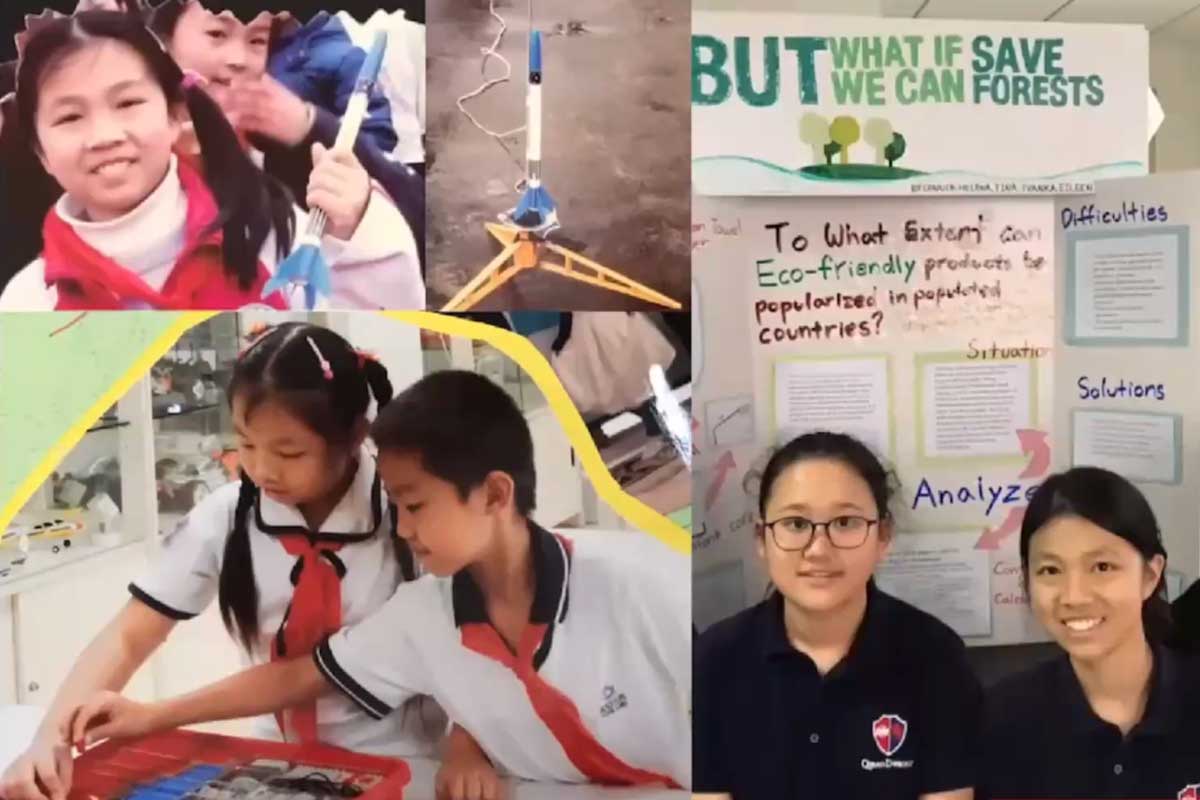 Connie Gu, an intern with the Youth, Media & Wellbeing Research Lab and Wellesley College class of 2024, shares photos from her childhood in a presentation to workshop participants about how she ended up choosing a STEM-related education path.
For the third year in a row, a group of middle school students spent four days learning about STEM (science, technology, engineering, and math) concepts and healthy social media use during a workshop hosted by the Youth, Media & Wellbeing Research Lab at the Wellesley Centers for Women.
This year, the program was targeted specifically to girls, and 17 of them (from four different states and two time zones) met virtually from July 19-22. The workshop was hosted in partnership with the Computer Science Department at Wellesley College.
"The program gave these students the opportunity to examine the role of technology in their lives," said Dr. Linda Charmaraman, a co-leader of the workshop, senior research scientist at WCW, and director of the Youth, Media & Wellbeing Research Lab. "We built a community of digital innovators, facilitating discussions and design sessions to co-create more positive online social spaces."
During the workshop, attendees had the opportunity to speak with TIME's 2020 Kid of the Year, Gitanjali Rao, a 15-year-old inventor, author, scientist, and engineer, and received a free copy of her book, A Young Innovator's Guide to STEM. They also heard from social and emotional learning expert Kamilah Drummond-Forrester about positivity and authenticity, and from a panel of the lab's current and former Wellesley College interns about their own STEM identity journeys.
Throughout the week, Dr. Charmaraman and Dr. Catherine Delcourt, assistant professor of computer science at Wellesley College, held small and large group discussions, conducted STEM exploration activities, and asked the students to use digital storytelling techniques to share their experiences. On the last day, participants pitched their app ideas for building more positive online communities for their peers.
One attendee called the workshop "a great place for middle schoolers to learn about their identity while interacting with different students from around the country." Others called it "fun and inspiring" and said that "everyone was very nice and supportive to each other."
This is the third year the workshop has been held, and the second year it has been held virtually. In surveys after last summer's program, girls reported increases in the importance of sharing about their abilities, achievements, and future career plans online and feeling of belonging in online communities. They also reported an increase in their belief that they are good at computing and that learning about technology will give them many career choices. And they experienced significant increases in self-esteem and agency.
The idea for the workshops grew out of an ongoing research study of the Youth, Media, and Wellbeing Research Lab led by Dr. Charmaraman and funded by the Eunice Kennedy Shriver National Institute of Child Health & Human Development of the National Institutes of Health. The aim of the longitudinal project is to determine the longer-term health and wellbeing effects of social technologies, including smartphones, social media, YouTube, and gaming.
"Not only do the students who participate in these workshops gain skills that can improve the way they use technology, but they also contribute to research that helps us understand the impacts—both positive and negative—of social technology use on early adolescents," said Dr. Charmaraman.
September 1, 2021