Research & Action Report, Fall/Winter 2011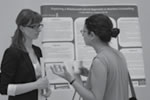 Original research was a key focus at this year's Intensive Institute held in June by the Jean Baker Miller Training Institute (JBMTI) at the Wellesley Centers for Women. All Institute attendees paticipated in a skills-based workshop, "Creating Connection in a Sea of Disconnection: Research Informed Clinical Practice," with Mary Tantillo, Ph.D., Jennifer Sanftner, Ph.D., and Renee Spencer, Ed.D. The seminar was based on Spencer's work on mentoring and on Tantillo's and Sanftner's recent article, "Measuring Perceived Mutuality in Women: Further Validation of the Connection-Disconnection Scale," published in the Journal of Creativity in Mental Health.
Abstract: Relationships with family and significant friends and partners are important contributors to the quality of life, health, and mental health of women. The Connection-Disconnection Scale (CDS) was developed to assess perceived mutuality (PM) in relationships with mothers, fathers, friends, and romantic partners, and data are presented here that offer additional reliability and validity for the scale with college women. Two samples totaling 152 women from a mid-western university completed the CDS along with theoretically similar measures. Results revealed that scores on each form of the CDS possess excellent test-retest reliability and internal consistency, and all scale items load on a single factor. Pearson correlations with theoretically similar measures, such as the Parental Attachment Questionnaire, Social Support Questionnaire, and Dyadic Adjustment Scale, showed good convergent and discriminant validity. Overall, findings suggest the CDS is a psychometrically strong assessment tool that can be used to assess PM as it relates to women's health and mental health.
Additionally, Institute participants from around the globe presented during a poster session representing a wide array of original research completed by RCT practitioners. The posters included: Integrating RCT into Supervision: Mediating Effects on Relational Health and Working Alliance, by Jinnelle V. Aguilar, B.A., Texas A&M, Corpus Christi; Continuum of Recovery in Connection: Eating Disorders, by Cate Dooley, Ph.D., Brandeis University, Waltham, MA; A Relational-Cultural Approach to Address Violence Against Women and Children-Human Trafficking Conference, by Connie Gunderson, Ph.D., HAWK University, Bremen, Germany; A Recipe for Relationships: Couple's Meal Preparation as a Relational Activity, by Katherine Herman, Doctoral Candidate, The College of William and Mary, Williamsburg, VA; Building Connection through Ritual: Welcoming Girls at Menarche, by Glenda Hufnagel, Ph.D., University of Oklahoma, Norman, OK; The Bridges Project: Encouraging Women to Continue in Education Using a Strength-based Approach, by Susan Rodger, Ph.D., University of Toronto, Ontario, Canada; Being a Girl in Today's World: Project to Provide Education, Outreach, and Support to School-aged Girls in the Realm of Self-Esteem and Body Image, by Karen Samuels, Ph.D., Community Outreach for the Prevention of Eating Disorders (COPE), Orlando, FL; Drumming Up Relationship: Using Drums and Poem-making to Help Children Build Relational Skills, by Georgia Sasson, Ph.D., Brandeis University, Waltham, MA; Teaching and Learning: A Relational Approach, Harriet Schwartz, Ph.D., Carlow University, Pittsburgh, PA; Exploring the Relational/Cultural Approach to Nutrition Counseling, by Katarzyna Tupta, M.H.Sc., Ryerson University, Toronto, Canada.
Following is a highlight from the poster Qualitative Study: Women Speak About their Experience of Brief Relational-Cultural Therapy (BRCT), by Anne Oakley, Ph.D. and Shirley Addison, R.N., M.H.Sc., from the Brief Psychotherapy Centre for Women (BPCW), Women's College Hospital in Ontario, Canada. The study was funded by the Ontario Women's Health Council Secretariat and Ministry of Health and Long-term Care.
Purpose: To gain a more in-depth understanding of clients' experience at the BPCW and to capture their experience in their own voice. All clients wrote about their experience of therapy and the BPCW using ten open-ended questions (n=91). Twenty clients had open-ended semi-structured taped interviews (one to two hours) by an external interviewer. Clients were of diverse backgrounds in terms of ethno-cultural, socioeconomic, age, sexual orientation, health status, etc.

Method: BPCW completed a two-and-a half year comprehensive research that included outcome measures and qualitative methodologies (n=91).
A primary finding was increased confidence and empowerment of participants:
"I find it a privilege and consider myself fortunate that finally, I found a psychotherapy model that respects a real woman to help deal with the real world." (G1S042, CEQ); "Clearer understanding of my sense of powerlessness when I am triggered by race/class … Confidence in my right to have and express feelings even when they are not mainstream or popular … I am now able to enter a situation [white middle class] without feeling 'less than' or judged." (G2S105, CEQ).
Ongoing research continues to study and to validate the importance of Relational-Cultural Theory (RCT) as a tool for personal healing and social transformation. The RCT research network provides support and information to RCT researchers worldwide. While RCT's main work is often seen as primarily theory building and promoting social change, there are active scholars throughout the world researching RCT practices. Recently JBMTI compiled over 6,000 citations of its work with more coming.