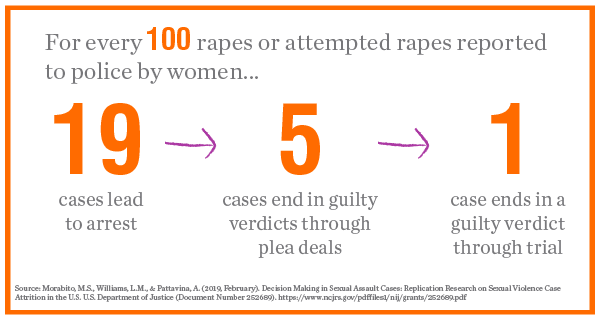 This was a project of the Justice and Gender-Based Violence Research Initiative of the Wellesley Centers for Women at Wellesley College.
Project Overview:
Sexual assault case attrition — when cases fall out of the criminal justice system — has been a concern to victims, practitioners, and researchers for decades. This study sought to better understand how and why sexual assaults reported to police fall out of the criminal justice system. The researchers studied 2,887 reports made to police of rape or attempted rape in six jurisdictions throughout the U.S. They documented how those reports flowed through the criminal justice system and analyzed case details to understand which factors might predict attrition. The researchers also interviewed victims and spoke with criminal justice system personnel to gain deeper insight. This study was a replication of earlier work conducted in Los Angeles County.
Findings:
The research team found that when women chose to report a sexual assault to police, only 19 percent of cases ever led to an arrest and less than two percent ever went to trial. The team identified a number of common factors among cases that fell out of the criminal justice system at key points. Specifically, the researchers found that about a third of the cases in this study did not move forward in the justice system because they were "cleared by exceptional means," a term that indicates police declined to make an arrest even though a suspect had been identified.
The researchers found that social biases related to stereotypes of the "ideal victim" played a role in whether or not a case moved forward in the criminal justice system. For instance, the likelihood of arrest was impacted by a victim's mental health issues and any engagement in "risk-taking" behavior, such as consuming alcohol or walking alone, as well as the victim's level of resistance. Similar to earlier research, the researchers also found that the victim's lack of cooperation was found to be a significant factor in predicting arrest. However, this does not take into account the barriers within the system that can prevent a victim from fully cooperating, like confusing processes, long timelines, financial costs, transportation needs, and protection of victims.
Publications:
News:
This project was supported by Award No. 2012-IJ-CX-0052 awarded to the University of Massachusetts Lowell by the National Institute of Justice, Office of Justice Programs, U.S. Department of Justice. The opinions, findings, and conclusions or recommendations expressed in this publication/ program/ exhibition are those of the author(s) and do not necessarily reflect those of the Department of Justice.