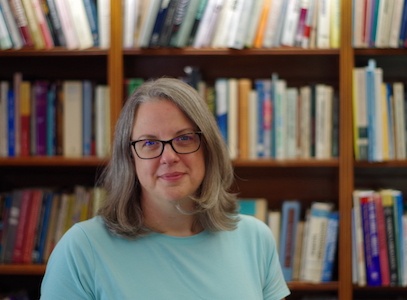 Kate Price
Ph.D., University of Massachusetts Boston
Research area: Investigation and prevention of child sex trafficking
Kate Price, Ph.D., is a visiting scholar at the Wellesley Centers for Women at Wellesley College, where she completed a writing project in collaboration with Boston Globe journalist Janelle Nanos: Kate Price remembers something terrible. Nanos was named a Pulitzer Prize finalist for the piece.
Price is also a senior research associate at Advocates for Human Potential, a health and human services research and evaluation firm. Prior to her appointment at WCW, she was a visiting scholar at the Women's Studies Research Center at Brandeis University working on the same writing project.
In December 2019, Price earned her doctorate in sociology from the University of Massachusetts Boston and completed her dissertation on state-level legislative decisions to prevent the arrest and prosecution of commercially sexually exploited minors for prostitution in the United States. During her doctoral studies, Price received the 2017 Mariam K. Chamberlain Dissertation Award from the International Centers for Research on Women, as well as an American Association of University Women 2018-2019 Dissertation Fellowship. She also received her master's degree in Gender and Cultural Studies at Simmons University in 2005.
A survivor of the commercial sexual exploitation of children, specifically family-controlled child sex trafficking and child sexual abuse imagery, Price frequently collaborates with national and state-level advocates and policymakers to shape and draft commercial sexual exploitation of children policy and practice.
Price serves on the National Center for Missing and Exploited Children's (NCMEC) Child Sex Trafficking Survivor Advisory Board, and was a founding member of the End Child Pornography and Trafficking-USA (ECPAT-USA) Advisory Council. A peer reviewer for the Department of Justice Office of Justice Programs, Price frequently lectures on her research and survivor advocacy at numerous academic conferences, universities, and non-governmental organizations.
Articles:
Price, Kate and Keith Gunnar Bentele. 2023. "Defining Worthy Victims: Socioeconomic Factors Associated with State-level Legislative Decisions to Prevent the Criminalization of Sexually Exploited Children in the United States." Victims & Offenders 18:3, 512-542.
Price, Kate, Brett D. Nelson, and Wendy Macias-Konstantopoulos. 2019. "Understanding Health Care Access Disparities Among Human Trafficking Survivors: Survivor Profiles of Health Care Experiences, Access, and Engagement." Journal of Interpersonal Violence.
Price, Kate and Keith Gunnar Bentele. 2016. "Voting to End Vulnerability: Understanding the Recent Proliferation of State-level Child Sex Trafficking Legislation." William and Mary Journal of Women and the Law 23(1):1-26.
Book Chapters:
Price, Kate. 2011. Collapsing This Hushed House: Deconstructing Cultural Images of Child Prostitution in the United States. In Dalla, R., et al (Eds.) Global Perspectives on Prostitution and Sex Trafficking: Europe, Latin America, North America, and Global. Lanham, MD: Lexington, pp. 216-236.
Reports:
Price, Kate and Abigail Judge. 2020. Residential Substance Abuse Treatment for Juveniles. Washington, DC: United States Department of Justice, Bureau of Justice Assistance and Sudbury, MA: Advocates for Human Potential.
Op-Eds:
Price, Kate. Our Sex Trafficking Laws Hurt Sexually Exploited Girls. Ms. Magazine blog, Human Trafficking Awareness Day, January 11, 2018.
Price, Kate. 'No One Intervened': A Sex Trafficking Survivor Says U.S. Must Do Better for Its Children. NPR WBUR's Cognoscenti blog, August, 16, 2016.