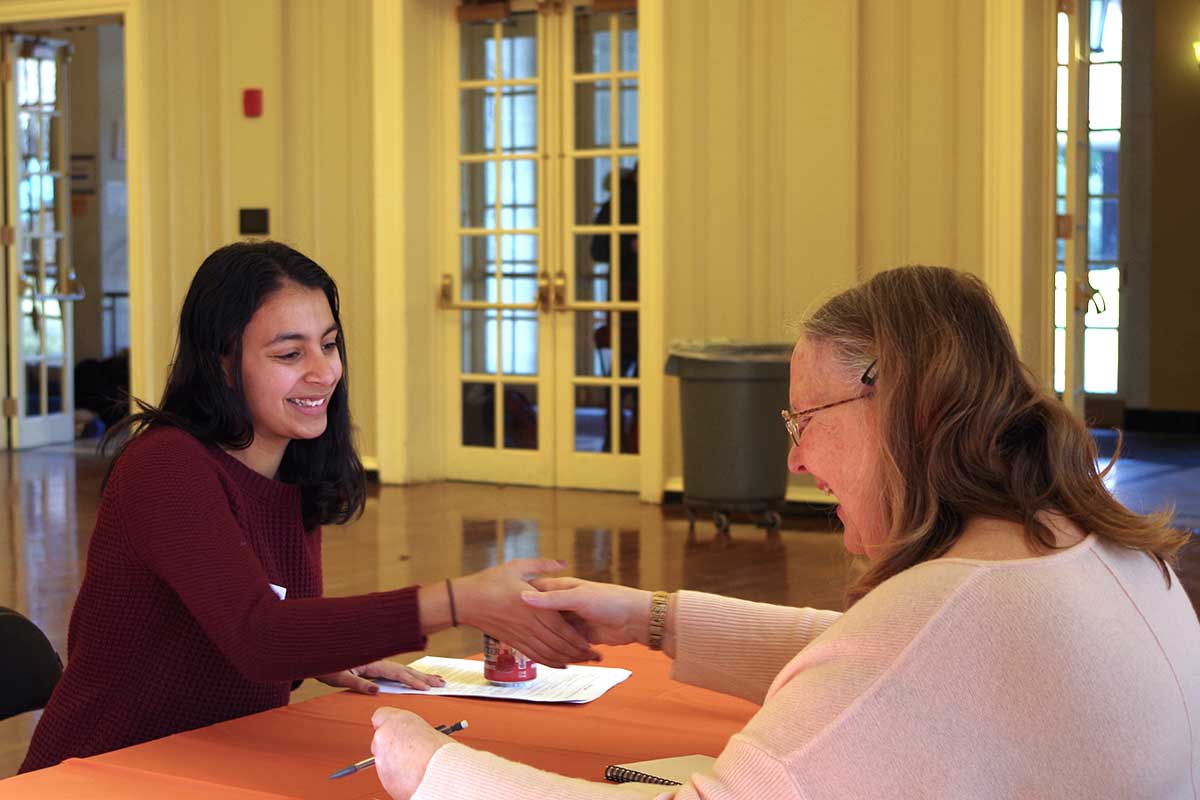 The Wellesley Centers for Women (WCW) is now accepting applications from Wellesley College students for five paid research internships/fellowships -- one during summer 2018 and four during the 2018-2019 academic year, through The Class of 1967 Internship Program. Over 100 students interested in applying for these social science research positions attended a "Meet Up" event on February 14 in Wellesley College's Alumnae Hall to learn more about the program and network with potential WCW mentors.
At the event, students were welcomed by Layli Maparyan, Ph.D., and Karen Lachance, Executive Director and Administrative Director at WCW, respectively. Each WCW mentor hoping to be matched with a student intern then discussed their area of research and current projects. Potential mentors for 2018-2019 include: Linda Charmaraman, Ph.D., Tracy Gladstone, Ph.D., Jennifer Grossman, Ph.D., Sari Kerr, Ph.D., Wendy Wagner Robeson, Ed.D., and Linda M. Williams, Ph.D. The last speaker was Monica Naranjo '18, a Davis Scholar and the current Shirley R. Sherr Student Research Intern, who shared what the WCW mentorship experience has meant to her.
It was at that same event a few years ago that Budnampet "Pet" Ramanudom '18 first met her mentor, Dr. Charmaraman. For Ramanudom, receiving the Linda Coyne Lloyd Internship and working with Dr. Charmaraman to understand issues of identity and media use among Asian Americans was much more than a resume builder; it was a transformative lesson about the power of representation in research and in mentorship.
"I really came to understand the power of representation in two ways: when it became personal and when it became central to the research I was helping bring to life," she wrote in a recent post on WCW's Women Change Worlds blog. "I will always remember the feeling of being able to capture the lived experiences of people who looked like me -- to be able to document their narratives in a way that emphasized the diversity of the Asian American community."
Educating the next generation of social scientists is a central piece of the WCW mission to advance gender equality, social justice, and human wellbeing through high-quality research, theory, and action programs. That is why, each year, WCW employs about 35 Wellesley College students, many in part-time research and technical positions, and offers the five annual internships/fellowships through the Class of 1967 Internship Program.
As interns, Wellesley students gain hands-on social science research experience while working alongside a WCW mentor. For the research scientists working at WCW, the mentorship experience is an enjoyable one that can add new perspectives to their studies.
"The most innovative research often comes from collaborating with others with different experiences and points of view. The WCW internship program is an essential part of my research program on Media & Identity because of the fresh insights that college students bring at every step of the research process, and it is a meaningful way to connect with students about their life goals and intellectual passions," said Dr. Charmaraman, a research scientist who has mentored dozens of students during her tenure at WCW, including Ramanudom.
In past years, WCW interns and student research assistants have co-authored articles published in peer-reviewed journals and have presented at local and national conferences, a rare opportunity for undergraduate students.
"Working with Dr. Linda Charmaraman has been such a unique opportunity to help write journal articles and book chapters that are published as an undergrad, and to be immersed in the life of a researcher," said Katie Madsen '19, another mentee of Dr. Charmaraman, in a brief video interview. Madsen presented her research--which was overseen by Dr. Charmaraman--on the way the 2016 election slogan, "Make America Great Again," was interpreted by different people, during the WCW Lunchtime Seminar "Life in the Trump Era: Gender Culture, and Civic Engagement" in November 2017.
In addition to teaching qualitative and quantitative research skills, WCW mentors also give students an idea of what life could be like as a social scientist, and what their future might hold if they choose to make research into a career.
"Before WCW I was always searching for some place or someone to teach me how to be a researcher. And here I get this mentor who is a real Ph.D. and who can bring me every step along the way," said Rebecca Leu '19, a former WCW intern, "...it has really solidified this idea that maybe I could be a researcher and that I really want to pursue this."
Applications for the 2018-2019 internships/fellowships are due March 22, 2018, and awardees will be notified by April 23, 2018. Application information and details on the internship and fellowship opportunities for the coming year can be found at wcwonlone.org/internships.