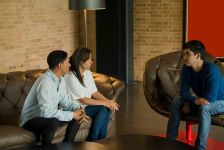 Parental depression is associated with maladaptive cognitive, academic, socio-emotional and psychological outcomes in their children. Children with a depressed parent are three to four times more likely to be diagnosed with depression than children with non-depressed parents, making parental depression a significant risk factor in the onset of childhood depression.
Preventive interventions aim to reduce the likelihood that depressive symptoms will onset by decreasing risk factors and increasing protective factors. In family-based preventive interventions for children who are at risk for depression due to parental depressive symptoms, clinicians aim to build resilience in children by addressing risk and protective factors. Such intervention programs have been shown to effectively reduce depressive symptoms in children.
This book chapter summarizes the effects of parental depression on children, risk and protective factors associated with resilience, and the family-based preventive interventions used to mitigate the effects of parental depression on children, and presents an example case study highlighting one of these preventive interventions. Finally, the chapter reviews essential clinical competencies for productive work in family-based depression preventive interventions.