Edited by: Judith V. Jordan, Ph.D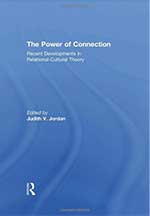 Relational-Cultural theory (RCT) proposes that all people grow through and toward relationships throughout the lifespan. RCT challenges prevailing theories that depict the "separate self" as the hallmark of maturity. Rather than movement toward autonomy and separation, RCT suggests we develop ever more differentiated ways of connecting. An increase in growth-fostering relationships results in: a sense of vitality and zest; increasing clarity about ourselves and others; augmented creativity and ability to take action; an experience of worth and empowerment; and a desire for more connectedness with others. Disconnections are inevitable in relationships and RCT focuses on relational resilience, the ways people can re-establish positive and growth-fostering relationships.
RCT further emphasizes the importance of cultural and societal forces in causing either growth-fostering connection or destructive disconnection. This volume explores the process of change in therapy and in other relationships; how race and other forms of stratification create pain; and how people develop resilience and strength in relationships characterized by mutuality.
This book was based on a special issue of Women and Therapy.