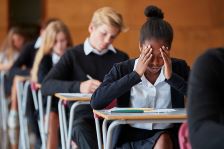 Approximately 20% of people will experience a depressive episode by adulthood, making adolescence an important developmental target for prevention.
CATCH-IT (Competent Adulthood Transition with Cognitive-behavioral, Humanistic, and Interpersonal Training), an online depression prevention intervention, has demonstrated efficacy in preventing depressive episodes among adolescents reporting elevated symptoms. This study examines the effects of CATCH-IT compared to online health education (HE) on internalizing symptoms in adolescents at risk for depression.
Participants ages 13–18 were recruited across eight U.S. health systems and were randomly assigned to CATCH-IT or HE. Assessments were completed at baseline and after two, six, 12, 18, and 24 months. There were no significant differences between groups in change in depressive symptoms or anxiety. Improvement in depressive symptoms was statistically significant for both groups; improvement in anxiety was significant for CATCH-IT but not HE. Parental depression and positive relationships with primary care physicians moderated the anxiety findings, and adolescents' externalizing symptoms and positive relationships with primary care physicians moderated the depression findings.
This study demonstrates the long-term positive effects of both online programs on depressive symptoms and suggests that CATCH-IT demonstrates cross-over effects for anxiety as well.
This research was funded by The National Institute of Mental Health of the National Institutes of Health, grant number R01MH090035.