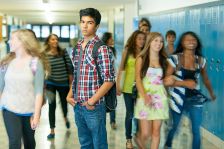 Adolescent depression carries a high burden of disease worldwide, but access to care for this population is limited. Prevention is one solution to curtail the negative consequences of adolescent depression. Internet interventions to prevent adolescent depression can overcome barriers to access, but few studies examine long-term outcomes.
This study compares CATCH-IT (Competent Adulthood Transition with Cognitive Behavioral Humanistic and Interpersonal Training), an internet-based intervention, to a general health education active control for depression onset at 12 and 24 months in adolescents presenting to primary care settings.
The researchers' conclusion was that a technology-based intervention for adolescent depression prevention implemented in primary care did not have additional benefit at 12 or 24 months. Further research is necessary to determine whether internet interventions have long-term benefit.
Research reported in this article was supported by the National Institute of Mental Health of the National Institutes of Health under award number R01MH090035. The implementation process was developed with funding from the Robert Wood Johnson Foundation.