(formerly published as Layli Phillips)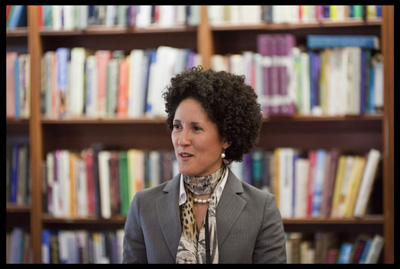 Photo:
Soe Lin Post/Wellesley College
BOOKS
Maparyan, L. (2012). The womanist idea. New York: Routledge.
Phillips, L. (2006). The womanist reader. New York: Routledge.
SELECTED BOOK CHAPTERS
Maparyan, L. (2011). Why the academy needs womanism now more than ever. In K. Vaz & G. Lemons (Eds.), Feminist solidarity at the crossroads: Intersectional women's studies for transracial alliance. New York: Routledge.
Maparyan, L. (2011). Feminism. In C. Orr, A. Braithwaite & D. Lichtenstei (Eds.), Rethinking Women's and Gender Studies. New York: Routledge.
Phillips, L., & Stewart, M. R. (2010). Nontraditional, nonconforming, and transgressive gender expression and relationship modalities in Black communities. In J. Battle & S. L. Barnes (Eds.), Black sexualities: Probing powers, passions, practices, and policies (pp. 17-36). Piscataway, NJ: Rutgers University Press.
Phillips, L., & Olugbala, S. (2006). Fighting in he(r) heels: Sylvia Rivera, Stonewall, civil rights, and liberation. In S. Glisson (ed.), The human tradition and the civil rights movement, 1865-1980 (pp. 309-334). Lanham, MD: Rowman & Littlefield.
SELECTED JOURNAL ARTICLES
Raitt, S. & L.Phillips (2008). Preface: The 1970s Issue. Feminist Studies, 34 (3), 375-381.
Phillips, L., & Stewart, M. R. (2008). "'I am just so glad you are alive': New perspectives on non-traditional, non-conforming, and transgressive expressions of gender, sexuality, and race among African Americans. Journal of African American Studies, 12(4), 378-400.
Phillips, L. (2005). Deconstructing "down low" discourse: The politics of sexuality, gender, race, AIDS, and anxiety. Journal of African American Studies, 9(2), 3-15.
Phillips, L., Reddick-Morgan, K., & Stephens, D. (2005). Oppositional consciousness within an oppositional realm: The case of feminism and womanism in rap and Hip Hop, 1976-2004. Journal of African American History, 90(3), 253-277.
Stephens, D., & Phillips, L. (2005). Integrating Black feminist thought into conceptual frameworks of African American adolescent women's sexual scripting processes. Sexualities, Evolution, and Gender, 7(1), 37-55.
Phillips, L. (2004). Fitting in and feeling good: Patterns of self-evaluation and psychological stress among biracial adolescent girls. Women and Therapy, 27(1/2), 217-236.
Stephens, D. P., & Phillips, L. (2003). Freaks, gold diggers, divas, and dykes: The socio-historical development of African American adolescent females' sexual scripts. Sexuality and Culture, 7, 3-49.
Zaff, J. F., Blount, R. L., Phillips, L., & Cohen, L. L. (2002). The role of ethnic identity and self-construal in coping among African American and Caucasian American 7th graders: An exploratory analysis of within-group variance. Adolescence, 37, 751-773.
Phillips, L. (2000). Recontextualizing Kenneth Bancroft Clark: An Afrocentric perspective on the paradoxical legacy of a model psychologist-activist. History of Psychology, 3(2), 142-167.
Thomas, K., Phillips, L., & Brown, S. (1998). Redefining race in the workplace: Insights from ethnic identity theory. Journal of Black Psychology, 24(1), 76-92.
Phillips, L. & B. McCaskill. (1995). Who's Schooling Who? Black Women and the Bringing of the Everyday into Academe, or Why We Started "The Womanist." Signs, 20 (4), 1007-1018.
Phillips, L. (2004). [review] Black Sexual Politics: African Americans, Gender, and the New Racism by Patricia Hill Collins. Gender and Society, 18, (5), 665-667.
MORE