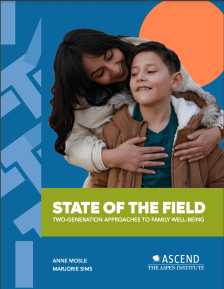 WCW Research Scientist Autumn Green, Ph.D., director of the Higher Education Access for Student Parents Research Initiative, was a national advisor on this report.
The 2Gen approach builds family wellbeing by combining child- and parent-centric interventions to create an approach that caters to the whole family. Educational and other interventions that see the family as a unit are more useful, and can be more effective. For example, if parents qualify for a state or federal tuition grant to pursue post-secondary education, then it makes sense to see if a high-quality childcare program is available to make sure that while they are studying, their children are learning too. This 2Gen mindset can unlock new possibilities for greater impact from dollars already spent on Medicaid, Supplemental Nutrition Assistance Program (SNAP), Temporary Assistance to Needy Families (TANF), child care and workforce programs, and more.
This report summarizes the impact and accomplishments of the 2Gen approach over the past decade, and provides insights and recommendations for the approach going forward. Some of the major accomplishments include advances in the application of brain science to the 2Gen approach, shifts in innovation within and across state systems, and a national network of 440 organizations serving 10 million children and families using the 2Gen approach.
The report also found that the lens of race and gender when applied to the 2Gen approach greatly increased its benefits, shoring up foundational mental health is essential to family wellbeing, and working with young parents who have young children has a powerful multiplier effect.