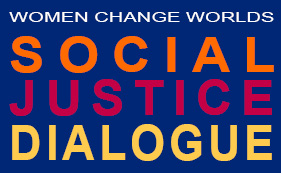 Social Justice Dialogue: Leadership for Social Change
Work at the Wellesley Centers for Women (WCW) is undertaken with the goal to help inform change makers, amend attitudes, and to help shape a more just world for women and girls, communities and families. The interdisciplinary team of scholars, administrators, and advisors who ensure that WCW's mission moves forward are informed by their own and others' work, as well as their lived experiences. The Women Change Worlds blog allows us to share our expertise and perspectives, and for our community to engage with us. Responding to critical issues in the world and creating teachable moments, our Social Justice Dialogues can broaden all our perspectives.
Over the next few weeks, this blog will feature articles written by WCW scholars and colleagues focused on our current Social Justice Dialogue: Leadership for Social Change. Although recognition may be for the few, leadership is not. I believe most of us have the capacity to drive change; we just need to decide how deeply we are able and want to engage in leadership roles, individually or collectively. What are the values, traits, experiences, mindsets of those who are able to effectively build off their own sense of purpose and inspire others to do the same? What should we expect from ourselves—and what do we want from our leaders—to affect positive change for our families, communities, workplaces, systems, the world?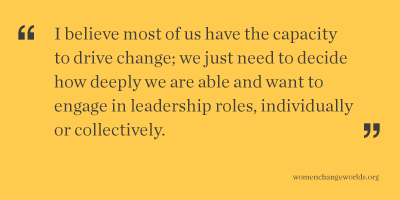 "The criteria for inspired leadership don't need to be shadowed in mystery," Deepak Chopra writes in The Soul of Leadership. "In fact, they are simple: great leaders are those who can respond to their own needs and the needs of others from the higher levels of spirit with vision, creativity, and a sense of unity with the people they lead."
I invite you to share in the Comments box links to one or two news stories, essays, organizations, or other resources that you believe may contribute to a productive dialogue on ways we can learn to develop and effectively demonstrate leadership that advances social change.
Donna Tambascio is the Deputy Director for Communications and External Relations at the Wellesley Centers for Women (WCW) at Wellesley College.