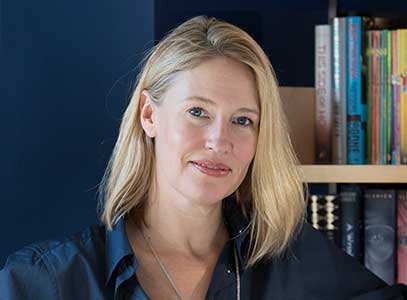 Jennifer Baumgardner
Senior Scholar
B.A., Lawrence University
wrbeditor@oldcitypublishing[dot]com
Serves as Editor in Chief of Women's Review of Books
Background
In 2018, Jennifer Baumgardner became editor in chief of Women's Review of Books. A writer, activist, filmmaker, and lecturer, she is the co-founder of Soapbox, Inc., a speakers' bureau; the co-creator of Feminist Camp; and the publisher of Dottir, an independent feminist press.
After five years as an editor at the feminist magazine, Ms. (1993-1997), Jennifer became a writer for many venues including: Harper's, The Nation, commentaries for NPR's All Things Considered, Real Simple, Glamour, Redbook, Babble, Teen Vogue, Marie Claire, and Elle.
She is producer of the award-winning documentary I Had an Abortion (2005) and the producer and director of It Was Rape (2013).
As a speaker, she has keynoted at more than 300 universities, organizations, and conferences, including the National Coalition of Abortion Providers, Amherst College, and Take Back The Night UW-Madison, to name a few. From 2008-2012, she was Writer-in-Residence at The New School, where she taught non-fiction workshops. From 2013-2017, she was the Executive Director/Publisher at The Feminist Press at CUNY, the longest running women's publisher in the world.
Publications
Ms. Baumgardner is the author/co-author of six books: Look Both Ways: Bisexual Politics (FSG, 2007, a Lambda finalist), Abortion & Life (Akashic, 2008), and the essay collection F 'em! Goo Goo, Gaga, and Some Thoughts on Balls (Seal, 2011), as well as two best-selling books about feminism written with Amy Richards—Manifesta: Young Women, Feminism, and the Future (FSG, 2000) and Grassroots: A Field Guide for Feminist Activism (FSG, 2005). She is the co-editor, with Madeleine Kunin, of We Do!: American Leaders Who Believe in Marriage Equality.
Recognition
Among other honors, she is a Jezebel 25, a Feminist Press 40 Under 40, and a recipient of the Stand Up for Reproductive Justice Award from the Feminist Women's Health Center of Atlanta. The Commonwealth Club of California honored her in their centennial year as a "Visionary for the 21st Century," commenting that "in her role as author and activist, [Jennifer has] permanently changed the way people think about feminism…and will shape the next 100 years of politics and culture."
Our website uses cookies to enhance your experience. By continuing to use our site, or clicking "
Continue
", you are agreeing to our
privacy policy
.