Post-Election: What's Next for Women and the Media
November 20, 2008
University Club, 1 West 54th Street, New York, NY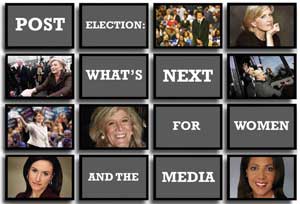 From coffee shops and dinner tables to Saturday Night Live, the media's treatment of women has been scrutinized and dissected throughout the election cycle. From Senator Hillary Clinton's run for the Democratic nomination to John McCain's selection of Governor Sarah Palin as his VP candidate, women have been in the news.
Our media panel - some of America's most listened-to journalists - will consider the ways women have been portrayed. What has changed for women as a result of the coverage of women's political participation, and what has stayed the same? Can media be a positive tool for women in politics? How can we inspire measured coverage of women in politics in general? watch video
Moderator:
Lynn Sherr, ABC News
Panel:
Michelle Bernard, Independent Women's Forum and MSNBC
Michelle Caruso-Cabrera, CNBC Television
Diane Sawyer, ABC News
Remarks by:
Ellen Levine, Editorial Director, Hearst Magazines
Susan McGee Bailey, Ph.D., Executive Director of the Wellesley Centers for Women; and Professor of Women's Studies and Education, Wellesley College
Sponsored by:

BNY Mellon Wealth Management, H. Kim Bottomly, Allison S. Cowles & Arthur Ochs Sulzberger, Lynn Johnston, Donald and Sue Newhouse, and Betty Pforzheimer
Host Committee:
Co-chairs: Joan Capelin Helpern & Betty Pfaelzer Rauch, Chloe Drew, Rebecca Goldenberg, Doug Gould, Kristen Kelch, Sophie Sa, Janet Waterhouse, Jaan Walther Whitehead
About WCW
The Wellesley Centers for Women (WCW) at Wellesley College is the largest women's research organization in the United States. Its mission is to conduct scholarly research and sound action programs that place women's perspectives and experiences at the center of the work. WCW's work reaches a wide audience of policy makers, practitioners, and advocates.
WCW's broad reach ensures that its work influences public policy and programs. With 100 staff members, and more than 40 project underway, WCW's areas of research and action cover an array of topics central to our communities: education, child and adolescent development, child care, out-of-school time, work-life balance, women's human rights, gender violence prevention, and the social-emotional wellbeing of children and families.