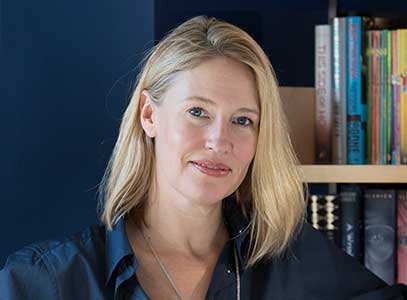 Jennifer Baumgardner
Senior Scholar
B.A., Lawrence University
wrbeditor@oldcitypublishing[dot]com
Serves as Editor in Chief of Women's Review of Books
In 2018, Jennifer Baumgardner became editor in chief of Women's Review of Books. A writer, activist, filmmaker, and lecturer, she is the co-founder of Soapbox, Inc., a speakers' bureau; the co-creator of Feminist Camp; and the publisher of Dottir, an independent feminist press.
After five years as an editor at the feminist magazine, Ms. (1993-1997), Jennifer became a writer for many venues including: Harper's, The Nation, commentaries for NPR's All Things Considered, Real Simple, Glamour, Redbook, Babble, Teen Vogue, Marie Claire, and Elle.
She is producer of the award-winning documentary I Had an Abortion (2005) and the producer and director of It Was Rape (2013).
As a speaker, she has keynoted at more than 300 universities, organizations, and conferences, including the National Coalition of Abortion Providers, Amherst College, and Take Back The Night UW-Madison, to name a few. From 2008-2012, she was Writer-in-Residence at The New School, where she taught non-fiction workshops. From 2013-2017, she was the Executive Director/Publisher at The Feminist Press at CUNY, the longest running women's publisher in the world.
Ms. Baumgardner is the author/co-author of six books: Look Both Ways: Bisexual Politics (FSG, 2007, a Lambda finalist), Abortion & Life (Akashic, 2008), and the essay collection F 'em! Goo Goo, Gaga, and Some Thoughts on Balls (Seal, 2011), as well as two best-selling books about feminism written with Amy Richards—Manifesta: Young Women, Feminism, and the Future (FSG, 2000) and Grassroots: A Field Guide for Feminist Activism (FSG, 2005). She is the co-editor, with Madeleine Kunin, of We Do!: American Leaders Who Believe in Marriage Equality.
Among other honors, she is a Jezebel 25, a Feminist Press 40 Under 40, and a recipient of the Stand Up for Reproductive Justice Award from the Feminist Women's Health Center of Atlanta. The Commonwealth Club of California honored her in their centennial year as a "Visionary for the 21st Century," commenting that "in her role as author and activist, [Jennifer has] permanently changed the way people think about feminism…and will shape the next 100 years of politics and culture."