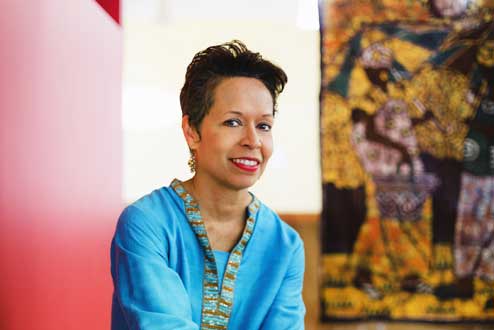 The Wellesley Centers for Women is mourning the death of Deborah Holmes, Chair of the WCW Council of Advisors and a passionate activist committed to the lives of women, people of color, equity, and social justice across the world.
"Deborah understood the intersectionality of social justice causes as well as the necessity of making change on multiple fronts at once, and she lived it," reflected Layli Maparyan, Ph.D., the Katherine Stone Kaufmann '67 Executive Director of WCW. "She brought indefatigable energy and an indomitable spirit to our Council of Advisors, and our global outreach and media impact expanded under her influence."
Last spring, WCW cosponsored a research forum for change makers, "From Persistence to Power: Facts, Truth & Equity for Women," in Washington, D.C., during which Deborah spoke about the need to address issues of intersectionality in order to achieve equity for all women in the U.S.
Article continues below video.
"It is hard to be black every day in America; but at the same time, I love being black. Because we have so much power, and the fact that we are in this room, and in this place, and still strong, and nobody has knocked us down, says a lot about our people," she told the hundreds of attendees. "We are at a moment now where we have an opportunity, perhaps in coalition with other black and brown folk, to really rise up in a way that we rose up when we shut down the buses in Montgomery, when we forced people to listen to what we have to say."
At the time of her death, Deborah was the Chief Communications and Engagement Officer at the Women's Funding Network (WFN), one of the world's largest philanthropic networks devoted exclusively to the equality and rights of women and girls around the world. There, she oversaw external and internal communications, brand and reputation management, strategic partnerships, and member relations. Prior to WFN, Deborah served as Chief of Staff and Vice President of Communications at the Global Fund for Women (GFW), where she was senior advisor to the CEO and charged with the development and execution of GFW's mission, vision, and strategies. Additionally, she was responsible for nurturing key organizational relationships and initiatives, enhancing staff and board capacity to steward the GFW brand, talent management, and human resources.
"No one met Deborah Holmes and was not immediately impressed," said colleague Deborah Richardson, Herndon Human Rights Expert in Residence at Honors College, Georgia State University. "She wore her confidence and brilliance well, while openly embracing you as a fellow sister and comrade. Every moment of her life was purposeful—her yes meant yes. If she committed to something, she was all in. What I learned from Deborah is we have to do more. Speak out more. Confront injustices more and love each other more. Those who had the privileged of working with her, and the thousands she felt a deep responsibility to—we are all blessed by her many gifts."
An award winning television news correspondent and analyst for more than 30 years, Deborah worked for local, national, and international news organizations covering an array of issues including race, politics, and social justice. She addressed the importance of quality journalism during the D.C. conference.
"Backing down is no longer an option," she argued. "The facts matter and we have to get the facts into the right hands of the people—and that includes your friends and associates who need to read and use critical thinking skills. Because there are facts out there. But if you choose not to read them, or you ignore them, then they are of no benefit to anybody. Losing first-rate investigative journalism," she stressed, "is one of the worst things that can happen in this democracy."
Prior to her work in women's rights, Deborah was Senior Vice President at a global communications firm, Fleishman Hillard, Inc., where she led client strategy in brand and reputation management, healthcare, and multicultural audience development and initiatives. She was an outspoken activist for issues impacting people of the African diaspora including racial equity and economic and political empowerment. Throughout her career, she promoted and facilitated opportunities that brought diverse voices into public discourse and debate to inform social change.
"This [work] takes time, and so you have to make a commitment within yourself and among your friends that you are going to devote some actual time to this in addition to the knowledge, but we have to show up," Deborah said.In addition to her service on the WCW Council of Advisors, Deborah's board and community service included Global Press Institute, Change Philanthropy Partners, Bay Area Blacks in Philanthropy, Reporters Without Borders, and Alvin Ailey American Dance Theater.
The Wellesley Centers for Women (WCW) is the largest academic, women-and gender-focused, social-change-driven, research-and-action institute in the United States, located at Wellesley College. Scholars at WCW advance gender equality, social justice, and human wellbeing through high-quality research, theory, and action programs. Areas of work include: Education, Economic Security, Mental Health, Youth and Adolescent Development, and Gender-Based Violence.
Gifts in Deborah's memory may be made towards the Deborah Holmes Internship for young women of color. This year-long internship at Women's Funding Network will incorporate time with San Francisco-based foundations, mentoring with local leaders, presence at conferences, and other professional development opportunities to prepare for a career in philanthropy. The goal is to endow this internship for the next three years.
May 10, 2018