For Immediate Release: September 11, 2013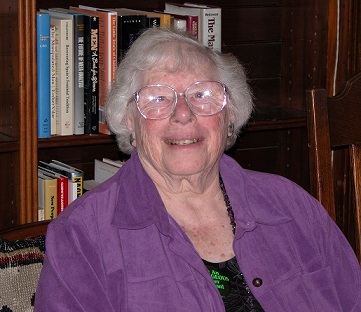 WELLESLEY, MA – Ruth Harriet (Miller) Jacobs, Ph.D., a gerontologist, sociologist, educator, poet, and author of nine books, died on September 4, 2013 at the age of 88. With many years of teaching experience and provided continuing education courses for professionals, Dr. Jacobs led workshops throughout the U.S. and abroad, and for 20 years was a researcher at the Wellesley Centers for Women (WCW) at Wellesley College; she remained a Senior Scholar at the Centers until her death.
"Ruth was a beloved colleague and friend who taught all who heard her talk, or all who read her books, to not just survive, but to thrive in the face of life's challenges," said Sumru Erkut, Ph.D., WCW associate director and senior research scientist. "I will continue to be inspired by her the rest of my own life."
Dr. Jacobs' books include: Be An Outrageous Older Woman; Women Who Touched My Life: A Memoir; We Speak for Peace: An Anthology (as editor); Older Women Surviving and Thriving: A Manual For Group Leaders; Button, Button, Who Has the Button?: A Drama About Women's Lives Today; Out of Their Mouths; Life After Youth: Female, Forty What Next?; ABCs for Seniors: Successful Aging Wisdom from an Outrageous Gerontologist; and Re-engagement in Later Life: Re-employment and Remarriage.
"Aging gives us a change to know ourselves and to learn the meaning of life," Dr. Jacobs wrote in Be an Outrageous Older Woman in 1997. "As I grew older, I learned that if you are outrageous enough, good things happen. You stop being invisible and become validated."
While raising her family, Dr. Jacobs received her B.S. at age 40 from Boston University and her Ph.D. at age 45 from Brandeis University. She was a sociology professor for 13 years at Boston University before going to Clark University in 1982 as chair of the sociology department. After retiring from Clark University, Dr. Jacobs taught regularly at Regis College, Springfield College School of Human Services, and in the Life Long Learning Program at Brandeis University. She was the recipient of grants and awards to pursue aging studies from the National Science Foundation, the National Institute of Mental Health, the United States Department of Education, the Wellesley Centers for Women, the Southport Institute for Policy Analysis, and many other institutions. In 1993 she received the Pioneer Award of the New England Sociology Association and has also received the Distinguished Gerontologist Award from the University of Massachusetts.
Over the years Dr. Jacobs served as a consultant to several government and voluntary agencies, including the AARPs National Task Force on Aging and Mental Health. She contributed chapters to many scholarly books, poems to many poetry anthologies and magazines, and numerous articles to academic journals. She wrote a popular monthly column for the award winning Senior Times newspaper and served on the editorial board of the Journal of Women & Aging. She had residencies at eight major art colonies.
She has been a Distinguished Visiting Professor at the College of William and Mary (1990) and a Research Scholar at the Five Colleges Women's Studies Research Center at Mount Holyoke College (1992). In 1998 she received the Athena Award for Excellence in Mentoring for her book Women Who Touched My Life. She keynoted major conferences, facilitated extensive group work with older women, as well as several presentations at the Wellesley Centers for Women. One of her popular programs featured group readings of her play, Happy Birthday: A Play for Elders Acted by Elders, with groups of seniors. A reporter and feature writer for the Boston Herald-Traveler newspaper for eight years in the 1940s, Dr. Jacobs interviewed Winston Churchill and Eleanor Roosevelt, among others, during visits to Boston. She, herself, was the subject of many stories and featured interviews.
Dr. Jacobs is survived by her daughter Edith and her son Eli. A Memorial Service and Celebration for Ruth Harriet Jacobs will be held Saturday, October 5, 2 PM, at the Wellesley Friends Meeting, 26 Benvenue St., Wellesley, MA 02482. In lieu of flowers, the family suggests donations to The Ruth Harriet Jacobs Scholarship Fund at Regis College, which was established in her name to benefit LLARC (Lifelong Learning at Regis College) for students who could not afford to attend lifelong learning courses; LLARC, Regis College, 235 Wellesley Street, Box 3, Weston, MA 02493.
Read a related blog: Healthy Aging: Reflections & Tribute
Read an article in The Boston Globe Obituary section about Ruth Harriet Jacobs