Research & Action Report, Fall/Winter 2016
The Olympics may be—on the surface—about international goodwill, but they are more baldly about political competition. They also offer a report card on gender equity progress. One could credit the rise of women's athletics in the U.S., not to the passage of Title IX in 1972, but to the Cold War realization that the medal gap between the U.S. and the Soviet Union was essentially the difference in women's participation.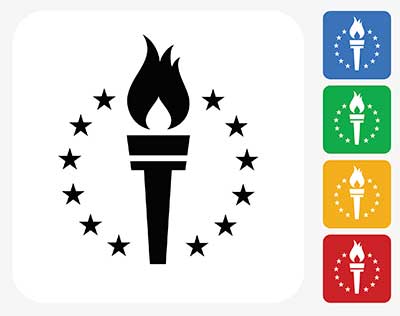 In the 1950s, women didn't play sports hard or hardly at all. Cowed by claims that sports were "masculine" and female athletes "unfeminine," few girls developed the skills, drive, or mindset to compete. It was not surprising, given the rude images applied at the time to female athletes. In one of my favorite books, Playing Nice, author Mary Jo Festle catalogues the labels, including "Amazons from the Steppes" and "Tank-Shaped Tamaras," that cast non-Western female athletes as unnatural freaks.
That lack of participation hurt. For years, the U.S. lost to the Soviet Union in the battle for Olympic medals. The Soviets out-earned the U.S. in the 1956 Olympics, 98 to 74. Four years later in 1960 they dominated again, 103 to 71. Then, Festle points out, "consistent with other post-Sputnik alarms" the conversation started to change, bringing a new critique to women's relationship with sports.
A cover of Sports Illustrated in 1963 asked, "Why can't we beat this girl?" The "girl" in question was an auburn-haired Russian athlete who "not only looks better than the girl next door, she most certainly can run much faster." American women can't defeat her, the article suggests, because "most won't even try."
The argument that you could be physically attractive and athletic was an unfortunate prod. But the shifting message—that women should not only play, but compete to win—was pivotal coming from media as well as the U.S. government. In 1956 U.S. officials held the first President's Conference on Fitness of American Youth (now the President's Council on Fitness, Sports & Nutrition) from which female physical education leaders left feeling they had a mission. As one said, "Perhaps we should take a look at our services to see if we can contribute to this national need." Organizations like the American Medical Association also got on board, walking back earlier assertions that women were too "frail" to compete in strenuous sports.
In many respects, the Rio Olympics were the long-awaited result of this 60-year-old campaign. Success had not come overnight and there remain issues, but the past two Olympics have revealed the rising profile of the American female athlete. For both games, Team USA sent more female than male athletes. Women also out-medaled male peers, despite having fewer events in which to compete. In London, women won 58 of 103 overall medals and 29 of 46 gold medals. In Rio, women earned 61 medals in comparison to the 55 men won (plus five for mixed-sex sports, equestrian and mixed doubles tennis); women won 27 of the 46 American gold medals.
The dominance of U.S. women starting in London led researchers to ask: How can countries win more medals? The short answer is gender equity—off the field. Analyses use the United Nations' Gender Inequality Index (GII) with its 0-100 scale (0=no inequality and 100=extreme inequality) that considers the state of women's reproductive health, economic status, and social and political empowerment. A study by Global Post, an international research group, found "a strong correlation between the two quantities—the more equality between genders, the more Olympics medals brought home." A more specific study published in the Journal of Sport Economics by researchers at Grand Valley State University in Michigan looked at 130 countries from 1996 through 2012. They found that every 10-point drop on the GII scale brought one extra Olympic medal for men and 1.5 more for women.
How can we get this equity equation started? In a country like Saudi Arabia, which sent four female athletes to Rio to compete before mixed-gender crowds (taboo at home), it is too early to know the impact. After all, women there cannot compete in organized sports at home, play in tournaments, or even attend the national team games to watch. Will the Olympics be an exception or a lever for change?
Women around the world view sports as tools for political, social, and economic gains. At the International Working Group conferences on Women and Sport that I have attended in Sydney and Helsinki, my conversations and interviews with female sport representatives from Qatar and the United Arab Emirates revealed aches to play from a young age (soccer in a grandfather's back yard out of public view), the weight of restrictions, and the energy with which women are creating opportunities through female-only athletic centers.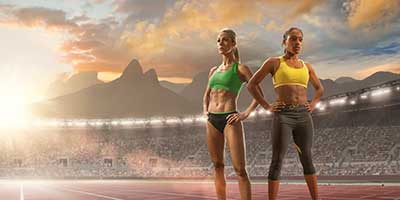 The Olympics do highlight issues of access and participation by women—or lack thereof— for the world to see. The games also offer another gender report: What kind of power do women have in the public arena? The Olympics still suffer from inequalities—why is 800m the longest swim for women when men have the 1,500m? There is a clear evolution in how women are seen and how they project themselves.
Research on broadcast coverage and commentary compares differences in treatment by gender. Over the years, it has shed light on a lot of belittling language—female gymnasts are often "pixies" and "dancing little girls"—but it has also pressed a heftier question. Are women being watched as attractive entertainment or as serious sport competition? One study in the Journal of Sport and Social Issues comparing the 1992 and 1996 Olympics noted great improvement as "audiences were not left wondering as they were in 1992 about the viability of the women's team events as legitimate competition." It's a detail, but whether we view females as full-value competitors in the medal race or as charming "others" in girl games matters intensely.
Attracting anyone to competition—the years of dedication and training—requires fair treatment and legitimacy. In 1964, as Sports Illustrated quoted a male track coach observing about his 42-member all-female team, there is "not a dog in the bunch," relays a pretty unappealing message. Female athletes still face pressure to be physically attractive and feminine—and sexist commentary is alive.
What has changed is the blowback to those who do it. In Rio, everyone was talking about commentator Jim Watson's observation that U.S. women's gymnastic team members "might as well be standing around at the mall." Following the San Jose Mercury News tweet after swimmer Simone Manuel won gold in the 100m freestyle that, "Olympics: Michael Phelps shares historic night with African- American," they issued an apology. And then there was the Chicago Tribune tweet: "Wife of Bear's lineman wins a bronze medal today in Rio Olympics" with a photo of Corey Cogdell-Unrein, who won in trapshooting, but went unnamed in the tweet. The newspaper apologized, but not before twitter exploded. One sarcastic take: "What about female medalists who aren't married? Who gets the credit then?"
One of the biggest splashes (the unfortunate Ryan Lochte, et al aside) came from 19-yearold U.S. swimmer Lilly King. In a year when the go-to female teams—women's soccer and beach volleyball duo Kerri Walsh Jennings and April Ross—struggled, King offered media-worthy moxie. And, yes, thank the Russians for the nudge.
In her now famous move, King wagged her index finger in a "no-you-don't" gesture at Russian rival Yulia Efimova, who had held up a victorious No. 1 finger after winning her heat. King explained to ESPN: "You know, you're shaking your finger No. 1 and you've been caught for drug cheating. I'm just not, you know, a fan." (In 2013 and in March of this year, Efimova failed drug tests for banned substances.)
King backed up her challenge by edging out Efimova for a gold medal in the 100-meter breaststroke (she also won a gold in the team 4X100 medley). King faced some criticism from ESPNW columnist D'Arcy Maine who called her "an American bully" and said her action "wasn't exactly the finest example of sportsmanship."
I don't see it that way. In a world in which Usain Bolt has a victory pose and N.F.L. athletes trash talk and shimmy after a touchdown or a sack (or just a good tackle), there is room— and it may be time—for women to be feisty and even showy. High-level competition is not a sitback setting. There has simply been too much history around women's sports participation that judged comportment and manners. As we take stock of where women have come from and where we are headed, there is a lot left to do—particularly for our sisters around the world. But if there is a lesson in the post-Sputnik Cold War-era Olympic envy it is one familiar to every competitive athlete: Your opponents make you better.