Testimonials
Complexity of Connection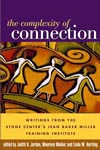 "This is the book where the Stone Center theorists ask: 'What purpose and whose interests do psychological theories serve?' Refusing complicity with a culture of domination, they explore the complexity of human connection--its cultural contexts and therapeutic challenges. Readers will find an invitation to think about complicity and competition, especially among women, and also a guide to envisioning how connections can follow disconnection in families, and at work as well as in therapy." - Carol Gilligan, Ph.D., author, In a Different Voice: Psychological Theory and Women's Development
"In a culture toxic with aggression, competition, and 'power over' images, this books seeks to heal. Whether discussing race; isolation and loneliness; or raising caring, empathic sons, the authors write with authority and heart about important and deeply relevant issues. I cannot think of a book we need more in our sad, hard times." - Mary Pipher, Ph.D., author, Reviving Ophelia: Saving the Selves of Adolescent Girls
Relational-Cultural Therapy

"Relational-Cultural Therapy embodies an outstanding advance in psychotherapy with broad implications for social justice. By challenging stratification and marginalization and promoting connectedness and relationships, RCT is a model of compassion and mutual growth that applies both inside and outside the psychotherapeutic milieu." - Aaron T. Beck, M.D., founder, Cognitive Behavioral Therapy
Toward a New Psychology of Women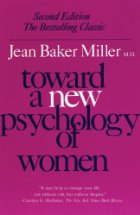 The first edition of Toward a New Psychology of Women, the book that launched Jean Baker Miller's career and serves as a keystone of JBMTI's work, was published in 1976. Since then the book has sold over 200,000 copies, been translated into 20 languages, and been published in 12 countries. A second edition with a new forward by Jean Baker Miller was published in 1987. Both editions combined have been cited in more than 3,000 books, journal articles, and dissertations.
Most notable of these citations are landmark books In a Different Voice: Psychological Theory and Women's Development by Carol Gilligan, Women's Ways of Knowing: The Development of Self, Voice, and Mind by Mary Belenky, and Odd Girl Out: The Hidden Culture of Aggression in Girls by Rachel Simmons. Additional acclaimed authors and academics who have cited the book are Lyn Mikel Brown, Nancy Chodorow, Riane Eisler, Judith Herman, Jean Kilbourne, Harriet Lerner, and William Pollock.
Over the decades, countless women told Jean either in person or writing, "Your book changed my life." Thanks to the lasting impact and reach of her work, such change continues today.
Testimonial from Jon Carlson

"One of the ten most important psychological theories today." - Jon Carlson, Psy.D., Ed.D., co-editor, American Psychological Association's Theories of Psychotherapy Series
Testimonial from Jean Kilbourne

"The work at JBMTI not only changes individual lives, it has the power to transform the world." -Jean Kilborne, Ed.D Kilborne, Ed.D., author of Can't Buy My Love: How Advertising Changes the Way We Think and Feel; co-author of So Sexy So Soon: The New Sexualized Childhood and What Parents Can Do to Protect Their Kids; and creator of Killing Us Softly: Advertising's Image of Women Testimonial from Harriet Lerner
Relational-Cultural Theory represents the most significant shift in psychodynamic thinking since Freud, moving us toward a more accurate, compassionate and multi-layered understanding of women and human relationships. In shifting the paradigm of psychology from separation to connection, these pioneers celebrate the relational strengths of women and give us a transforming vision of the power of connection to foster personal and social change. Revolutionary and practical, RCT has made a profound difference in theory building and clinical work.
- Harriet Lerner, Ph.D., author of The Dance of Anger and Women and Therapy Distinguished Psychologist Award from American Psychological Association JBMTI Director Judith V. Jordan, Ph.D. presented with Distinguished Psychologist Award from American Psychological Association Date: August 13, 2010 Location: San Diego, CA