Judith V. Jordan, Ph.D.
Founding Scholar and Director of the Jean Baker Miller Training Institute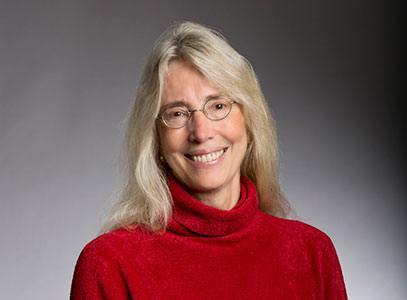 Relational-Cultural Theory represents the most significant shift in psychodynamic thinking since Freud, moving us toward a more accurate, compassionate and multi-layered understanding of women and human relationships. - Harriet Lerner, Ph.D., author of The Dance of Anger
"One of the ten most important psychological theories today." - Jon Carlson, Psy.D., Ed.D., co-editor, American Psychological Association's Theories of Psychotherapy Series
Judith V. Jordan, Ph.D. is the Director of the Jean Baker Miller Training Institute, a legacy project at the Wellesley Centers for Women (WCW). She has been a founding scholar and is one of the creators for the nationally recognized psychological theory known as Relational-Cultural Theory. In addition to her Senior Scholar position at WCW, Dr. Jordan is an assistant professor of psychiatry at Harvard Medical School. After graduating Phi Beta Kappa and magna cum laude from Brown University, she earned her Ph.D. in clinical psychology at Harvard University where she received commendation for outstanding academic performance. She was the director of Psychology Training as well as the director of the Women's Studies program at McLean Hospital. For over 20 years she has worked with her colleagues, the late Jean Baker Miller, the late Irene Stiver, and Jan Surrey on the development of what has come to be known as the relational-cultural model of development.
Dr. Jordan authored the book Relational-Cultural Therapy in 2010 as part of the American Psychological Association's "Theories of Psychotherapy" series. Dr. Jon Carlson, series co-editor, lauded Relational-Cultural Theory as "One of the ten most important psychological theories today." Judy co-authored the book Women's Growth in Connection and edited Women's Growth in Diversity, The Complexity of Connection, and The Power of Connection. She has published over forty original reports (many as works in progress at the Stone Center) and twenty-five chapters, and been co-author for three books.
Dr. Jordan is the recipient of the 2010 Distinguished Psychologist Award from the American Psychological Association "in recognition of her outstanding accomplishments and significant lifetime contributions to the field of psychotherapy," as well as the Massachusetts Psychology Association's Career Achievement Award for Outstanding Contributions to the Advancement of Psychology as a Science and a Profession. She was also selected as the Mary Margaret Voorhees Distinguished Professor at the Menninger School of Psychiatry and Mental Health Science in the Spring of 1999. She received the annual psychiatric resident's "outstanding teacher of the year" award at McLean Hospital and is included in Who's Who in America. She was awarded an honorary Doctor of Humane Letters from New England College (2001) with "utmost admiration for her contribution to science and the practice of psychology." Dr. Jordan also received a Special Award from the Feminist Therapy Institute "in recognition of outstanding contributions to the development of feminist psychology" (2002). She is on the editorial board of the Journal of Clinical Psychology: In Session and the Journal of Creativity and Mental Health. She has written, lectured, and conducted workshops nationally and internationally on the subjects of women's psychological development, gender differences, mothers and daughters, mothers and sons, empathy, psychotherapy, marginality, diversity, mutuality, courage, competence and connection, women's sexuality, gender issues in the workplace, relational practice in the workplace, new models of leadership, traumatic disconnections, conflict and competition, and a relational model of self. Judy frequently serves as a resource for the press on these issues and has appeared on the Oprah Winfrey show.
Dr. Jordan believes the existing structures of psychology characterized by a separate-self model of development are destructive to women and the fabric of community for all people. By carefully studying women's lives and women's struggles, she is creating new models of human development which hopefully will help transform the destructive social impact of competition, hyper-individualism, racism, sexism, heterosexism, and classism. The practice of mutual empathy is directly related to the promotion of social justice, as is the belief that growth fostering connectins are at the core of human development. While most of her early work arose in the context of the practice of psychotherapy, increasingly she is applying this work to organizations and to social change.
Recommended Books
Relational-Cultural Therapy by Judith V. Jordan
Women's Growth in Diversity (Ed) Judith V. Jordan
The Complexity of Connection (Ed) Judith V. Jordan
Women's Growth in Connection by Judith Jordan, et al.
The Power of Connection (Ed) Judith V. Jordan
The Healing Connection by Jean Baker Miller and Irene Stiver
Toward a New Psychology of Women by Jean Baker Miller
Feminist Theory: From Margin to Center by bell hooks