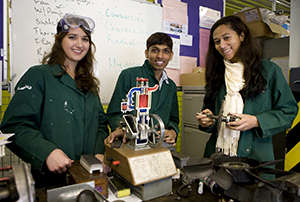 Encouraging Girls to Pursue STEM
Females outnumber their male colleagues in higher education, tend to get better grades, yet do not proportionately pursue STEM-related (science, math, and technology) fields. A woman's participation or pursuit of STEM related studies is a question choice, not ability. Women are just as intellectually and academically capable of performing in STEM fields, yet the share of STEM bachelor's degrees awarded to women over the past decade has fallen. Unfortunately, statistics about the participation (of lack thereof) of women in STEM fields should not come as a surprise; for far too long headlines have told this all too familiar story. Though we have long been aware of these alarming, we should set forth to understand it and endeavor to find ways to combat it.
There is no shortage of literature on this topic. A simple search of the phrase "girls in STEM" yields a staggering number of results. Though it goes without saying that solutions to closing the participation gap are heavily rooted within the plethora of reports regarding the achievement gap, longitudinal studies on children's beliefs about academic competency, and sex-linked interest preferences, focusing on the strategies in which we can encourage girls to pursue STEM fields will make us most aware of the ways we can reverse the alarming aforementioned statistics.
Keys to Encouraging Girls to Pursue Math and Science
Increasing Confidence: When students are more confident about their abilities in a subject, they are more likely to engage in that subject through higher level classes or extracurricular activities.
Supporting Self-Efficacy: Through providing detailed feedback that helps students understand their mistakes and focusing on a student's ability to learn and improve, teacher's can increase student efforts.
Exposure to role models: When polled, 53 percent of girls that are interested in STEM reported knowing a woman with a STEM career, compared to 36 percent of girls without an interest in STEM.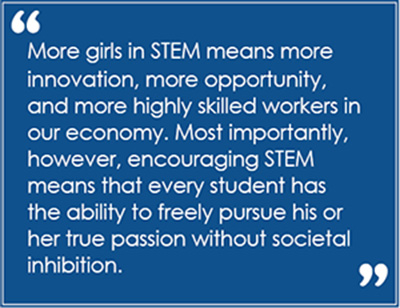 National nonprofit organizations such as Women Who Code have already inspired thousands of young girls to pursue math and science because they created a community of support and mentorship. Change, however, is not solely made by the positive influence of one organization. Change rather is the result of continued, localized efforts. Teachers, parents, and peers can provide a reliable network for aspiring female mathematicians. Encouraging girls to pursue STEM-related careers carries implications far beyond equalizing some set of statistics. More girls in STEM means more innovation, more opportunity, and more highly skilled workers in our economy. Most importantly, however, encouraging STEM means that every student has the ability to freely pursue his or her true passion without societal inhibition. As we think about the ending of another school year and opportunities for summer exploration, we must remember to not only endeavor to help girls realize the importance of math, but also to realize their propensity to achieve.
Sophia Zupanc is a Wellesley College student (class of 2019) and a Wellesley Centers for Women Student Ambassador.