Giving
The Wellesley Centers for Women is unique among research institutions with its distinctive approach to probing, scholarly research on questions growing out of women's lives. WCW places women's perspectives at the center of its work and makes research relevant by linking theory to decision-makers, policy initiatives, and direct action.
We rely on generous donors like you to support our cutting-edge research and programming. Your unrestricted gift today strengthens and supports our unparalleled reputation as a leader in issues ranging from work/family balance, educational equity, and emotional wellbeing to gender violence, child care, and human rights.
By making a gift to WCW, you join a community of individuals across the nation and around the world that are committed to shaping a better world. Research takes on new relevance when it is linked to policy and direct-action programming. Please make a gift today!
Thank you for supporting our work.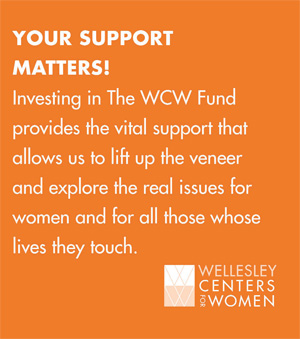 Your support matters!

The WCW Fund provides the vital support that allows us to

lift up the veneer and explore the real issues

at work for women in education, workplace participation, legal rights, gender violence, emotional health, and human rights.


CONTACT:

781.283.2484 •

This email address is being protected from spambots. You need JavaScript enabled to view it.
"Researchers at the Wellesley Centers for Women were the first to closely study sexual harassment, as well as bullying and teasing, in schools, and to translate this research into programs and policies for educators. Their work has informed the way educators and legislators, as well as the general public, understand and address these important issues."
Anita Hill
Professor of Law, Social Policy, and Women's Studies
Heller School of Policy and Management
Brandeis University