Women's Review of Books
Since 1983 the Women's Review of Books has provided a forum for serious, informed discussion of new writing by and about women. Women's Review of Books provides a unique perspective on today's literary landscape and features essays and in-depth reviews of new books by and about women. Women's Review of Books is published by the Wellesley Centers for Women at Wellesley College, in collaboration with Old City Publishing in Philadelphia, PA.
Watch this video interview with Amy Hoffman, editor-in-chief of the Women's Review of Books. Learn about the background history of the publication and how works are selected.
July/August 2015
BUY ISSUE>>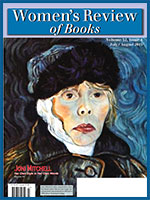 A Positive Social Good
Pro: Reclaiming Abortion Rights
By Katha Pollitt
Reviewed by Marlene Fried

Ten Fingers and Ten Toes
Fantasies of Identification: Disability, Gender, Race By Ellen Samuels
Reviewed by Lauri Umansky

Complicating the story of women in the Nation of Islam
A Nation Can Rise No Higher Than Its Women: African American Muslim Women in the Movement for Black Self-Determination, 1950-1975
By Bayyinah S. Jeffries; Women of the Nation: Between Black Protest and Sunni Islam
By Dawn-Marie Gibson and Jamillah Karim
Reviewed by Juliane Hammer

Transported Women
Harlots, Hussies and Poor Unfortunate Women: Crime, Transportation, and the Servitude of Female Convicts, 1718-1783
By Edith M. Ziegler
Reviewed by Rona L. Holub

Indigenous Rights And Women'S Rights Together
Compañeras: Zapatista Women's Stories
By Hilary Klein Reviewed by Lynn Stephen

Cartoon By Cara Bean

Good Reads ESPIONAGE AND INTRIGUE
By Trish Crapo

Poetry By Jessica Greenbaum

Love As Fierce As Death
A Stranger's Mirror: New and Selected Poems, 1994-2013 By Marilyn Hacker;
Swimming in the Rain: New and Selected Poems, 1980-2015
By Chana Bloch
Reviewed by Alicia Ostriker

Failure To Communicate
Pan American Women: US Internationalists and Revolutionary Mexico
By Megan Threlkeld
Reviewed by Catia Cecilia Confortini

Splitters, Knitters, And Quitters
School's Out: Gay and Lesbian Teachers in the Classroom
By Catherine Connell
Reviewed by Pam Chamberlain

Her Own Chair
Joni Mitchell: In Her Own Words
Edited by Malka Marom
Reviewed by Joanna Weiss

Staying Home Or Leaving It
Russian Tattoo
By Elena Gorokhova;
Waiting for Electricity
By Christina Nichol
Reviewed by Marta Bladek

Unencumbered
Unbought and Unbossed: Transgressive Black Women, Sexuality, and Representation
By Trimiko Melancon
Reviewed by Rachel Afi Quinn

Black Women Reporters On The White House Beat
Alone Atop the Hill: The Autobiography of Alice Dunnigan, Pioneer of the National Black Press
Edited by Carol McCabe Booker;
Eye on the Struggle: Ethel Payne, the First Lady of the Black Press
By James McGrath Morris; The Presidency in Black and White: My Up-Close View of Three Presidents and Race in America
By April Ryan
Reviewed by A. J. Verdelle

The Women's Review of Books receives support from the Massachusetts Cultural Council.