Women's Review of Books
Since 1983 the Women's Review of Books has provided a forum for serious, informed discussion of new writing by and about women. Women's Review of Books provides a unique perspective on today's literary landscape and features essays and in-depth reviews of new books by and about women. Women's Review of Books is published by the Wellesley Centers for Women at Wellesley College, in collaboration with Old City Publishing in Philadelphia, PA.
Watch this video interview with Amy Hoffman, editor-in-chief of the Women's Review of Books. Learn about the background history of the publication and how works are selected.
January/Febuary 2015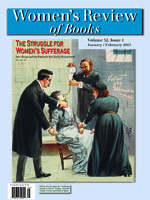 Science, Religion, and Politics
From Eve to Evolution: Darwin, Science, and Women's Rights in Gilded Age America
By Kimberly A. Hamlin
Reviewed byEmily R. Grosholz

Of Binoculars and Birdhats, Treaties and Toxicology Fallen Forests: Emotion,Embodiment and Ethics in American Women's Environmental Writing, 1781-1924 By Karen L. Kilcup; Rachel Carson and Her Sisters: Etraordinary Women Who Have Shaped America's Environment
By Brian Musil
Reviewed by Shaeleen A. Meaney

Capital Matters... But So Does Gender
Capital in the Twenty-First Century
By Thomas Piketty, Translated by Arthur Goldhammer
Reviewed by Kate Bahn

Those Society Has Abandoned From Pariahs to Partners: How Parents and Their Allies Changed New York City's Child Welfare System By David Tobis; To the End of June: The Intimate Life of American Foster Care
By Cris Beam
Reviewed by Ruth Sidel

Keeping The Mission Alive
Sex Work Politics: From Protest to Service Provision
By Samantha Majic
Reviewed by Marianna Wesson

Art and Politics
The Other Black List: The African American Literary and Cultural Left of the 1950s
By Mary Helen Washington
Reviewed by Dayo Gore

Photography
The Meeting of Art and Technology: The Polaroid Collections
By Ellen Feldman

The Radical and The Moderate
Anna Howard Shaw: The Work of Woman Suffrage By Trisha Franzen; Alice Paul: Claiming Power
By J.D. Zahniser and Amelia R. Fry
Reviewed by Louise W. Knight


Field Notes
In Memoriam: Maxine Kumin (1925-2014)
By Robin Becker

Competition and Symbiosis
Invisible Beasts: Tales of the Animals That Go Unseen Among Us
By Sharon Muir
Reviewed by Marianna DeKoven

Poetry
By Irene Willis

A Lot More To Say
The Feminist Porn Book: The Politics of Producing Pleasure
Edited by Tristan Taormino, Celine Parrenas Shimizu, Constance Penley, Mireille Miller-Young
Reviewed by Wendy Chapkis

The Chaos and Quiet of Karen Green
Bough Down
By Karen Green
Reviewed by Ana Isabel Keilson

A Black-And-White Photograph
Lovers at the Chameleon Club, Paris 1932
By Francine Prose
Reviewed by Marcie Blanco

The History of Western Art
The Blazing World
By Siri Hustvedt
Reviewed by Cassandra Langer

Lost Property
Things I Don't Want To Know: On Writing By Deborah Levy; Black Vodka: Ten Stories
By Deborah Levy
Reviewed by Elaine Margolin




The Women's Review of Books receives support from the Massachusetts Cultural Council.