Women's Review of Books
Since 1983 the Women's Review of Books has provided a forum for serious, informed discussion of new writing by and about women. Women's Review of Books provides a unique perspective on today's literary landscape and features essays and in-depth reviews of new books by and about women. Women's Review of Books is published by the Wellesley Centers for Women at Wellesley College, in collaboration with Old City Publishing in Philadelphia, PA.
Watch this video interview with Amy Hoffman, editor-in-chief of the Women's Review of Books. Learn about the background history of the publication and how works are selected.
May/June 2015

Women's Review of Books issues are now available for purchase as digital downloads!
BUY ISSUE>>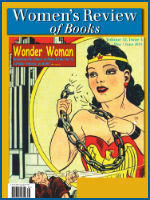 Making a Spectacle of Herself
Topless Cellist: The Improbable Life of Charlotte Moorman
By Joan Rothfuss
Reviewed by Debra Cash

The Strongest and Wisest Amazon
The Secret History of Wonder Woman By Jill Lepore; Wonder Woman: Bondage and Feminism in the Marston/Peter Comics, 1941-1948 By Noah Berlatsky
By Patricia Miller
Reviewed by Joan Hilty

Fashion Victims
Arresting Dress: Cross-Dressing, Law, and Fascination in Nineteenth-Century San Francisco
By Clare Sears
Reviewed by Lillian Faderman

Offending Women
Can't Catch a Break: Gender, Jail, Drugs, and the Limits of Personal Responsibility By Susan Starr Sered and Maureen Norton-Hawk; Mean Lives, Mean Laws: Oklahoma's Women Prisoners By Susan F. Sharp
Reviewed by Rickie Solinger

Public Women
The Silent Sex: Gender, Deliberation and Institutions
By Christopher F. Karpowitz and Tali Mendelberg
Reviewed by Glenna Matthews

No Tolerance for Easy Answers
The Essential Ellen Willis
Edited by Nona Willis Aronowitz
Reviewed by Astrid Henry

The Complexity of Success
Relentless Reformer: Josephine Roche and Progressivism in Twentieth Century America
By Robyn Muncy
Reviewed by Alice Kessler-Harris

How the Little House Was Won
Pioneer Girl: The Annotated Autobiography
Edited by Pamela Smith Hill
Reviewed by Holly Blackford

Poetry
By Beth Enson

Field Notes
Euphoric Stew
By Robin Becker

Labor in Both Senses of the Word
Wombs in Labor: Transnational Commercial Surrogacy in India
By Amrita Pande
The Last Days of California
By Mary Miller
Reviewed by Rajani Bhatia

All in Her Head
Not Tonight: Migraine and the Politics of Gender and Health
By Joanna Kempner
Reviewed by Paula Kamen

"Disarm! Disarm!"
Modern Motherhood: An American History
By Jodi Vandenberg-Daves
Reviewed by Alicia Ostriker

Essay
Changing Women's Lives Through Literature
By Jean Trounstine

A Same-Sex Murder Ballad
Alice & Freda Forever: A Murder in Memphis
By Alexis Coe, illustrations by Sally Klann
Reviewed by Susanna J. Sturgis

Things Underneath
How to Be Both
By Ali Smith
Reviewed by Rebecca Meacham


Women's Review of Books issues are now available for purchase as digital downloads!




The Women's Review of Books receives support from the Massachusetts Cultural Council.