Women's Review of Books
Since 1983 the Women's Review of Books has provided a forum for serious, informed discussion of new writing by and about women. Women's Review of Books provides a unique perspective on today's literary landscape and features essays and in-depth reviews of new books by and about women. Women's Review of Books is published by the Wellesley Centers for Women at Wellesley College, in collaboration with Old City Publishing in Philadelphia, PA.
Watch this video interview with Amy Hoffman, editor-in-chief of the Women's Review of Books. Learn about the background history of the publication and how works are selected.
July/August 2014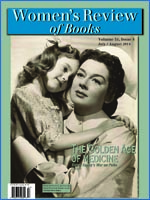 An African American Prima Donna
American Cocktail: A "Colored Girl" in the World
By Anita Reynolds, with Howard Miller, Edited by George Hutchinson
Reviewed by Marilyn Richardson

The Gendered Politics of Seriousness


Seriously! Investigating Crashes and Crises As if Women Mattered
By Cynthia Enloe
Reviewed by Charlotte Bunch

A Medical Sea-Change
Polio Wars: Sister Kenny and the Golden Age of American Medicine
By Naomi Rogers
Reviewed by Patricia Kullberg

Genital Mutilation, Western Style
Making Sense of Intersex: Changing Ethical Perspectives in Biomedicine
By Ellen K. Feder
Reviewed by Catherine Clune-Taylor

Leaders, Not Ladies
He Runs, She Runs: Why Gender Stereotypes Do Not Harm Women Candidates
By Deborah Jordan Brooks
More Women Can Run: Gender and Pathways to the State Legislatures
By Susan J. Carroll and Kira Sanbonmatsu
Reviewed by Joanna Weiss

Racializing Beauty
Pageants, Parlors, and Pretty Women: Race and Beauty in the Twentieth-Century South
By Blain Roberts
Reviewed by Tamara Beauboeuf-Lafontant

Volunteering for Blackness
Miss Anne in Harlem: The White Women of the Black Renaissance
By Carla Kaplan
Reviewed by Cherene Sherrard-Johnson

Cartoon
By Jennifer Crute

The Golden Age
Divas, Dames & Daredevils: Lost Heroines of Golden Age Comics
By Mike Madrid
Reviewed by Joan Hilty

Good Reads
Inevitable Conclusions
By Trish Crapo

From in-Law to Outlaw
Later Poems: Selected and New, 1971-2012
By Adrienne Rich
Reviewed by Florence Howe

Poetry
By Maria Terrone

I Am His Other
Know the Night: a Memoir of Survival in the Small Hours
By Maria Mutch
Reviewed by Kelly Davio

Subterfuges, Survivals, and Liberation
The Infamous Rasalie (Rosalie l'Infame)
By Evelyne Trouillot, Translated by M.A. Salvadon
Reviewed by Danielle Legros Georges

Fixated on Men, but Saved by Women
Clever Girl
By Tessa Hadley
Reviewed by Valerie Miner

The Poet and Her Mother
Holding On Upside Down: The Life and Work of Marianne Moore
By Linda Leavell
Reviewed by Robin G. Schulze




The Women's Review of Books receives support from the Massachusetts Cultural Council.