Women's Review of Books
Since 1983 the Women's Review of Books has provided a forum for serious, informed discussion of new writing by and about women. Women's Review of Books provides a unique perspective on today's literary landscape and features essays and in-depth reviews of new books by and about women. Women's Review of Books is published by the Wellesley Centers for Women at Wellesley College, in collaboration with Old City Publishing in Philadelphia, PA.
Watch this video interview with Amy Hoffman, editor-in-chief of the Women's Review of Books. Learn about the background history of the publication and how works are selected.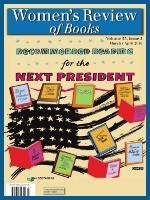 RECOMMENDED READING FOR THE NEW US PRESIDENT.

BUY ISSUE>>
July/August 2016
BUY ISSUE>>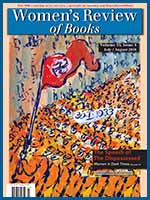 From Scandal to Recovery
Lady Byron and Her Daughters By Julia Markus
Reviewed by Pamela S. Bromberg

Hair
Dressing for the Culture Wars: Style and the Politics of Self-Presentation in the 1960s and 1970s By Betty Luther Hillman
Reviewed by Kimberly Chrisman-Campbell

Feminism and Terrorism
Death in the Shape of a Young Girl: Women's Political Violence in the Red Army Faction By Patricia Melzer;
After the Red Army Faction: Gender, Culture, and Militancy By Charity Scribner
Reviewed by Elizabeth Heineman

An Avant-Garde Life
Edgewise: A Picture of Cookie Mueller By Chloé Griffin
Reviewed by An Paenhuysen

The Cult of Forbidden Thoughts
The Big Green Tent By Ludmila Ulitskaya, translated by Polly Gannon Reviewed
by Beth Holmgren

Racism, Sexism, and Nursing
Nursing Civil Rights: Gender and Race in the Army Nurse Corps By Charissa J. Threat
Reviewed by Jane E. Schultz

The Speech of the Dispossessed
Women in Dark Times By Jacqueline Rose
Reviewed by Rebecca Steinitz

Good Reads Unraveling By Trish Crapo

Poetry By Angela Consolo Mankiewicz

Cartoon By A.K. Summers

Women in Print
The Feminist Bookstore Movement: Lesbian Antiracism and Feminist Accountability By Kristen Hogan
Reviewed by Susanna J. Sturgis

A Rediscovered Poet for our Time
Anything that Burns You: A Portrait of Lola Ridge, Radical Poet By Terese Svoboda
Reviewed by Margaret Randall

Constructing Identity up Against a Wall
Bitter Almonds By Lilas Taha;
The Blue Between Sky and Water By Susan Abulhawa;
A Curious Land By Susan Darraj;
Ali and His Russian Mother By Alexandra Chreiteh, translated by Michelle Hartman
Reviewed by M. Lynx Qualey

Conocimiento Lunar / Lunar Knowledge
Light in the Dark / Luz en lo oscuro: Rewriting Identity, Spirituality, Reality By Gloria Anzald, edited by AnaLouise Keating
Reviewed by Romana Radlwimmer

Just the Facts
Galileo's Middle Finger: Heretics, Activists, and the Search for Justice in Science By Alice Dreger
Reviewed by E.J. Graff
The Women's Review of Books receives support from the Massachusetts Cultural Council.