Women's Review of Books
Since 1983 the Women's Review of Books has provided a forum for serious, informed discussion of new writing by and about women. Women's Review of Books provides a unique perspective on today's literary landscape and features essays and in-depth reviews of new books by and about women. Women's Review of Books is published by the Wellesley Centers for Women at Wellesley College, in collaboration with Old City Publishing in Philadelphia, PA.
Watch this video interview with Amy Hoffman, editor-in-chief of the Women's Review of Books. Learn about the background history of the publication and how works are selected.
November/December 2016
BUY ISSUE>>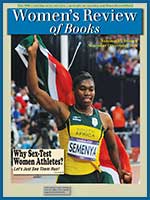 "Muslimwomen," Journalists and scholars
Excellent Daughters: The Secret Lives of Young Women Who Are Transforming the Arab World By Katherine Zoepf
Reviewed by Lila Abu-Lughod

How do you Solve a Problem Like Svetlana?
Stalin's Daughter: The Extraordinary and Tumultuous Life of Svetlana Alliluyeva By Rosemary Sullivan
Reviewed by Lesley Rimmel

When is a Girl not a Girl?
Sex Testing: Gender Policing in Women's Sports By Lindsay Parks Pieper
Reviewed by Laura Pappano

The Gentle Penitentiary
Liberty's Prisoners, Carceral Culture in Early America By Jen Manion
Reviewed by Martha Saxton

Women Conservatives
Tea Party Women: Mama Grizzlies, Grassroots Leaders, and the Changing Face of the American Right By Melissa Deckman
Reviewed by Abby Scher

The Dancer from the Dance
The Naked Result: How Exotic Dance Became Big Business By Jessica Berson
Reviewed Lauri Umansky

The Difficulty of Solidarity
Striking Beauties: Women Apparel Workers in the US South, 1930-2000 By Michelle Haberland
Reviewed by Priscilla Murolo

Cartoon By Tara Madison Avery

Good Reads Bad Choices By Trish Crapo

Unreconciled
Chasing Ghosts: A Memoir of a Father, Gone to War By Louise DeSalvo; Mysteries of Love and Grief: Reflections on a Plainswoman's Life By Sandra Scofield; The Latter Days: A Memoir By Judith Freeman
Reviewed by Rebecca Hussey

The Tragedy in the Breakfast Nook
This Angel on My Chest: Stories By Leslie Pietrzyk The Grass Labyrinth: Stories By Charlotte Holmes
Reviewed by Kelly Cherry

Translation and Retranslation
Good on Paper By Rachel Cantor Ways to Disappear By Idra Novey
Reviewed by Michelle Bailat-Jones

Poetry By Darla Himeles

Construction work
Ain't Gonna Let Nobody Turn Me Around: Forty Years of Movement Building with Barbara Smith Edited by Alethia Jones and Virginia Eubanks, with Barbara Smith
Reviewed by A.J. Verdelle

Kids Today
Girls & Sex: Navigating the Complicated New Landscape By Peggy Orenstein; American Girls: Social Media and the Secret Lives of Teenagers By Nancy Jo Sales
Reviewed by Nancy Jainchill
Women's Review of Books issues are now available for purchase as digital downloads!
The Women's Review of Books receives support from the Massachusetts Cultural Council.