Women's Review of Books
Since 1983 the Women's Review of Books has provided a forum for serious, informed discussion of new writing by and about women. Women's Review of Books provides a unique perspective on today's literary landscape and features essays and in-depth reviews of new books by and about women. Women's Review of Books is published by the Wellesley Centers for Women at Wellesley College, in collaboration with Old City Publishing in Philadelphia, PA.
Watch this video interview with Amy Hoffman, editor-in-chief of the Women's Review of Books. Learn about the background history of the publication and how works are selected.
September/October 2014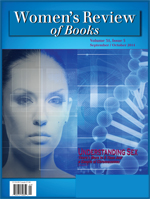 How the Battle of Memory Was Won
The Myth of Seneca Falls: Memory and the Women's Suffrage Movement, 1848-1898
By Lisa Tetrault
Reviewed by Bonnie J. Dow

Waitressing in the Sky


The Jet Sex: Airline Stewardesses and the Making of an American Icon
By Victoria Vantoch
Reviewed by Priscilla Murolo

Becoming Raced and Classed
Fannie Barrier Williams: Crossing the Borders of Region
By Wanda A. Hendricks
Reviewed by Corinne T. Field

Not Known Persons
Coolie Woman: The Odyssey of Indenture
By Gaiutra Bahadur
Reviewed by Indira Karamcheti

The Noble Terrorist
The Defiant Life of Vera Figner: Surviving the Russian Revolution
By Lynne Ann Hartnett
Reviewed by Lisa A. Kirschenbaum

The Daughters' Stories
My Mother's Funeral
By Adriana Paramo
My Mother's Wars
By Lillian Faderman
Nothing Holds Back the Night
By Delphine de Vigan
You Animal Machine (The Golden Greek)
By Eleni Sikelianos
Reviewed by Carol Sternhell

Photography
Mary Ellen Mark's Long-Term Relationships
Photography by Mary Ellen Mark and Commentary by Ellen Feldman

Communities of Artistic Women
In Her Words: Conversations with Composers in the United States
By Jennifer Kelly
Five Lives in Music: Women Performers, Composers, and Impresarios from the Baroque to the Present
By Cecelia Hopkins Porter
Reviewed by Kate Doyle

Field Notes
Hurtling Ahead
By Robin Becker

Post-Soviet Poetry
Paul Klee's Boat
By Anzhelina Polonskaya
Relocations: 3 Contemporary Russian Women Poets
Edited by Catherine Ciepiela
Reviewed by Kelly Cherry

Poetry
By Suzanne Gardinier

"What do we see? What do we not see?"
So How's the Family? and Other Essays
By Arlie Russell Hochschild
Reviewed by E.J. Graff

Doing the Dirty Work
Immigrant Women Workers in the Neoliberal Age
Edited by Nilda Flores-Gonzalez, Anna Romina Guevara, Maura Toro-Morn, and Grace Chang
Reviewed by Gwendolyn Beetham

Black and Native Women: Not Quite Sisters
Trail Sisters: Freedwomen in Indian Territory, 1850-1890
By Linda Williams Reese
Reviewed by Patricia Penn Hilden

The Dynamic Dyad
Sex Itself: The Search for Male and Female in the Human Genome
By Sarah S. Richardson
Reviewed by Monica J. Casper

The Banshee's Wail
The Banshees: A Literary History of Irish American Women Writers
By Sally Barr Ebest
Reviewed by Mary O'Donoghue




The Women's Review of Books receives support from the Massachusetts Cultural Council.