Women's Review of Books
Since 1983 the Women's Review of Books has provided a forum for serious, informed discussion of new writing by and about women. Women's Review of Books provides a unique perspective on today's literary landscape and features essays and in-depth reviews of new books by and about women. Women's Review of Books is published by the Wellesley Centers for Women at Wellesley College, in collaboration with Old City Publishing in Philadelphia, PA.
Watch this video interview with Amy Hoffman, editor-in-chief of the Women's Review of Books. Learn about the background history of the publication and how works are selected.
November/Docember 2015
BUY ISSUE>>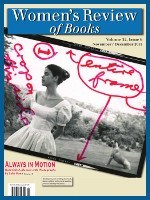 A Family Recipe
Hold Still: A Memoir with Photographs By Sally Mann
Reviewed by Trish Crapo

Becoming Children
South Side Girls: Growing Up in the Great Migration By Marcia Chatelain
Crescent City Girls: The Lives of Young Black Women in Segregated New Orleans By LaKisha Michelle Simmons
Reviewed by Tamara Beauboeuf-Lafontant

An Activist in Her Own Right
Eleanor Marx: A Life By Rachel Holmes
Reviewed by Linda Gordon

Poetry
By Alice Friman

Add These to Your Queue
Women's Cinema, World Cinema: Projecting Contemporary Feminisms By Patricia White
Reviewed by Erin Trahan

Color Politics Remix
God Help the Child By Toni Morrison
Reviewed by Mecca Jamilah Sullivan

Cartoon
Timebomb, or How I Discovered Sybil Lamb, My New Fave Queer Woman Author & ArtistBy Cristy C. Road

The Unrecoverable Recovered
The Match Girl and the Heiress By Seth Koven
Reviewed by Lisa Rodensky

Good Reads
Outrunning Sadness By Trish Crapo

Imagining Alternative Worlds
Gaming at the Edge: Sexuality and Gender at the Margins of Gamer Culture By Adrienne Shaw
Reviewed by Carmen Maria Machado

Should a Feminist Dance Tango?
Dancing Tango: Passionate Encounters in a Globalizing World By Kathy Davis
The Gods of Tango By Carolina De Robertis
Reviewed by Debra Cash

The Politics of Hair
Plucked: A History of Hair Removal By Rebecca M. Herzig
Reviewed by Rachel Somerstein

Vigorous Minds
Romantic Outlaws: The Extraordinary Lives of Mary Wollstonecraft and Her Daughter Mary Shelley By Charlotte Gordon
Reviewed by Gina Luria Walker

Nothing Wasted
Penelope Fitzgerald: A Life By Hermione Lee
Reviewed by Ana Isabel Keilson
The Women's Review of Books receives support from the Massachusetts Cultural Council.