Women's Review of Books
Since 1983 the Women's Review of Books has provided a forum for serious, informed discussion of new writing by and about women. Women's Review of Books provides a unique perspective on today's literary landscape and features essays and in-depth reviews of new books by and about women. Women's Review of Books is published by the Wellesley Centers for Women at Wellesley College, in collaboration with Old City Publishing in Philadelphia, PA.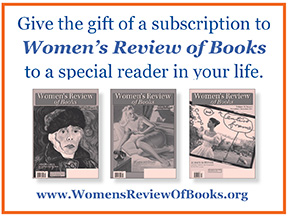 Watch this video interview with Amy Hoffman, editor-in-chief of the Women's Review of Books. Learn about the background history of the publication and how works are selected.
March/April 2016
BUY ISSUE>>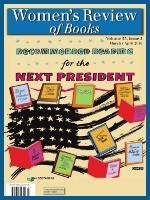 Women As Symbol and Reality
Kabul Carnival: Gender Politics in Postwar Afghanistan By Julie Billaud
Reviewed by Jennifer G. Mathers

One in Two, Two in One
The Story of the Lost Child By Elena Ferrante
Reviewed by Lisa Mullenneaux

"Moses Married a Colored Woman"
The Fight for Interracial Marriage Rights in Antebellum Massachusetts By Amber D. Moulton
Reviewed by Sandra F. VanBurkleo

Both Victims and Perpetrators
Addicted. Pregnant. Poor. By Kelly Ray Knight
Reviewed by Andrea Grimes

Cartoon
In Reference To
By Whit Taylor

Good Reads
Unconventional Characters
By Trish Crapo

Poetry
By Jayne Benjullan
Reviewed by Jennifer G. Mathers

To the Reader in Chief
Some of our favorite feminists recommend books for the next US president's reading list
By Alicia Ostriker, AnaLouise Keating, Beverly Guy-Sheftall, Callie Crossley, Courtney E. Martin, Ellen Feldman, Jennifer Camper, Kate Clinton, Katie Grover, Layli Maparyan, Yi-Chun Tricia Lin, Marjorie Agosin, Martha Nichols, Moya Bailey, Robin Becker, and Rochelle Ruthchild
Illustrations by Jennifer Camper

Stepford Wives and Sexbots
My Fair Ladies: Female Robots, Androids, and Other Artificial Eves By Julie Wosk
Reviewed by Madeleine Monson-Rosen

Singing for the Revolution
A Radical Life in Song: A Memoir By Ronnie Gilbert
Reviewed by Alix Dobkin

New Chinese Poetry
Something Crosses My Mind By Wang Xiaoni, translated by Eleanor Goodman
Salsa By Hsia Yü, translated by Steve Bradbury
Reviewed by Marthine Satris

The Politics of Forgetting - And Remembering
Toward an Intellectual History of Black Women Edited by Mia Bay, Farah J. Griffin, Martha S. Jones, and Barbara D. Savage
Reviewed by Kellie Carter Jackson

The History of Violence
The Beginning and End of Rape: Confronting Sexual Violence in Native America By Sarah Deer
Reviewed by Jody Raphael
The Women's Review of Books receives support from the Massachusetts Cultural Council.