Women's Review of Books
Since 1983 the Women's Review of Books has provided a forum for serious, informed discussion of new writing by and about women. Women's Review of Books provides a unique perspective on today's literary landscape and features essays and in-depth reviews of new books by and about women. Women's Review of Books is published by the Wellesley Centers for Women at Wellesley College, in collaboration with Old City Publishing in Philadelphia, PA.
Watch this video interview with Amy Hoffman, editor-in-chief of the Women's Review of Books. Learn about the background history of the publication and how works are selected.
November/December 2014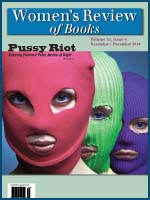 The Fire Will Not Consume Us
Eating Fire: My Life as a Lesbian Avenger
By Kelly Cogswell
Reviewed by Carmen Maria Machado

Global Family Making


Global Families: A History of Asian International Adoption in America
By Catherine Ceniza Choy
Reviewed by Miliann Kang

The Glass Cliff
The New Soft War on Women
By Caryl Rivers and Rosalind C. Barnett
What Works for Women at Work: Four Patterns Working Women Need to Know<br " />By Joan C. Williams and Rachel Dempsey
Reviewed by Helaine Olen

Specifically Universal
Can't We Talk About Something More Pleasant?
By Roz Chast
Reviewed by Rebecca Steinitz

Citizenship and Sexual Coercion
Redefining Rape: Sexual Violence in the Era of Suffrage and Segregation
By Estelle B. Freedman
Reviewed by Danielle L. McGuire

Virgin Mary, Become a Feminist!
Words Will Break Cement: The Passion of Pussy Riot
By Masha Gessen
Reviewed by Rochelle Goldberg Ruthchild

Women's Complicity
Hitler's Furies: German Women in the Nazi Killing Fields
By Wendy Lower
Reviewed by Elizabeth Heineman

Cartoon
Ekphrasis
By Amy Martin


Good Reads
Moments of Crisis
By Trish Crapo

Who Am I?
Pregnant Butch: Nine Long Months Spent in Drag
By A.K. Summers
Reviewed by Samantha Meler

Middlemarch and Me
My Life in Middlemarch
By Rebecca Mead
Reviewed by Martha Gies

Poetry
By Catherine Freeling

Art and Activism
How It Feels to Be Free:
Black Women Entertainers and the Civil Rights Movement
By Ruth Feldstein
Reviewed by Salamishah Tillet

Ambitious Assemblages
Josephine Baker and the Rainbow Tribe
By Matthew Pratt Guterl
Reviewed by Florence Ladd

The Value of History
Citizenship and the Origins of Women's History in the United States
By Teresa Anne Murphy
Reviewed by Eileen Ka-May Cheng

Beyond Rescue
Life Interrupted: Trafficking into Forced Labor in the United States
By Denise Brennan
Reviewed by Melissa Hope Ditmore




The Women's Review of Books receives support from the Massachusetts Cultural Council.