Women's Review of Books
Since 1983 the Women's Review of Books has provided a forum for serious, informed discussion of new writing by and about women. Women's Review of Books provides a unique perspective on today's literary landscape and features essays and in-depth reviews of new books by and about women. Women's Review of Books is published by the Wellesley Centers for Women at Wellesley College, in collaboration with Old City Publishing in Philadelphia, PA.
Watch this video interview with Amy Hoffman, editor-in-chief of the Women's Review of Books. Learn about the background history of the publication and how works are selected.
September/October 2015
BUY ISSUE>>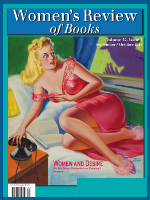 Thirty Ounces of Death in a Feathered Jacket
H Is for Hawk
By Helen Macdonald
Reviewed by Mary Zeiss Stange

No Empire Without Collaborators
Chinese Comfort Women: Testimonies From Imperial Japan's Sex Slaves By Peipei Qiu with Su Zhiliang and Chen Lifei
Reviewed by Lihua Wang

Putin Performs Masculinity
Sex, Politics, & Putin: Political Legitimacy in Russia By Valerie Sperling
Reviewed by Rochelle Goldberg Ruthchild

Protected and Policed
Regulating Desire: From the Virtuous Maiden to the Purity Princess By J. Shoshanna Ehrlich
Policing Sexuality: The Mann Act and the Making of the FBI By Jessica R. Pliley
Reviewed by Anne Gray Fischer

Uncaring Health Care
Reproductive Justice: The Politics of Health Care for Native American Women By Barbara Gurr
Reviewed by Andrea Smith

Not A Feminist But
Cora Du Bois: Anthropologist, Diplomat, Agent By Susan C. Seymour
Reviewed by Lois Banner

Poetry
By Amy Dyansky

Photography
Behind Stereotype
Photography by Anne Rearick and Commentary by Ellen Feldman

Field Notes
Recollecting in Tranquility By Robin Becker

A Nation Founded On Genocide
An Indigenous Peoples History of the United States By Roxanne Dunbar-Ortiz
Reviewed by Brook Colley

Serious Daring
Dollhouse By Elaine Terranova
Blue Hanuman By Joan Larkin
Otherwise UnseeableBy Betsy Sholl
Reviewed by Charlotte Holmes

A Boy On the Run
Little Bastards in Springtime By Katja Rudolph
Reviewed by Kelly Cherry

NGOs: Soft Power Turning the Gears
Theorizing NGOs: States, Feminisms, and Neoliberalism Edited by Victoria Bernal and Inderpal Grewal
Reviewed by Miranda Joseph

Finding Her Life Path
Love and Liberation: Autobiographical Writings of the Tibetan Buddhist Visionary Sera Khandro By Sarah H. Jacoby
Reviewed by Serinity Young

Colonialist Dreams of Lesbianism
The Sexuality of History: Modernity and the Sapphic, 1565-1830 By Susan S. Lanser
Reviewed by Lisa L. Moore

Pleasure and Performance
A Taste for Brown Sugar: Black Women in Pornography By Mireille Miller-Young
The Black Body in Ecstasy: Reading Race, Reading Pornography By Jennifer C. Nash
Reviewed by Svati P. Shah
The Women's Review of Books receives support from the Massachusetts Cultural Council.