Women's Review of Books
Since 1983 the Women's Review of Books has provided a forum for serious, informed discussion of new writing by and about women. Women's Review of Books provides a unique perspective on today's literary landscape and features essays and in-depth reviews of new books by and about women. Women's Review of Books is published by the Wellesley Centers for Women at Wellesley College, in collaboration with Old City Publishing in Philadelphia, PA.
Watch this video interview with Amy Hoffman, editor-in-chief of the Women's Review of Books. Learn about the background history of the publication and how works are selected.
January/February 2014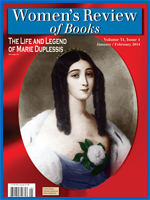 Emboldened Actors on the World Stage
The Dinner Party: Judy Chicago and the Power of Popular Feminism, 1970-2000
By Jane Gerhard
Reviewed by Elissa Auther

Jane Franklin Beats Through


Book of Ages: The Life and Opinions of Jane Franklin
By Jill Lepore
Reviewed by Martha Saxton

The Partners
Passionate Commitments: The Lives of Anna Rochester and Grace Hutchins
By Julia M. Allen
Reviewed by Bettina Aptheker

With Just a Little More Time...
The Riddle of the Labyrinth: The Quest to Crack an Ancient Code
By Margalit Fox
Reviewed by Susanna J. Sturgis

Success and its Failures
Rape is Rape: How Denial, Distortion, and Victim Blaming Are Fueling a Hidden Acquaintince Rape Crisis
By Jody Raphael
Up Against a Wall: Rape Reform and the Failure of Success
By Rose Corrigan
Reviewed by Marianne Wesson

Women Power and Politics
Women in the Club: Gender and Policy Making in the Senate
By Michele L. Swers
Women and Executive Office: Pathways and Performance
Edited by Melody Rose
Contagious Representation: Women's Political Representation in Democracies Around the World
By Frank C. Thames and Margaret S. Williams
Reviewed by Glenna Matthews

Photography
Unembedding War Photography: An Interview with Kael Alford

A Complicated Life
Denise Levertov: A Poet's Life
By Dana Greene
A Poet's Revolution: The Life of Denise Levertov
By Donna Krolik Hollenberg
Reviewed by Kate Daniels

Field Notes
Conversations Recollected and Invented
By Robin Becker

Poetry
By Chana Bloch

Linked Stories of Love's Difficulties
Horse People
By Cary Holladay
The News from Spain: Seven Variations on a Love Story
By Joan Wickersham
Reviewed by Mako Yoshikawa

The Real Camille
The Girl Who Loved Camellias: The Life and Legend of Marie Duplessis
By Julie Kavanagh
Reviewed by Carole DeSanti

The Reclusive Revolutionary
One Day in December: Celia Sanchez and the Cuban Revolution
By Nancy Stout
Reviewed by Margaret Randall

Friends But Not Equals
My Dear Governess: The Letters of Edith Wharton to Anna Bahlmann
Edited by Irene Goldman-Price
Reviewed by Carol J. Singley

Streams and Undercurrents
Groundswell: Grassroots Feminist Activism in Postwar America
By Stephanie Gilmore
Reviewed by Amy Kesselman
The Women's Review of Books receives support from the Massachusetts Cultural Council.