Women's Review of Books
Since 1983 the Women's Review of Books has provided a forum for serious, informed discussion of new writing by and about women. Women's Review of Books provides a unique perspective on today's literary landscape and features essays and in-depth reviews of new books by and about women. Women's Review of Books is published by the Wellesley Centers for Women at Wellesley College, in collaboration with Old City Publishing in Philadelphia, PA.
Watch this video interview with Amy Hoffman, editor-in-chief of the Women's Review of Books. Learn about the background history of the publication and how works are selected.
September/October 2016
BUY ISSUE>>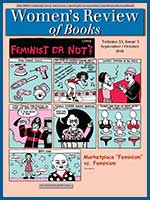 Unfun Feminism
We Were Feminists Once: From Riot Grrrl to Covergirl®, the Buying and Selling of a Political Movement By Andi Zeisler
Reviewed by Paula Kamen, Illustrations by Jennifer Camper

A Spirit Leader
Maya Angelou: Adventurous Spirit By Linda Wagner-Martin
Reviewed by Farah Jasmine Griffin

The Sidewalk Ballet
Becoming Jane Jacobs by Peter L. Laurence
Reviewed by Renée Loth

Changing Women's Minds
This Book Is an Action: Feminist Print Culture and Activist Aesthetics By Jaime Harker and Cecilia Konchar Farr
Reviewed by Judith Kegan Gardiner

Scar Tissue
The Spectral Wound: Sexual Violence, Public Memories, and the Bangladesh War of 1971 By Nayanika Mookerjee
Reviewed by Ritu Menon

Field Notes
A Formal Feeling Comes By Robin Becker

Photography
Embracing the Surreal By Brooke Burns, Photos By Maia Flore

Philosophy and Action
Senses of the Subject By Judith Butler;
Notes Toward a Performative Theory of Assembly By Judith Butler
Reviewed by Michele M. Moody-Adams

Poetry of the Borderland
A Crown for Gumecindo By Laurie Ann Guerrero; Aguacamino/Waterpath By Rossy Evelin Lima; Blood, Sugar, Canto By ire'ne lara silva; The Ones Santa Anna Sold By Raquel Valle-Sentíes
Reviewed by Norma E. Cantú

Poetry By Mary Ann Donnelly

Aging in the Twenty-First Century
They May Not Mean To, But They Do By Cathleen Schine
Reviewed by Valerie Miner

The Hubbub of Life The Japanese Lover
By Isabel Allende, translated by Nick Caistor and Amanda Hopkinson
Reviewed by Eileen Mary O'Connor

Putin Does Not Believe in Queers
Lesbian Lives in Soviet and Post-Soviet Russia By Francesca Stella
Reviewed by Rochelle Goldberg Ruthchild

Redemption or Salvation
Virgin Nation: Sexual Purity and American Adolescence By Sarah Moslener;
Rescuing Jesus: How People of Color, Women, and Queer Christians are Reclaiming Evangelicalism By Deborah Jian Lee
Reviewed by Monique Moultrie

Wait All
The Single Ladies: Unmarried Women and the Rise of an Independent NationBy Rebecca Traister
Reviewed by E. Kay Trimberger
Women's Review of Books issues are now available for purchase as digital downloads!
The Women's Review of Books receives support from the Massachusetts Cultural Council.