Women's Review of Books
Since 1983 the Women's Review of Books has provided a forum for serious, informed discussion of new writing by and about women. Women's Review of Books provides a unique perspective on today's literary landscape and features essays and in-depth reviews of new books by and about women. Women's Review of Books is published by the Wellesley Centers for Women at Wellesley College, in collaboration with Old City Publishing in Philadelphia, PA.
Watch this video interview with Amy Hoffman, editor-in-chief of the Women's Review of Books. Learn about the background history of the publication and how works are selected.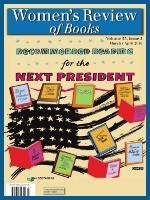 RECOMMENDED READING FOR THE NEW US PRESIDENT.

BUY ISSUE>>
May/June 2016
BUY ISSUE>>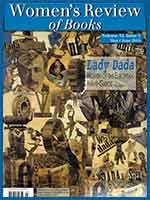 Gifts from the Goddess of Jurisprudence
Sisters in Law: How Sandra Day O'Connor and Ruth Bader Ginsburg Went to the Supreme Court and Changed the World By Linda Hirshman
Notorious RBG: The Life and Times of Ruth Bader Ginsburg
Reviewed by Ruthann Robson

Radical Mamas
Mamas of Dada: Women of the European Avant-GardeBy Paula K. Kamenish
Reviewed by Irene Gammel

Achievement. Invulnerability. Comportment
Negroland By Margo Jefferson; Oreo By Fran Ross
Reviewed by Marilyn Richardson

The Interminable Abortion Wars
Abortion After Roe By Johanna Schoen;
After Roe: The Lost History of the Abortion DebateBy Mary Ziegler
Reviewed by Rickie Solinger

Attention Must Be Paid
On Becoming a Teen Mom: Life Before Pregnancy
By Mary Patrice Erdmans and Timothy Black; System Kids: Adolescent Mothers and the Politics of Regulation
By Lauren J. Silver
Reviewed by Ruth Sidel

Mental Illness Then And Now
White Matter: A Memoir of Family and Medicine
By Janet Sternburg; The Last Asylum: A History of Madness in Our Times
By Barbara Taylor
Reviewed by Katherine Hayes

Possessed By Demons
The Strange Case of Ermine de Reims: A Medieval Woman Between Demons and Saints
By Renate Blumenfeld-Kosinski
Reviewed by Christina Stern

Claiming An Identity
The Gay Revolution: The Story of the Struggle
By Lillian Faderman
Reviewed by Audrey Bilger

Poetry
By Dina Coe

Field Notes Across The Generations
By Robin Becker

Searching For Home
Fanny Says By Nickole Brown; My Crooked House By Teresa Carson; The Republics
By Nathalie Handal
Reviewed by Carol Bere

Delayed, But Not Forgotten
In Certain Circles
By Elizabeth Harrower
Reviewed by Jessica Jernigan

Complacency Or Peril
The Complete Stories
By Clarice Lispector, translated by Katrina Dobson, edited by Benjamin Moser
Reviewed by Marguerite Itamar Harrison

Plan A And Plan B
Love's Promises: How Formal and Informal Contracts Shape All Kinds of Families
By Martha Ertman
Reviewed by Dana Rudolph
The Women's Review of Books receives support from the Massachusetts Cultural Council.