ICYMI: Photography Documenting Activism Images by Ellen Shub and Commentary by Ellen Feldman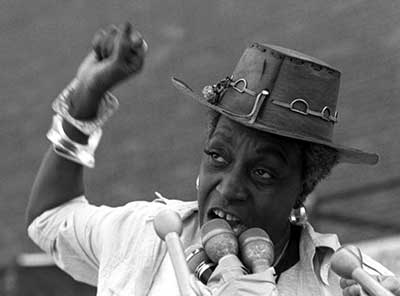 How is it that so many activists who are bound to the struggles and protests of an age remain so damned optimistic? It wasn't I who wanted to start this photo essay's comment with Rich's image of hope amid darkness; it was Ellen Shub, a photojournalist who has been documenting social justice activism in America since the 1970s.
Shub was "initially drawn to covering events around reproductive rights, the battered-women shelter movement, and around violence against women." But her work expanded to cover many of the social movements of our time. From anti-apartheid to anti-nuclear actions, from civil rights to climate change demonstrations: Shub was there.
An award-winning and widely-published photojournalist, particularly on women's issues, Shub is both social activist and artist. "My artistic goal is to create images that capture the emotional power and intimacy of the moment and their historic significance," explains Shub. And she succeeds: her work has appeared in newspapers, films, books, and journals about feminism (including WRB, 2017, and Our Bodies Ourselves); is housed in museum collections; and has been widely exhibited. She is currently seeking a permanent home for this tremendous body of work documenting "people who have sought through their actions to create change, improve the human condition, and transform the course of history." The spirit of hope remains at the heart of her enterprise: "I have always believed that a more equitable, peaceful, just, and sustainable world is possible, and that photographs can help engage and move people to make this possibility a reality." To see the range of Ellen Shub's work, visit https://ellenshub.photoshelter.com
Ellen Feldman, WRB's photography editor, is a photographer, curator, and book artist. Her most recent publication is We Who March: Photographs and Reflections on the Women's March, January 21, 2017. Websites: www.ellenfeldman.net and www.WeWhoMarch.org