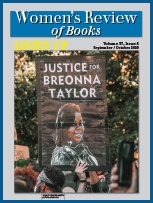 Dear Readers,
#SayHerName, #BreonnaTaylor, #AjaRaquellRoneSpears, #BlackTransWomenMatter
Summer 2020 has wreaked violence and emotional trauma on Black womanhood. In the wake of her making history as the first Black and South Asian woman Democratic Vice President candidate, Kamala Harris was described as "too ambitious." Actor Jada Pinkett-Smith was deemed a horrible mother, wife, and woman when she confirmed a sexual relationship with a man with substance abuse challenges. Rapper Megan Thee Stallion was shot in the foot by a fellow hip hop star, and then slut shamed for her popular summer song with Cardi B., "W.A.P." When Black trans sisters were killed by transphobic vigilantes, heteronormative Black community members and their white allies refused to say their names: Riah Milton in Ohio, Dominique "Rem'Mie" Fells in Pennsylvania, and Aja Raquell Rone-Spears in Oregon.
As the two of us marched through our neighborhoods on opposite sides of this country, an all too familiar pattern arose: those with relative power and privilege continued to take up disproportionate space in conversations about social justice. While society's collective attention turned towards white fragility and violence against Black men, we found ourselves yearning for our stories to be heard. In 2015, critical race theorist, activist and law professor Dr. Kimberlé Crenshaw helped popularize the hashtag #SayHerName on social media to bring attention to the violence facing cis and trans Black women. Five years later, we're still shouting her name, her name, her name. And yet, as our Instagram timelines transition from black squares back to millennial pink, we still wait for prosecutors to bring charges against Breonna Taylor's murderers, who continue to work for the Louisville Metro Police Department. Do you hear us?
In June, when we were asked to guest co-edit the September/October issue of the Women's Review of Books, we knew exactly what we wanted to do: center Black women, our creativity, our struggles, our triumphs, our heartache, and most of all our points of view. The result is this special issue, a conversation between (primarily) Black women writers, activists, and creators. We reviewed new fiction and scholarship, classics, and even television. As you'll see, Black women don't always agree. We have different ideas about the pathway to liberation, different journeys through life, and different reactions to social problems. But we also take inspiration from each other's arguments and expertise. Great art begets more great art.
In the spirit of womanism, this issue became an opportunity for creating community something we think we're all yearning for right now as we shelter in place. To source these reviews, the two of us got to reconnect with our Spelman sisters, our childhood friends, our fellow binders, our academic play cousins, and our broader Black girl community. Not only did these women show up, but they showed out. In these pages, you'll read the words of students, educators, activists, artists, academics, journalists, and more.
Are you ready for some Black girl magic? We hope you hear us.
In sisterhood and solidarity,
LaToya Council and Chelsea Johnson
Washington D.C. and Oakland, CA