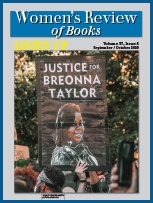 From Jennifer Baumgardner:
In early 2018, Carmen Rios, then an editor at Ms. magazine, introduced me to three sociology PhD candidates: Chelsea Johnson, LaToya Council, and Carolyn Choi. Since that fortuitous first encounter, I've collaborated with the CLC Collective—as they call their public sociology organization—on two books that make the tools of intersectionality accessible to anyone, but especially children.
Amid their work to deconstruct the "imperialist white supremacist capitalist patriarchy," as bell hooks calls it, Chelsea and LaToya agreed to guest-edit this back-to-school issue of the Women's Review of Books (Carolyn wasn't available). I'm grateful for their intellectual work and thrilled about the slate of writers in this issue. Here's a bit more about these editors:
Chelsea Johnson: "As a kid, I was often the only Black girl in my classrooms. Growing up as an "outsider within" my mostly white schools shaped my critical interest in how race, class, and gender stratify social life. I gained the tools to understand my experiences as an undergraduate at Spelman College, where I was introduced to intersectional feminism. After graduating from Spelman summa cum laude, I began my doctoral program in Sociology at the University of Southern California as a Provost Fellow. I earned my MA in Sociology from USC in 2015, and completed my PhD in Sociology with a graduate certificate in Gender Studies in 2019. I am also an alumna of the Black European Summer School, the International Decolonial Black Feminism School, a UNCF/Mellon-Mays Fellow, and a member of Phi Beta Kappa.
Broadly, my academic research projects theorize bodies as mediums of culture, or the physical and symbolic form through which race, class, and gender hierarchies, social control, and social etiquette are played out. My past work on the sociology of sport and my dissertation project on Black beauty politics center the body to examine the complexity, multiplicity, and particularity of Black practices from an intersectional feminist perspective. I currently work as a User Experience (UX) Researcher at LinkedIn. My overarching goal is to inform the development of just, equitable, and human-centered political strategies, design, media, scholarship, and artwork that reflect the situated knowledges and needs of our society's most vulnerable populations.
When I'm not researching or writing, I enjoy hiking, reading novels, exploring new art mediums, and eating my way through new cities."
LaToya Council: "I was raised in a single-parent mother-headed home. I would often stare at my mother in awe of her super-shero abilities to manage so many family demands while holding multiple jobs to make ends meet. These memories inspired my vision for a more inclusive world and drove me toward studying sociology at Spelman College, where I first learned about the concept of intersectionality. After graduating from Spelman, I studied the inequalities in love and how race, gender, and class intersect to inform relationship experiences for my master's at the University of Colorado, Colorado Springs. I am currently finishing my dissertation at the University of Southern California, which examines time use and self-care among Black middleclass couples. Intersectionality and the power of love frame how I do allyship and research. When not researching, I enjoy practicing meditation, cooking, and hanging with my cat Mimi."
After reading this timely and important issue of Women's Review of Books, you may wonder how you can contribute to centering Black women. You can start by purchasing books featured in the review, or other books written by Black cis and trans women. You can also donate books to the Free Black Women's Library, an interactive Black Feminist mobile trading library. Created by OlaRonke Akinmowo in Brooklyn, New York, the Free Black Women's Library is mobilizing in Atlanta, Brooklyn, Detroit, and Los Angeles.
From all of us at WRB, thank you for reading.