Winter Is Coming: Reading Bryther and H.D. in this Moment By Blanche Wiesen Cook
Some did not believe her; others did not care; nothing was done when much could have been done.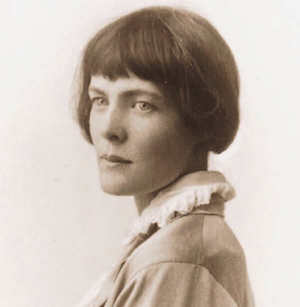 During this past summer of reflection, tragedy, and continual change, I became obsessed by the works of H.D. (Hilda Doolittle, l886–1961) and Bryher (Annie Winifred Ellerman, 1894–1983). Two of our most dramatic and intriguing foremothers, their many works, generated by the agonies of two world wars, merit our immediate attention.
I began with Bryher's Visa for Avalon (originally published in 1965 and a new edition via Paris Press in 2004), a prescient and profound "novel of warning" against apathy and complacency during dangerous authoritarian times. From 1933 to 1938 Bryher—philanthropist, publisher, writer, activist—had warned her friends in France, England, and the US about Hitler's astonishing atrocities, which she had witnessed in Berlin and across Germany. Some did not believe her; others did not care; nothing was done when much could have been done.
Visa for Avalon occurs when it is too late and there is hope only in escape. As all freedoms disappear and "people like us have no rights anymore," there is a frantic effort to leave for a new country. Every page grips the reader as we follow a small group of familiars as they struggle to get on board with a visa for safe passage. Every refugee (European, Afghan, and American) is conjured on every page. Every word is relevant and heartfelt, but the answer to their plight does not appear until the last page.
As we contemplate the struggles of the present and future, we do well to remember the past. Jan Freeman, the visionary founder of Paris Press, recovered and republished this powerful work as well as Bryher's compelling memoir, The Heart to Artemis (2006). The latter is filled with stunning details of her wartime ordeal as well as heroic successes at saving over one hundred refugees. Bryher, too, presents the wonderment of her life-long relationship with the poet/scholar/ memoirist H.D. The love affair began while World War I still raged, and Bryher was saved from despair by one book: Sea Garden by H.D., whom she assumed was a man. "I learned it by heart from cover to cover," she writes. "I began the morning and ended the day repeating the poems." Several months later, she discovered that H.D. was a woman, an American, living in England. They had mutual friends, they lived close to each other in Cornwall. Bryher wrote a note; H.D. invited her for tea. They met on July 17th, 1918. Bryher stared at "the Greek statue" who opened the door. They had surely met before, she thought, in this or some other life. Their lives were changed forever.
Steeped in classical, mystical, magical, psychoanalytic, and creative worlds, H.D. is a bridge from then to now—across time and space, heart and spirit—enraptured by all the elements that might lead us to activism, love, healing, world community.
Many of my friends have been enthralled by H.D. My friend Diane di Prima, for instance, created an ode to H.D. entitled The Mysteries of Vision: Some Notes on H.D. (In 2011, Ammiel Alcalay and the Lost & Found Initiative at CUNY's Graduate Center reprinted this essay/lecture.) After a lifetime of reading Eleanor Roosevelt and all connected to her, it was a pleasure to enter the worlds of H.D. and Bryher. I became immersed in writings I had amassed over the years from various friends, such as Notes on Thoughts and Vision and The Wise Sappho (City Lights, 2001), gifted to me by Judy Grahn. While most of H.D.'s writings include autobiographical references, her Tribute to Freud includes a contemplative account of her life and work and an engaged glimpse of the father of psychoanalysis in late life.
By mid-summer, I moved on to works about these foundational modernist feminist figures. Truly, to appreciate H.D., I studied the amazing scholarship of Susan Stanford Friedman of UW-Madison, especially her Psyche Reborn: The Emergence of H.D. (Indiana University Press, 1981, 1987), Penelope's Web: Gender, Modernity, H.D.'s Fiction (Cambridge University Press, 1990), and Signets: Reading H.D. (H.D.'s essays, co-edited with Rachel Blau DuPlessis, University of Wisconsin Press, 1991). After that, I reread every word my friend Perdita Schaffner wrote about her mother H.D. and also reread Herself Defined (Doubleday, 1984), the authoritative biography of H.D. by the late poet Barbara Guest.
I emerged from this study during the last week of summer. Then, two of my pals gave me a surprise, the 2021 Vintage Classics edition of Virginia Woolf and Vita Sackville West: Love Letters, with an introduction by Alison Bechdel. One is not given the name of the editor who provided this most delightful read—with stunning letters embraced by relevant diary entries. I discovered "selection by Lily Lindon" and presumed she was the editor of this short volume that, for romance and pleasure, overshadowed the fuller compendiums. Truly, it was a perfect end to my summer. I offer it to you, now, for the winter ahead.
Blanche Wiesen Cook is a Distinguished Professor of History and Women's Studies at John Jay and the Graduate Center (CUNY) and the author of a three-volume biography of Eleanor Roosevelt (Penguin). In 2020, Oxford University Press republished her edited volume Crystal Eastman on Women and Revolution.