The Secret Lives of Church Ladies By Deesha Philyaw
Reviewed by Mariam I. Williams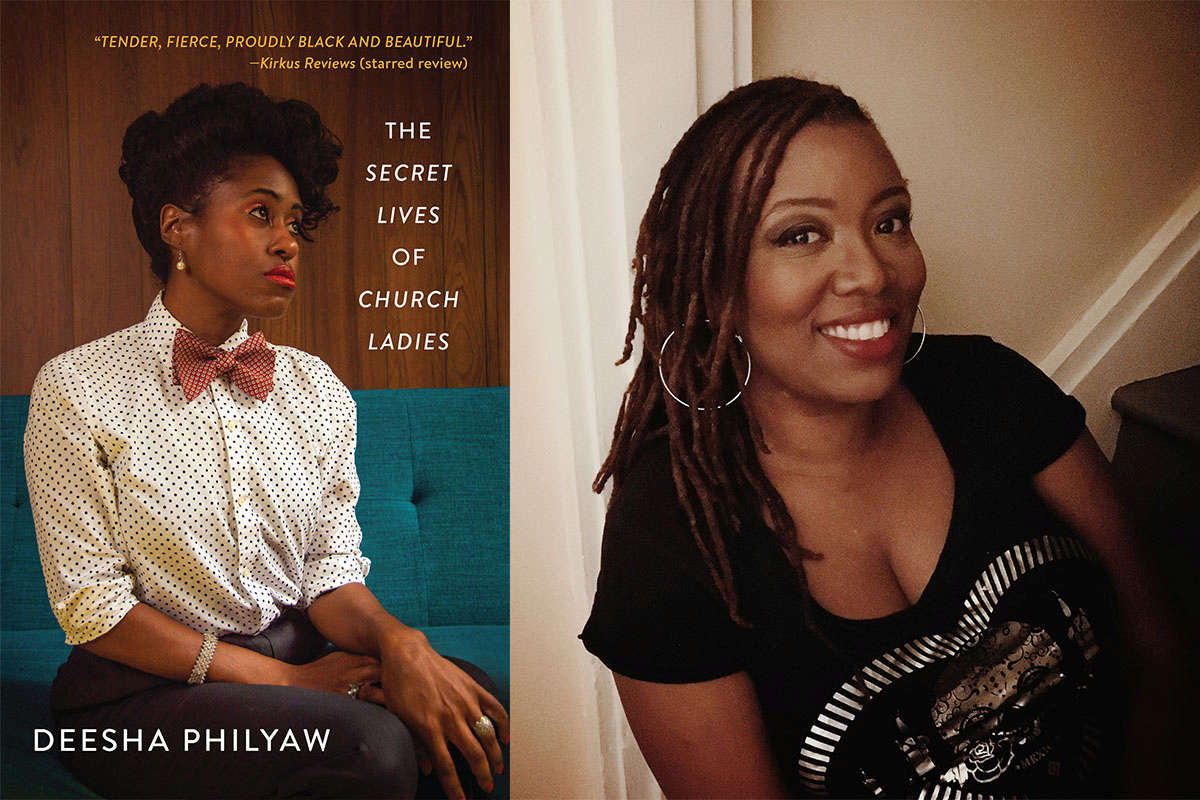 Nothing has influenced my relationship with God more than my relationships with women. I became a Christian at the age of twelve of my own volition, but I was raised in the church where my maternal grandmother is still an usher, class leader, deaconess, missionary, and probably other titles I don't know about. It is the same church my mother and her siblings attended and where they accepted Christ as their personal savior. In her adult years, after she left the family church, my late aunt was a preacher, a praiser, a prayer warrior, and among the church mothers who sat in a place of honor beside the pastor.
As much as I love these closest of blood kin and as long as I've known them, I do not know what they were like "B.C." or Before Church. This is the term a character in Deesha Philyaw's story collection, The Secret Lives of Church Ladies, uses to reference her mother's pivot point. I do not know the fears most of the women in my family have whispered to themselves at 3:00 a.m., the questions that pull them from their beds and compel them to search the scriptures, the longings, frustrations, and needs that drive them to their knees. My ignorance saddens me because, though I believe everyone has a right to their privacy and their secrets, I also believe it can be dangerous for girl children and women not to know what they don't know.
Jesus, break generational curses. It is a prayer I've heard too many times from or on behalf of Black women. It is churchy code for I was abused. Addiction runs in my family. I'm on the path to diabetes and heart disease, just like my mother and aunties, and I don't know how to reach a different outcome. I'm working all the time, I'm tithing, I'm living right, but I can't get out of poverty. I've never seen a romantic relationship that didn't also have violence or divorce. I don't know why I should expect anything good out of life when I've never seen it happen for anyone else. In my life, women weary with secrets have let out snippets of these truths in their questions during Sunday School lessons, in small group prayer settings, in phone calls with the closest of their Christian sisters, and—if they are lucky—in intergenerational conversations, more likely with an auntie who lets them misbehave than with their mothers.
It is the stories behind these veiled prayers for healing and change that Philyaw reveals empathetically and tenderly, using church-speak only when it's true to the character. In the story "Jael," the titular fourteen-year-old character is raised in the 1980s by her great-grandmother who was born in the 1920s. The matriarch ponders coming from a "family full of women" who had children before the age of twenty and "had the worst time with men"—indeed, Jael's mother was killed by Jael's father when she was a toddler. Pondering the teenager's vacant stare, the great-grandmother sees the eyes of her deceased daughter, who also died young, and wonders not about the trauma they both experienced but if it's true that "bad seeds skip a generation." Jael doesn't understand her trauma either, and she lacks her great-grandmother's belief that prayer can solve her problems. She has her own means of disrupting the legacy of encounters with misogyny, and they are as dramatic as a fourteen-year-old could make them, yet, as revealed at the end of the story, planned with a touch of the divine.
Throughout The Secret Lives of Church Ladies, Philyaw plays with the sacred and secular, taking them from competitors to complements for her characters' lives, a strategy that I hope prompts church-lady readers to reconsider what curse they are suffering from. For the second-person narrator in "How to Make Love to a Physicist," the obstacle to finding satisfying love isn't having a body with fat and rolls but "your mother and the small version of God she clings to," the God who, according to her, insists you come to church with your thighs, butt, and belly bound in a girdle, or you don't come at all. Freedom is in loving the body God made, and a therapist lays the roadmap for learning to love it. A churchgoing mother's bitterness goes unexplained and unhealed in "Peach Cobbler," and "Instructions for Married Christian Husbands" hints that a desire for the unavailable remained unresolved. "Not Daniel," a tightly wound but fully layered story, suggests Black women under the pressures of being the family's "dutiful daughter, ... chief shit-handler, bail bondsman, maid, chauffeur, therapist, career advisor, ATM" may need not "garbage theology about God's will disguised as comfort," but the ministry of relief and sexual release.
The taboos of Christian sex and sexuality are prominent themes in Philyaw's collection. Most of the stories deal with heterosexuality, but "Jael," "Snowfall," and, "Eula" approach same-sex relationships with nuance and without judgment. Jael's great-grandmother sees her budding homosexuality as an abomination but also a confounding source of security; it keeps Jael away from boys. (The great-grandmother is a cliché of her generation, save that the scriptures she quotes are not from the Holy Bible's King James Version.) Lee Lee and Rhonda, a Black lesbian couple, have left their beloved South for a wintry home where they can love each other freely, but their Southern roots won't die. Philyaw's portrayal of Southern conservatism may be unoriginal, but her ode to black female Southern culture sings from the page.
Wisely, in my view, Philyaw begins the collection with "Eula." The story centers around a particularly poignant and complex same-sex relationship between Eula and Carolletta, her friend and church homie since childhood. Eula is "waiting for her Boaz." This is a real expression that single, Black, Christian women use, alluding to the Old Testament story of Ruth, an impoverished widow whose selflessness and familial loyalty catch the attention of the godly landowner Boaz, who eventually marries her. Women who are waiting for their Boaz are quietly productive and non-sexual. As I wrote in 2017 on my blog Redbone Afropuff, the Ruth-Boaz archetype "is the embedded theology we Black women carry with us as we pay for books and singles conferences that tell us how to wait, pray, take control of our desires with pure thoughts, and wait some more."
In contrast, "Eula" invites readers into the heart-wrenching moment when waiting past their twenties and thirties breaks the Black women to whom this myth has been sold. And yet the sex between Eula and Carolletta is not the result of or an indicator of brokenness. Philyaw writes the lovers' scenes in tasteful metaphor, erotic in its subtlety. She kicks you in the gut by rendering Eula's heartache in raw terms and Carolletta's questions about God, sex, longing, and touch bluntly. They are questions that cut across sexuality or sexual preference, for they are some of the questions I, as a heterosexual woman, have wanted to ask my more conservative Christian sister-friends—the ones whose joy and peace led me closer to God in college, the ones who wore purity rings then and infected me with a religious zeal I eventually abandoned for freedom. Eula and Carolletta are entering their forties as the world enters the year 2000, and Carolletta is calling for a new theology in this new century, one that meets her and Eula where they are as single, grown women who desire love and physical intimacy, one that can handle the depths and variations of their friendship and their love.
Philyaw closes her collection with "When Eddie Levert Comes," a story about "Daughter," the unnamed child and caretaker of "Mama." The mother is a woman who, at around Eula's age but with a different kind of heartache, turns to Jesus and the church and "[throws] herself into everything—children's church, Girl Scouts, Sunday School." This story complements "Eula" by giving readers a picture of who Eula could become, even without children. Daughter observes,
Despite her devotion to the church and chaste living, Mama had never had that peace that surpasses understanding that was supposed to be yours when you invited Jesus into your heart. Nor did she have that joy . . . promised in the scriptures. What Mama had was the love of Jesus ... [a lover who] demanded everything.
What happens when Black women give the church their everything? What happens to those of us who don't, who find more secular ways to cope with life, who find God without losing ourselves? What secrets are we not sharing with each other and with ourselves that could move us a little closer to freedom? It is these questions Philyaw coaxes us to ask, and this little book on a Sunday afternoon is possibly the most comfortable way in the world to get the conversation started.
Mariam I. Williams is a writer, dancer, and educator based in Philadelphia, born in Kentucky. She's writing a memoir about the influences of church and family on her understanding of Black womanhood and sex.