Patch Work: A Life Amongst Clothes By Claire Wilcox
Reviewed by Kathleen Rooney
These scraps accumulate to offer a likeness of both the author and her efforts in the service of art and garments, not to mention the invisible labor of so-called 'women's work' throughout the centuries.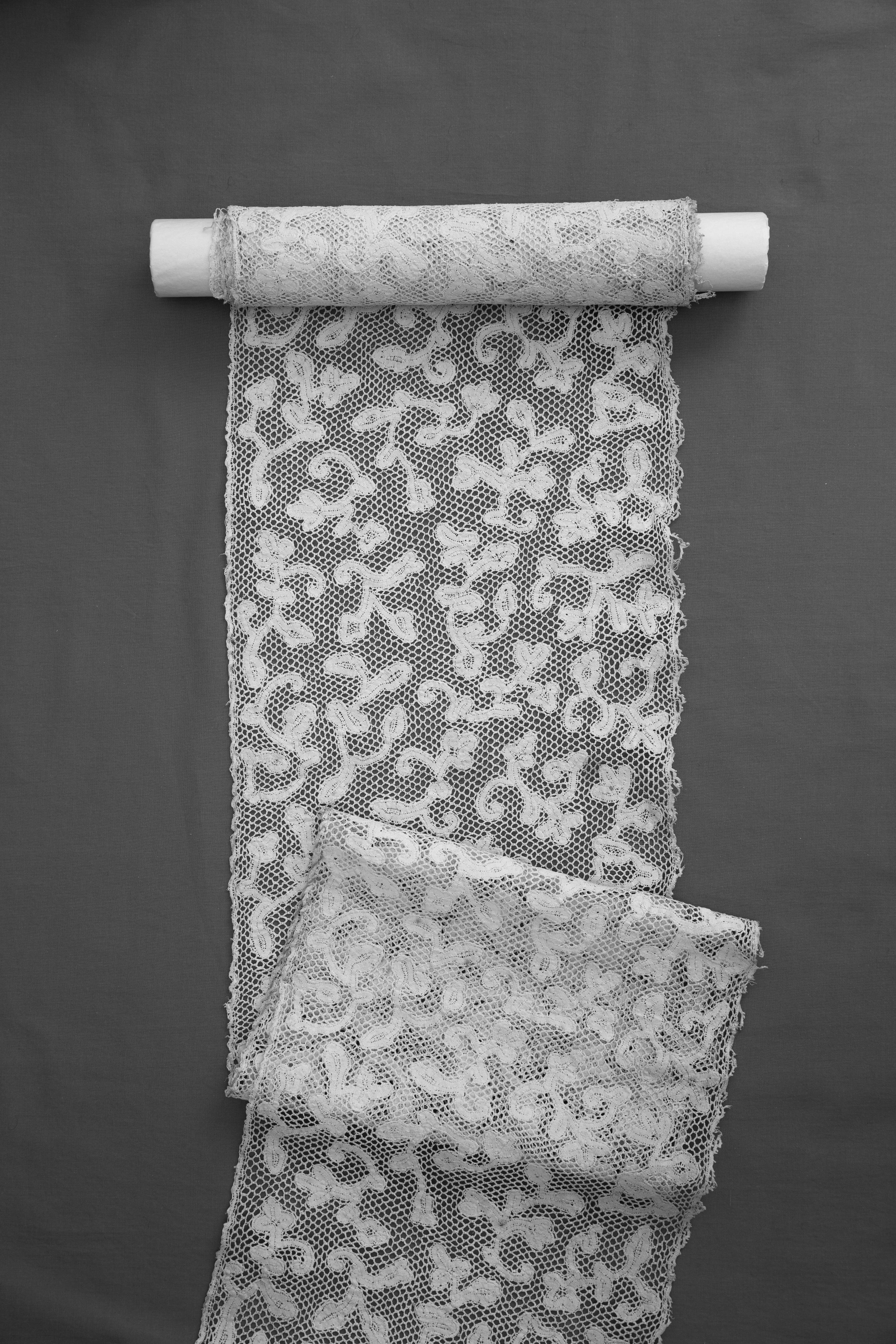 Border bobbin lace, linen, eighteenth-century Italy, Victoria and Albert Fashion Collection.A patch, of course, is a piece of material used to mend or cover a hole or weak spot. One of the ingenious aspects of Claire Wilcox's memoir Patch Work: A Life Amongst Clothes is the way in which she stitches an entire book of patches—scraps and pieces of both her own biography and the longer swathes of history—to yield a narrative arresting in its strength and elegance.
Wilcox has spent most of her professional life as a curator in fashion at the Victoria and Albert Museum in London, the world's leading museum of art and design. Founded in 1852 and named after the then queen and prince of England, the V & A features the largest collection of applied and
decorative arts anywhere on the globe, and, like all national museums in the UK, its admission is free. During her own tenure there, Wilcox has staged such high-profile
exhibitions as Radical Fashion: Vivienne Westwood, The Art and Craft of Gianni Versace, The Golden Age of Couture: Paris and London 1947–1957, Alexander McQueen: Savage Beauty, and Frida Kahlo: Making Herself Up.
She opens her memoir, an exquisite blend of the private and the public, with a section called "Kid Gloves," describing how it feels to "draw out the velvet wings of an opera cloak bought from Liberty & Co. over a century ago," spreading out "a lace veil, slowly disentangling its lost barbs," then cautiously unfurling "a parasol, releasing the faint puff of perfume." The V & A's fashion holdings are as close to comprehensive as any museum can probably get, consisting of more than 14,000 outfits and accessories dating from 1600 to the present day, as well as 2,000 pairs of shoes. Yet Wilcox acknowledges that there are inevitable gaps. For to work with such "high-quality detritus of the past" is also to accept that "it will always be a three-dimensional puzzle with the majority of pieces missing."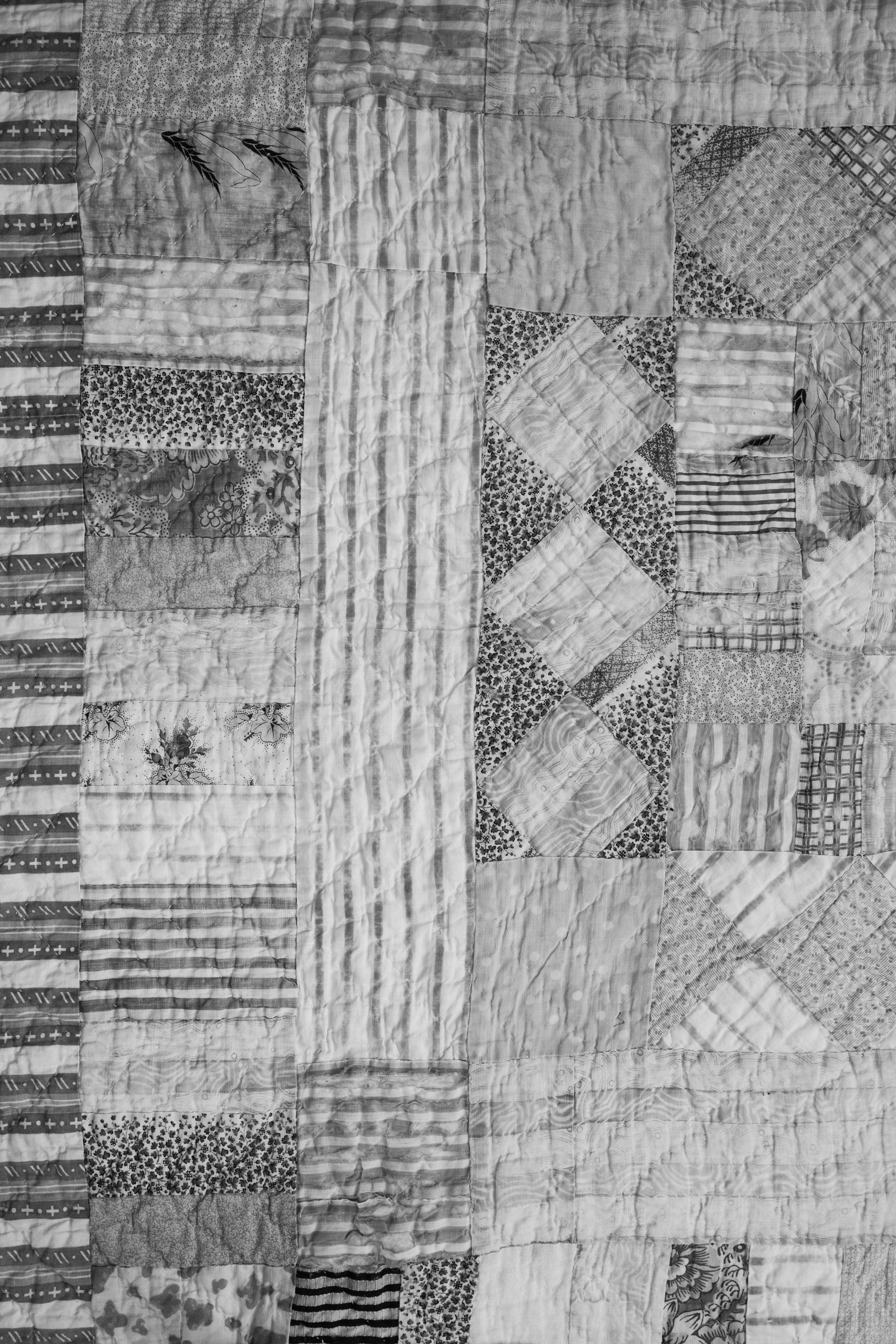 Patchwork (detail), printed cotton, nineteenth-century England, Victoria and Albert Fashion Collection.Part of the wisdom of her approach here is that she makes those missing pieces not a limitation but an asset. As in the literal meaning of patch work,Wilcox composes her story of miscellaneous or seemingly incongruous parts. Divided into twenty-one short sections with evocative titles like "Storeroom," "Seam," "Vertigo," and "Nocturne," Wilcox's book itself feels not unlike a visit to a museum, that sensation of gradually building one's understanding by way of meditative wandering from room to room.
The V & A, she reports, "has a miscellany of period rooms lovingly disassembled from their sites of origin and re-formed for us to look into and wonder." She gives her readers something similar: "enclosures of time" from her own life, permitting us into her days of early motherhood, "when we were all younger and didn't know what to do with long afternoons," so "I would put the children in the bath." Or later on, when her beloved mother and father are dying, and she realizes that, "Together, they made me understand that the slow pull of death is part of life, and that love can last beyond the end."
Wilcox draws on her many years of expertise in chronicling and contextualizing the lives and clothes of others to craft a self-portrait: her own memories explored through the intimacy and detail of outfits and adornments. Often, she will state one of her affinities in a broad abstraction—"The clothes of sleep have always interested me"—then transport the reader into that affinity through rich biographical and sensory detail. Of the time in her young adulthood spent working in a shop that sold Victorian and Edwardian bedclothes and lingerie, she writes, "The lace-edged pillowcases crisped up and I liked burying my face in them, to smell the washing powder and the singeing of the iron."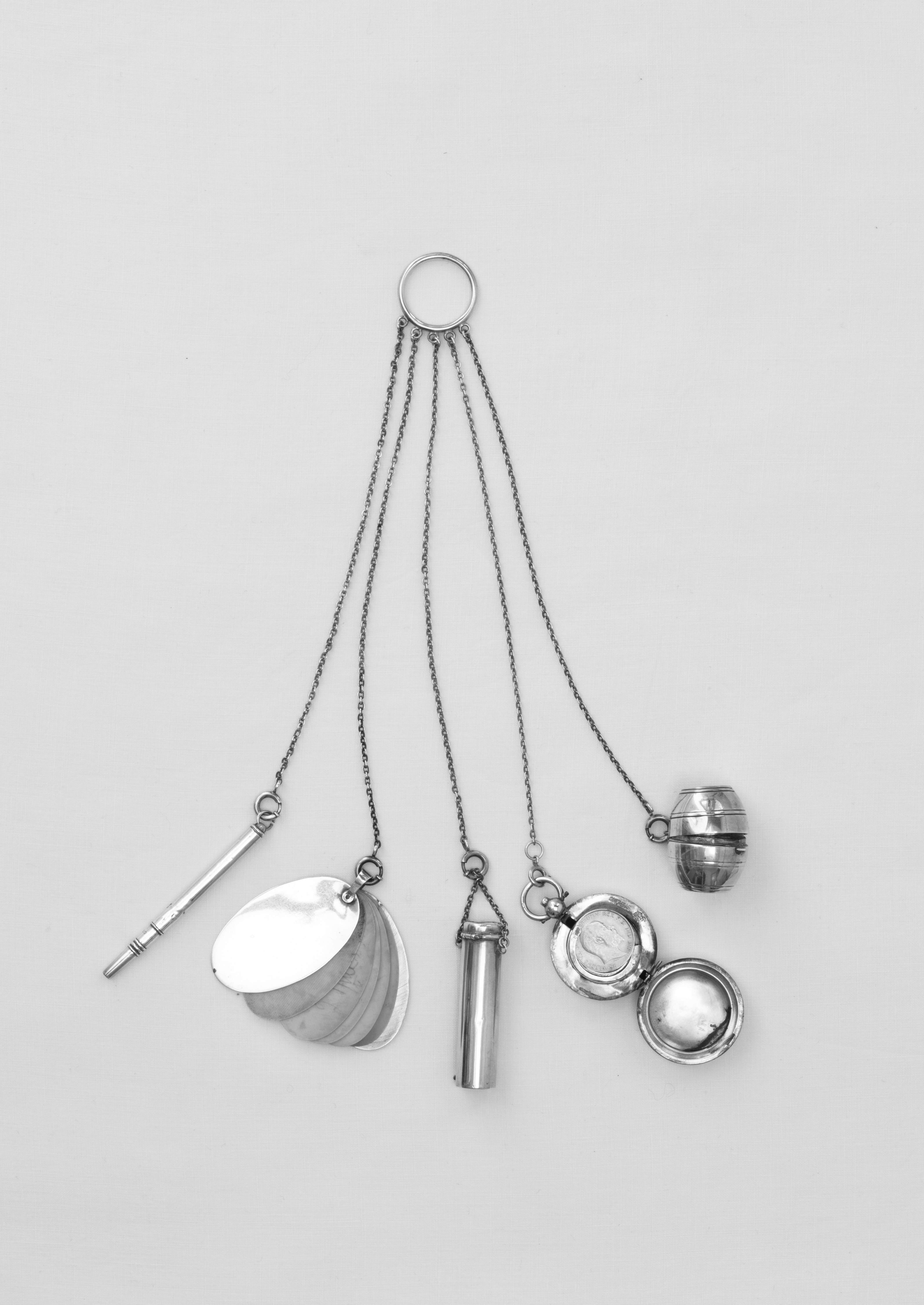 Silver Chatelaine, c. 1910 Victoria and Albert Fashion collection.Not unlike the wall texts in an exhibition, some of these entries are quite brief, not more than half a page, like the one called "Bias" about 1930s wedding gowns; or "Mail Order" about shipping out Jubilee Knickers, "sheer and crotchless and trimmed with a satin bow," from a sex shop; or "Life Model" about "reclining in front of a roomful of people working away at their easels." These scraps accumulate to offer a likeness of both the author and her efforts in the service of art and garments, not to mention the invisible labor of so-called "women's work" throughout the centuries. In "Sheets," she writes of her mother, "She had been taught laundry work at school, learning how to starch collars and warm the cast irons on the stove, and how to use a goffering iron for frills and flounces. It seemed like another age."
Such passages called to mind Roberta Cantow's brilliant and underrated short oral-history documentary, Clotheslines, in which the director uses the quotidian imagery of clothes hanging to dry as a signifier of all the unseen and unappreciated domestic work performed by women worldwide. No detail of personal adornment feels beneath Wilcox's notice: the strands of hair that remain in a brush, the contact lenses left out and going dry overnight.
But though her method of composition consists of fragments and vignettes, the totality adds up. Really, every entry is a flash nonfiction, a complete and self-contained memoir or essay. But each one gains impact, too, by Wilcox's careful placement of her chunks of text in succession, her putting them in thoughtful juxtaposition and conversation with the others around them.
She depicts her own coming-of-age with a pleasing choppiness, the fits and starts of a department store job, a trip on the Silk Road, her studies at university, and her attendance at various concerts and parties, all characterized by a yearning "to have interesting things, to be well travelled, to live in a shadowy house full of books and papers and all sorts of old things." Her tone is far from still or staid as some museums (no offense) can be, crackling instead with life and vibrancy, like the best museums, which remind visitors not only of the objects they contain but also of the people who once made and used those objects.
In 1999, Wilcox initiated Fashion in Motion at the V & A, the holding of live catwalk events inside the museum, and here, too, she blends the past and the present and offers tips and insights into her successful curatorial practices. A title, she explains, "needs to sum up an exhibition in no more than three words, plus perhaps a subtitle. If it can't be done, there's something wrong with the thesis."
Wilcox is also Chair in Fashion Curation at the London College of Fashion and serves on the editorial board of the magazine Fashion Theory. Her deep intellectual knowledge about her chosen field is undeniable, yet she wears her learning lightly. Her allusions and analyses are erudite but accessible, as when she writes of the impact of the "high-gloss, art-meets-fashion" magazine Visionaire, and how it transformed the way people thought of fashion from either "mass-produced, conformist" street wear on one hand versus "high-end, out-of-touch couture" on the other by proposing a third way: "fashion as expression of artistry, veering on the edge of non-functionality with a heightened aestheticism that owed much to preoccupations around identity and expressiveness—the wearing of clothes as an art in itself."
The book's assertively piecemeal structure allows Wilcox to let us watch her growing up, fulfilling her destiny, and doing her work, but also to let us watch her watching herself. While still a novice, she writes of her mentor, a Keeper at the V & A, "I imagined being like her one day, swinging the keys of knowledge." It's a steady, quiet thrill to watch as Wilcox learns to do exactly that.
Museum studies hangs over the entire undertaking in a wonderfully meta way. A curator must be skilled in the art of display, and Wilcox is clearly a passionate custodian, alive to the power and beauty of objects, and aware of the best methods of conveying their significance to the public. She intersperses the sections of her memoir with photographs, some archival, but most of them by her husband, the potter and writer Julian Stair. These images—camping with her family in Cornwall in 1959, a silver chatelaine from 1910, a silk brocade dress from the eighteenth century, and so on—add to both the chronological and thematic organizational ideas behind her book's meandering yet intentional structure.
Early on, Wilcox quotes Henry Cole, the first director of the V & A, as saying in 1857, "The museum will be like a book with its pages always open." By the end of Patch Work, she leaves her readers astonished at the subtlety and care with which she has laid bare the pages of her own existence.
Kathleen Rooney is the author, most recently, of the novels Lillian Boxfish Takes a Walk (St. Martin's, 2017) and Cher Ami and Major Whittlesey (Penguin, 2020).