The human I live with digs out snow so our solar unit can follow the sun. There is no sun. Where are the birds? You don't hear enough Scriabin on the radio. When I fluff for Zoom, I reach for the perfume. Then I think: Schmendrick, that was in a different life.
The other day I laid ceramic tiles beneath the serial killer's furnace in our basement and accidentally produced a design in the shape of a swastika. We didn't buy the house from an actual serial killer. The great grief at the heart of The Wizard of Oz is that the wish to return to a black-and-white world is a lie. Auntie Em, who hands over Dorothy's dog to a woman of power and influence in their town, is not a person anyone would ever want to see again, and you catch this in the strained expression on Judy's face as she clicks the heels of her ruby slippers. Also, there's no song in the movie about returning from the rainbow.
I've grown uninterested in why people do the things they do. People don't know why anyone does anything. Even the person doing a thing doesn't know why, and people who admit this or skip over the subject of human motivation appeal to me. I find more interest these days in the play of light on a wall, reflecting the fronds of a palm, swaying in small currents of air.
We are watching Call My Agent, the French TV series streaming on Netflix, and so far it's please don't let it end, so we'll be adrift again in the tragic suggestions other people make. In season two, Andréa, who is gay, winds up having angry, hot sex with a man she detests and who has bought the talent agency where she's a partner. His acquisition is owing to her, and it's something she quickly regrets and also has to accommodate in that without him the company will go under. Their paths have crossed at an award ceremony back in her hometown, where they are both being celebrated for doing well enough to leave the backwater. She feels distaste from the moment she lays eyes on him, with his manbun and teasing/angry manner with her, using a name she has changed, on and on. He wants to break her, in that it's his way in the world. In one scene he asks her to change into a dress he has bought her to seduce a client he wants to steal from another agency. She refuses to do it in front of him, making clear the limits of her compliance, but then they are both drunk and both making out with a beautiful model in a hotel room, when suddenly they go at it with each other, abandoning the woman, who says, "Hey, over here" (in French), before slipping off. We watch the former outcasts take each other's faces in their hands, and tear each other to pieces.
The scene made me happy in its tender acceptance of sexual weirdness and the great comic truth that desire is larger than what we can know. Once at a party a man I secretly wanted to touch came over and kissed me. I didn't push him off. His hands were on my shoulders. His tongue was in my mouth. It was a good kiss, as if we'd been doing it for a while. After my father died, my mother wasn't that old, and I remember walking on a beach with her as she looked around for her life. I pulled away from the man and said, "You're acting like a lunatic." I didn't really say that. I said, "I love you."
For several weeks, I used prison-grade toilet paper that was free. I had to use it until it was finished, the way some people tap on a wall five times before they can leave a room. On two separate occasions the market where we shop sent out a coupon for two free packages of prison-grade toilet paper, and I took them because it would not have been possible not to. In my twenties, I was seeing a shrink, and one Christmas I knitted him a pair of mittens. The following Christmas I knitted him another pair of mittens with the exact same wool. When he asked the significance of repeating the gift, I had no choice but to see my interest in what we were doing was fake.
We watched a Danish show on HBO called The Investigation. The chief of police is telling the parents of a journalist that their daughter may be dead, and everyone looks like a monument on Mount Rushmore, no expression you can read and no voices raised. I said to the human I live with, "Imagine this scene with Italians." Then I said, "I should become more Danish." He said, "It would help."
An orange has been engineered so it's easy to peel. It's the ones that are hard to peel that hold our attention. I once answered an ad on craigslist to visit the home of a stranger, who was giving away tea. Not only tea but the accoutrements of tea making, including kettles and pottery. He was in the business and had too much in his house, owing to circumstances I don't need to tell you. He inhabited an entire brownstone in the West Village, and I was excited by the familiar feeling of abjection amid luxury. He opened the door and led me to the parlor floor where cartons were waiting. I couldn't carry all the things I wanted and would give to people I knew could use them. He was slight and looked weary. He said he had a cold and curled up on the couch. I was on the floor with the boxes. He said, "Are you dangerous?" I needed to give him something. I said, "Yes."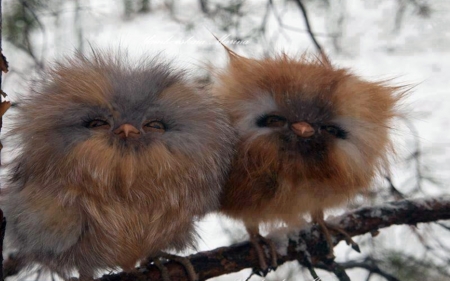 "Nothing I had posted before drew such a response, and I quickly resented the owls."A week ago I posted an image on Facebook of two baby owls. Two puff balls, their twig toes wrapped around a branch, with tiny triangular beaks and pin-point eyes behind which it was easy to imagine wit and joy. Within seconds the image prompted excited reactions. Forty or fifty shares and shares of shares. Nothing I had posted before drew such a response, and I quickly resented the owls. On closer inspection, their beaks are mysterious. You don't know if the small triangle is supposed to represent a nose or a mouth. They look as though they don't have mouths, and I was reminded of the body artists David Wojnarowicz and Pyotr Pavlensky, who have sewn together their lips as a form of protest and erasure. There is no telling where a chain of associations is going to wind up.
The human I live with is concerned for the plight of burglars, who cannot schedule break-ins, since everyone is home. He's alert as well to the struggle of robbers at gas stations and convenience stores, who have become indistinguishable from everyone else wearing a mask. How can you be certain this is the right person to empty your cash register for?
The other day I got into a conversation on Facebook about what was meant by the term radical feminism in 1967, when I joined the women's movement. I said we meant what Shulamith Firestone meant by feminism: a fundamental rethinking of sex and gender categories and the effects on society of that rethinking. It was all up for grabs, and someone on the comment thread asked if that much had changed for women as a result of all the rethinking, and I said evenly—because I didn't want to be the dick I am—that everything had changed, and the example I gave was that white, monied, heterosexual men didn't used to be a category. Those people were thought to be the world.
The other day I got into a conversation on Facebook about what was meant by the term radical feminism in 1967, when I joined the women's movement.
I started thinking about the thinking that underlies such a question, the way people don't want to see what's altered because everything hasn't altered, and what came to mind was a joke Leonard Michaels tells in his essay, "My Yiddish." According to Michaels, the joke expresses the incongruity and forbearance that are quintessentially loaded into the Yiddish language and Jewish humor, and I'm going to tell you the joke and say something after.
"The rabbi says, 'What's green, hangs on the wall, and whistles?'
The student says, 'I don't know.'
The rabbi says, 'A herring.'
The student says, 'Maybe a herring could be green and hang on a wall, but it absolutely doesn't whistle.'
The rabbi says, 'So it doesn't whistle.'"
What I want to say to the person who asked if anything for women had changed after fifty years of feminists hocking everyone day and night about sexism and misogyny is: So we didn't fix everything.
I decided to stop drinking and to walk on the road every day. I have resumed drinking and have not been outside for four days. I was sad without alcohol, and the house had too few rooms. Last night a box was delivered by our neighbor, who owns a liquor store in a town some miles away. Drinking is a new constant for me. Change is good.
I mixed a pitcher of covid cocktails, and the human I live with ruffled my hair. It was in need of a cut. I thought maybe I should get a cat instead of a cut. I asked him if he was up for telly this early. It was only 5 o'clock. We tried an Israeli show called Losing Alice, in which all the women are beautiful and sexy and all the men—really ALL the men—are dentists and accountants from central casting—even the husband, who is often half naked. Within the yawning range of female appetite, these men do not cut it. A great Israeli hoax is being perpetrated.
Yesterday I was reading Paris Review and came upon an appreciation of Shadow of a Doubt (1943), the Hitchcock movie starring Teresa Wright and Joseph Cotten, who plays her uncle and turns out to be a serial murderer. Suddenly I remembered I'd known Teresa Wright in her later years, and we'd met a few times at the Popover Café on Amsterdam Avenue. I remember sitting across from her and seeing the young face in the old one.
We first met in 1990 after a performance she gave at Berkshire Theater Festival in Athol Fugard's play, The Road to Mecca. The reason I remember any of it is I wrote about the production when I wrote about the death of the man I was with then. The play is about an aging artist, who is nearly destroyed by isolation and yet is sustained by her work, and that man, whose name was Gardner, and I had sat weeping through the evening. Teresa came out to talk to us after the rest of the audience had left, maybe because I was a reviewer for the Village Voice. Maybe that's why we met afterward in New York.
I'm straining to recall a single thing we talked about. Did she tell me about her daughter? Her career in Hollywood? I was interested that she still wanted to act. She was seventy-two, younger than I am now. During the play she was on stage for the entire two hours and at one point delivered a monologue that runs for four pages. At the time I was forty-three, and when you are forty-three and talking to a person in their seventies, they seem to occupy a different plane of existence. This is something I cannot keep in mind now, that when I interact with people several decades younger than me they are probably seeing an exhibit on a plinth.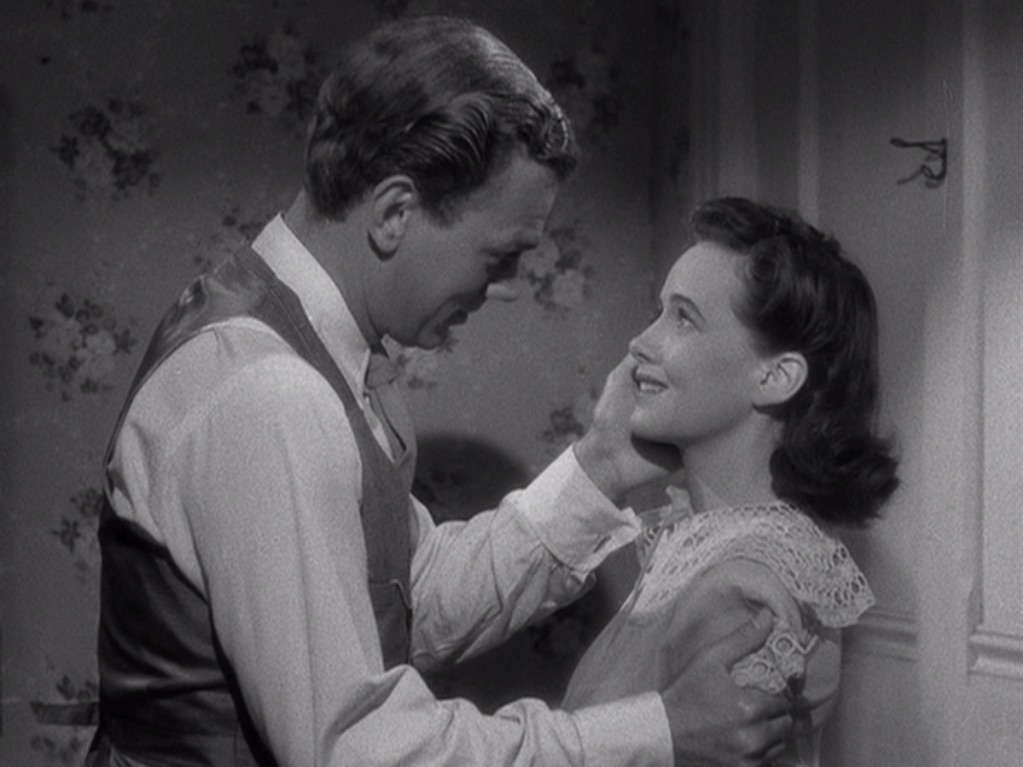 "She is soft as a petal and generous." Teresa Wright with Joseph Cotten in Hitchcock's Shadow of a Doubt (1943).I was always interested in pushing myself against people with fame. Teresa Wright was so real, the element of her fame was quickly absorbed into the tender and sincere way she looked at me and asked about my life. I think we met after Gardner's death. The memory is sweet. She is soft as a petal and generous. I remember nothing, really, except that it happened.
A few nights ago I couldn't sleep, thinking about the everything and nothing of late night. It reminded me of my old life in my apartment in the quiet and expansiveness of solitude. I used to let my dog off the leash in Riverside Park, and when he would wander too far for me to see him and I would be shouting for him like an hysterical lunatic, I felt like I was going to die of fear and I thought the dog was me in his indifference to control.
I miss sex with strangers, not the sex itself but the possibility of something happening. I don't like to think of the ending of anything. I am opposed to all conjunctions except (yeah, I know) and. The moon made the snow outside bright enough for shadows. I was happy for no reason.
Laurie Stone is an essayist and author who writes frequently for the Women's Review of Books.