Dear Readers,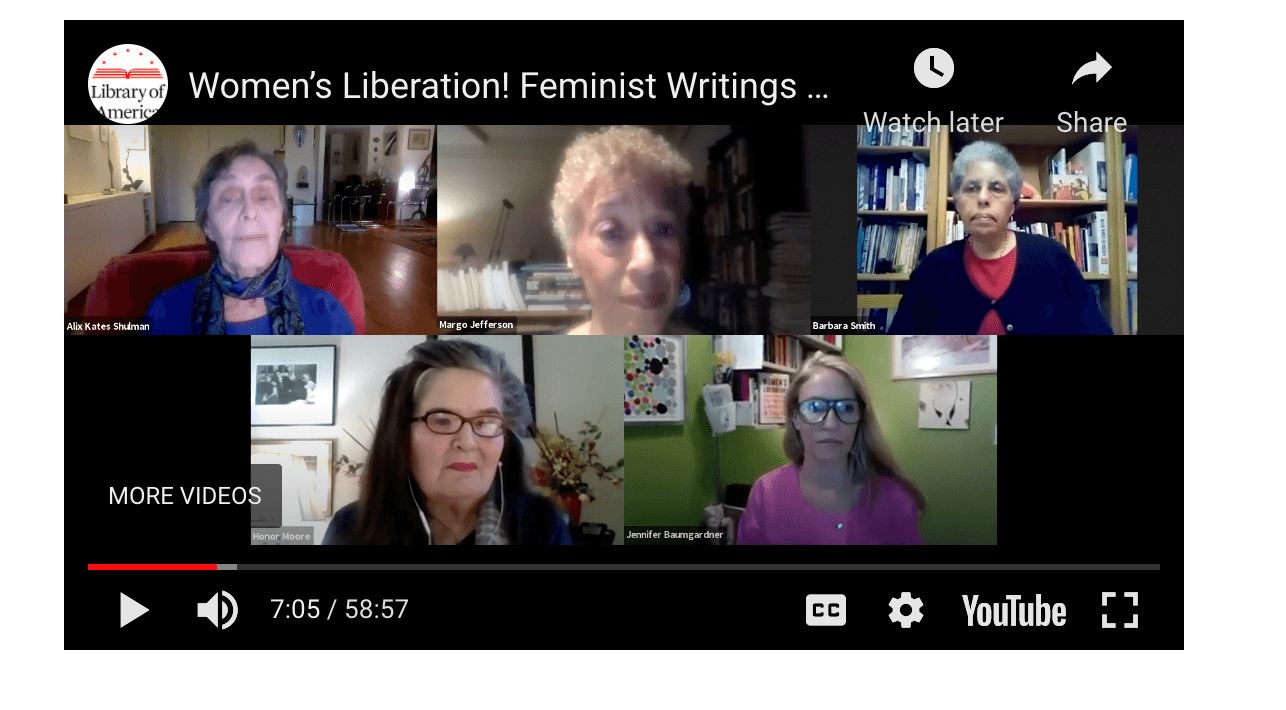 Before he died in 1972, the leading literary figure Edmund Wilson, wary of how easily even a very important book of one era can go out of print, championed the idea of a Library of America, dedicated to preserving the literature that has defined the United States. The important writing of women and writers of color, subject to the same hierarchies that defined every other institution, was both more likely to go out of print and less likely to be archived. The women's movement sought to right this wrong: The Feminist Press, for example, was founded in 1970 in large part to recover "lost" writing by women. Meanwhile, since its founding in 1982, the books included in Library of America have been a critical indication of what writing is worth saving, which is why I found their latest volume so significant. Women's Liberation! Feminist Writings that Inspired a Revolution & Still Can, edited by Alix Kates Shulman and Honor Moore, gathers glittering examples of the radical prose that informed second-wave feminist thought in the years between The Feminine Mystique (1963) and Backlash (1991).
On March 18th, I joined the editors on a celebratory Zoom panel that vastly exceeded my expectations for that medium—also featured were Barbara Smith, a contributor, and the critic Margo Jefferson. More than six hundred audience members tuned in, and hundreds more watched the recording the next day, flooding my inbox with comments. Most responses trended toward glowing affirmation, but productive disagreements were offered as well. One professor zeroed in on a statement that came toward the end the panel about how gender diversity in our movement(s) needs to be written about: "I worry that some of our feminist foremothers are not reading this work and appear to be leaving it to the new generation to take on. There's a great book to be written about the essential-ness of trans and non-binary people's contributions to the work of feminism."
Valerie Morales, who reviewed Cherríe Moraga's memoir for WRB in 2019, sent me this unique, penetrating response:
Although I don't self-identify as a feminist and I'm not an activist, I'm the daughter of a feminist and an activist who was insistent that my childhood expose me to women of color who didn't call themselves feminists but demanded equal treatment. In my academic and social world, feminism was problematic, not because of what it was, but because of what it wasn't: A critic of white supremacy. A critic of white women keeping black women out of the suffragette movement. A critic of Margaret Sanger. A critic of white wives participating in slave atrocities. A critic of the one-drop rule, black rape and the children of rapists denied the last name of their fathers. A critic of black women's hysterectomies without anesthesia. A partner in black woman's struggle, acknowledging racism often overwhelms sexism.
While Val went on to say how much she enjoyed the panel, she struggled with feminism's "pragmatic application." I shared her comments with the panelists, and Barbara Smith responded:
There was and still is an anti-racist feminist movement. It was not the majority of the movement, but it did exist and had significant impact on the direction of feminism as the movement continued to evolve. The power structure makes sure that the history of white anti-racist organizing in a variety of movements, including feminism, is virtually unknown. Often people conflate the actions of white racist women with feminism, for example the 53 percent of white women who voted for Trump in 2016. It is unlikely that those voters are a part of the women's movement or consider themselves feminists, just as women who owned enslaved people were not likely to have been involved in women's rights. Anti-racist feminists from a variety of racial and ethnic backgrounds actually opposed all of the atrocities and oppressions that you cite, but they seldom got to be the spokespeople and visible leaders of the mainstream women's movement.
The essays archived in Women's Liberation! are wide-ranging in tone and purpose, but all are bracingly political and illuminating. It's edifying for me to be reminded of the roots of ideas I may take for granted or have built upon in my own writing. Valerie's critique and Barbara's response served another hopeful purpose: a reminder of how conversations between feminists—whether real-time or epistolary—can breathe life into this always evolving philosophy of liberation for all.
Jennifer Baumgardner