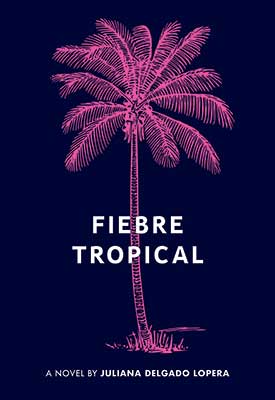 Fiebre Tropical By Juli Delgado Lopera
Reviewed by Nino Testa
At fifteen, Francisca moves from her home in Bogotá to an ant-infested townhouse in Miami with her mother, sister, and grandmother; she struggles to acclimate to a new city, a new school, a new culture; and she grapples with budding queer desires while under the watch of her newfound evangelical community. If this sounds like a story or combination of stories you have heard before—the immigrant family in search of a new life, the queer teen coming out—you will find that the sentimental tropes you may have as reference points for such a narrative are deflated within the pages of Juli Delgado Lopera's painfully funny debut novel Fiebre Tropical. As Francisca, our narrator, informs us: this is no "Choose Your Own Migration multiple-choice adventure." There is no tidy moral lesson, no American Dream, and no pandering to a white, liberal, American-born audience. Delgado Lopera's memorable and complex characters struggle to make sense of their lives and their relationships without much regard for how they measure up to the flattened figures that populate many mass media representations of immigrants. Instead, with wit and irreverence, Francisca invites us into the inner workings of what she calls her family's "Migration Project."
An early scene sets the tone of the novel: Francisca's new church helps to stage a baptism for her mother's first child, Sebastián, who died as an infant seventeen years prior. The family frantically checks off every item on the baptism to-do list: curating the music, buying infant crosses at the dollar store, cooking arroz con coco, and, of course, cleaning the face of the plastic baby doll that will act as a stand-in for Sebastián. Does this sound ridiculous? The characters have too much prep work to do to even consider the question. When the macabre ritual is over, no one knows quite what to do with the plastic Sebastián. Is he treasure or trash? Has the old Sebastián been saved? Will these rituals keep the family together, or further isolate them from one another? This new beginning feels, to Francisca, as if it is built on a warped familial inheritance and a new faith that looks like smoke and mirrors.
The Migration Project requires her to relinquish the signs and symbols of Catholicism—signs and symbols that were always complicated for a young queer, to be sure, but were at least familiar—and replace them with a newfound evangelical discourse. Her mother's church places the highest premium on being born again, being made new for and by Jesus. Old traditions are flushed down the toilet, like holy water left over from her days in Colombia, rendered useless and devoid of its mystical properties in the ugly-as-sin Hyatt conference room that now serves as her idol-free church in Miami. Flush away who you once were, her mother insists. This is a new life.
But, of course, this new life contains the old, and a clean break is not so easy for any of the women in Francisca's family. Her mother, haunted by the past, slowly loses her grip on her mental health; her grandmother succumbs to alcoholism; and Francisca just can't seem to get into the evangelical groove. Should she just pretend to be saved? The Migration Project is threatened at every turn, not least by Francisca's startling realization that she is in love with a girl. And not just any girl. The daughter of her pastors. Carmen, raised in the church, works tirelessly to convert Francisca, to save her soul. One of the most charming aspects of the novel is the uncertainty with which the reader might approach Francisca's journey to accept Jesus in her life. Is she doing it to secure her proximity to Carmen, with whom she tries to spread the good news by handing out Christian pamphlets at malls across Miami? Or is this an authentic religious experience? What, in the end, is the difference between the two? She has, after all, used her church to build community and develop relationships, like everyone else there. For these characters, like for so many, faith isn't really authentic or inauthentic, compulsive or transformative; it is a flawed discourse used to help them better understand their place in a hostile world.
Francisca's narration of her own life story is compelling, but the most powerful moments of the novel are those that offer the backstory of her mother and grandmother. In two gorgeous flashbacks, their histories open up like cavernous expanses that both explain and complicate our understandings of this family. In an innovative device, Francisca omnisciently narrates her mother 's and grandmother 's flashback chapters. Where the women once stood as bizarre, unknowable obstacles in Francisca's angst-filled life, they become complex figures struggling to navigate the same normativities and systems of violence that have made Francisca's life feel so unlivable. We might expect familial anti-queerness to organize Francisca's story—and in many ways, it does, as Francisca experiences anxiety that her grandmother is clocking her queer desires with a knowing glare—but this is not your typical "coming out" narrative. The great joy of the novel is in tracing how and when Francisca's mother and grandmother themselves grapple with queer desires that could not find a solid grounding or take root in their worlds. What a gift to follow a young queer person—who worries about how her identity will be encountered by her religious family—as she narrates the scene of her grandmother's own queer awakening as a young woman. A memorable scene involving a naked nun is simply perfection—and adds a layer of erotic humor to the family's revocation of their Papist ways. In one sense, the novel is about how histories of queer desire work their way through generations, shaping families with regret, paranoia, longing, and failure. Francisca's rich prose while narrating these flashbacks breeds a sense of understanding, of forgiveness, even, of her imperfect family tree. We see, in this story, the possibility of queer kinship across generations.
It is hard to write a review of Fiebre Tropical without considering another recently released migration novel, Jeanine Cummins's American Dirt, which has been clogging up social media feeds for weeks, reinvigorating an important discourse about who has the right to tell the stories of marginalized people. One of the most impactful responses to the American Dirt phenomenon has been the hashtag #MyLatinoNovel, which highlights the failings of the novel by specifically poking fun at its peppered-in Spanish phrases, not-so-subtly defined for non- Spanish-speaking readers. Queer Latinx advice columnist and Twitter star John Paul Brammer (@jpbrammer) offers an exemplary tweet that influenced the hashtag: "writing my Latino novel: 'We fled late in the night, or la noche as Mami calls it. I'm always embarrassed when Mami says shit like that, but I forgive her because she's one of eleven kids and is from el barrio.'" Cummins's cringe-worthy use of Spanish reveals what the elaborate and highly successful marketing campaign for the novel confirmed: that the imagined audience for American Dirt was always a white, English-speaking audience. The genius of #MyLatinoNovel is how succinctly it encapsulates the liberal fantasy of the "immigrant experience," which is always a homogenizing and dehumanizing fantasy. It is a fantasy that insists: I know you better than you know yourself, and what I learned about you from white people is all I need to know.
If you are looking for an antidote to the American Dirt phenomenon, Fiebre Tropical—which is written in a compelling and inviting Spanglish—doesn't try to be the Great Migration Story. Francisca—a glorious creation, the likes of which you have most certainly never found in fiction before—cuts to the core failure of such a story in a way that only a goth-lite, disaffected, queer teenager who learned English by reading Sylvia Plath, can. Delgado Lopera doesn't offer a reader's guide to white, non-Spanish speakers like me, and that is what makes the book so wonderful. It isn't all for me, and it doesn't have to be. The novel's refreshing disregard for the homogenizing tropes that characterize "the immigrant experience" is distilled in this reflection, by Francisca, on her decidedly deromanticized grandmother: "I wish I could say I remembered La Tata's wise words about womanhood and strength (people always seem to remember having remembered a third-world granny saying shit that saved them), but really La Tata believed a trimmed pussy and one hundred dollars would get you anywhere."
Nino Testa is the Associate Director of the Department of Women & Gender Studies at Texas Christian University, in Fort Worth, Texas, where he teaches queer and feminist studies courses. He lives in Dallas.