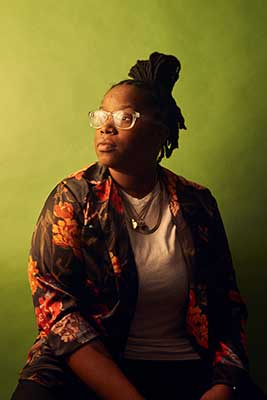 Roya Marsh on: Black Girl Magic, Knock-Knock Jokes, and Reading with Students in Mind
What books are currently on your nightstand?
I'm actively working on a decent sleep schedule and don't invite books into the bedroom with me. Now, my dining-room table, that's a different story! I've got a solid mix of poetry and novels that I'm working my way through. I'm constantly scouring for resources and new and relevant work to promote critical and analytical thinking with my students. On the table, staring right at me, are Sherman Alexie's The Absolutely True Diary of a Part-Time Indian, which features lovely drawings by Ellen Forney; Adam Falkner's The Willies, in which he navigates queer boyhood, addiction, and appropriation; and Ta-Nehisi Coates's The Water Dancer, a surreal masterpiece. Each of these works makes me question the status quo and consider the cyclical behaviors of our nation, the effects they have on our everyday lives, and how language and time can be bent in the telling and retelling of stories.
Where do you get your books? Library? Bookstore? Amazon?
I've actually never ordered anything from Amazon. Most of my books come from libraries, bookstores, and classrooms, or I get them as gifts or friendly recommendations. I'm diligent about supporting local and community bookshops as a means of fighting gentrification. Recently, I've been honored with the task of blurbing and reviewing the work of my contemporaries. So a lot of books also come to me courtesy of the publisher.
What's a book that made you cry?
The Kite Runner.
What's your favorite work of feminist nonfiction?
Thick and Other Essays by Tressie McMillan Cottom is a must-read. I've attended institutions of higher learning where I've experienced racism and sexism and was forced to combat various inequities on a daily basis. McMillan Cottom's approach is rigorous, analytical, intersectional and extremely accessible. The personal experiences that she describes resonated with me deeply. Thick addresses the tensions between popular and academic takes on the lives of Black women in America.
What's your favorite novel of the last two years?
I am all about YA right now, and, honestly, there are just too many amazing projects to have a single favorite. I loved Long Way Down by Jason Reynolds (and anything else his mind creates), and everything from Elizabeth Acevedo, who makes room for my students to smile and laugh and hear themselves and love themselves and take up space that they didn't know existed. These writers are telling stories that ring true for my students, challenging their ideas around violence, vengeance, independence, heritage and the meaning of survival.
What is a book that changed your life?
The BreakBeat Poets Vol. 2: Black Girl Magic, which was edited by legends Mahogany L. Browne, Idrissa Simmonds, and Jamila Woods. The anthology features some of the greatest and most daring feminist writers and contemporary Black women geniuses. It gives breath, energy and a platform to so many amazing voices from groups that are often silenced. Black girls, women, trans women, and GNC folks are absolutely magic and worthy of all praise. We are not a monolith. We are here. We are writing. We are teaching. On a personal level, this book put me in spaces I may never have otherwise entered. Visibility is a key component in my work and mission. Being published in this anthology was both affirming and inspiring for this Black butch woman from the Bronx.
What book are you confident recommending to anyone?
DAMN. by Kendrick Lamar. It's not a book, but it could be (if you simply printed out the lyrics and bound the pages). That album earned Kendrick a Pulitzer and solidified his spot as one of the greatest storytellers of all time. The work speaks for itself. Listen to it. Read it. Honor it.
What do you read to relax?
I have been dog-earing and paperclipping Bobby Hundreds's This is Not a T-Shirt for a few months now. I've always had a passion for fashion, and there are so many gems within those pages about perseverance in the face of doubt and building community through culture. But when I'm really, really, really trying to relax, I love to read knock-knock jokes and little-known facts. They're the best space fillers for those awkward moments between poems during a reading.
Roya Marsh is a Bronx native and a nationally recognized poet/ performer/educator/activist. She is the Poet in residence at Urban Word NYC and works feverishly toward LGBTQIA justice and dismantling white supremacy. Marsh's work has been featured in Poetry, Flypaper Magazine, Frontier Poetry, Village Voice, Nylon, The Huffington Post, Button Poetry, Def Jam's All Def Digital, Lexus Verses and Flow, NBC, BET, and The BreakBeat Poets Vol 2: Black Girl Magic.