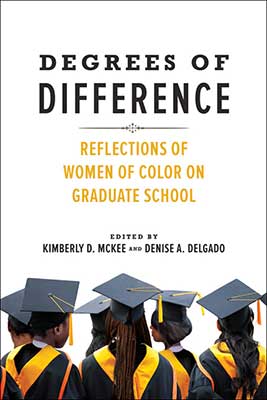 Degrees of Difference: Reflections of Women of Color on Graduate School
Edited by Kimberly D. McKee and Denise A. Delgado
Reviewed by Carolyn Choi
Women of color constitute less than ten percent of full-time faculty across universities in the United States. While faculty, staff, and student-led demonstrations, combined with consciousness-raising movements like #MeToo and #CiteBlackWomen, are making visible the systemic injustice that indigenous women and women of color (the book uses the acronym IWWOC) in the academy face, the experiences of IWWOC graduate students remain still marginal to these discussions. Microaggressions and racism in academia do not materialize upon gaining an academic job; they occur much earlier, often at the beginning of our graduate education. Within white institutions, IWWOC and queer students sit within a complex and uneven web of power structures and relationships. Our futures are beholden to the whims of our advisors and committee members, many of whom are unaware of their racial and gender biases. Meanwhile, our labor as instructors, research assistants, and administrative staff largely goes unacknowledged.
Degrees of Difference, a collection of eight firstperson narratives of women of color in the academy, gives space to these rarely heard stories. Editors Kimberly D. McKee and Denise A. Delgado met as graduate students at Ohio State University and bonded over sharing strategies for surviving. A successful panel they produced at the 2015 National Women's Studies Association meeting convinced them that IWWOC needed a book that would prepare them for the unique challenges they'd face in graduate school. The editors see the book "as a tool for women of color doctoral and master 's students" as well as those just contemplating entering the academy to share in the knowledge of self-care, building solidarity, accessing pipeline programs, establishing mentorship, and creating lasting ties with communities and families. Degrees of Difference contributes to larger conversations about the systemic violence and injustice women of color face in higher education and works towards creating strategies for transformative change within and beyond the Ivory Tower.
Stories in this book are situated within the chronic failure of "diversity initiatives" in universities and departments to meaningfully confront the intersectional experiences that impact nonwhite women graduate students. Within neoliberal academic workplaces, commitments to diversity and inclusion have often served as mere illusive optics that ignore problems of racial wealth gaps within departments and university workplaces while exploiting those who have benefited from such programs by perpetuating notions of minority tokenism. This scenario played out frequently during my own graduate school career, starting even before applying to graduate school, when a male professor man-splained to me that "sociologists don't like activists" and to "play it down." In grad school, I was part of student efforts to bring attention to the low numbers of Black and other minority students in doctoral programs at the university to expose institutionalized practices of racism and discrimination. The administration responded by increasing "diversity enrollment" via international students, many of whom were accepted with government funding to study abroad. By ignoring the issues that students of color and IWWOC brought to the table, the university signaled its refusal to make reparations for a long history of racism, continue its whitewashing, and undermined the efforts of faculty and students of color for racial justice and the eradication of gender bias.
As a remedy, one of the important themes of this book is to encourage women of color graduate students to embrace different aspects and intersections of our identity and become our "whole selves." Women of color graduate students are often told that to be successful academics they need to give up a portion of themselves—whether that means changing the way we look or dress or giving up the idea of children before tenure. Many of the stories in this book share the struggles of women of color in higher education having to choose between our families, communities, and careers. Carrie Simpson highlights the multitude of (often submissive) roles that women of color pursuing education are expected to play: dutiful daughters, sacrificing sisters and mothers, and Arated academics. Confronted with a dominant culture that is only willing to accept tamed and onedimensional versions of ourselves, women of color graduate students are not only forced to relinquish parts of their "whole selves" for their careers but to normalize these "superwoman tendencies"—what Soha Youssef describes in Arabic as sett bmit ragel, meaning "a woman as good as 100 men."
In her chapter, Youssef introduces this Arabic phrase to critique the dominant tendency of normalizing, even idolizing, women who seem to "do it all." In challenging patriarchal perceptions, Youssef, who is an international student, does not trade one culture for another in pursuing her educational dreams but preserves her whole self: she situates her educational moves as part of the larger women's rights struggle in the Middle East while contesting the gaze of white faculty in her department. Youssef includes a fascinating discussion of being encouraged to dress more formally than her white peers. She writes:
The professor—a white woman, probably in her fifties—provided us with the typical advice that teaching students have to dress professionally on our teaching days…. She confirmed that women of color, like me, [needed to overdress] to overcompensate for our skin color…. For me, and probably for the other two women of color in the classroom, our professor 's response meant extra work for us.
Dressing in white or western camouflage is further examined by Regina Emily Idoate's essay about being asked to hide Native American cultural regalia at her PhD graduation. Idoate was wearing a stole (a Western academic tradition) with the insignia of her Native American Studies program and reflecting sacred Indigenous colors when she was told by an administrator to take it off during the ceremony. Although she acquiesces at first, the author stands up for the right to represent her "whole self" during this important moment in her life—and to honor the biography that inspired her to pursue a PhD in indigenous public health in the first place. Regaining control over our image is a powerful way to steer the narrative as IWWOC.
These battles are fought not just at the institutional level but within the private confines of our intimate lives, as Carrie Simpson's chapter, which shares her experience of having children in graduate school, illustrates. Many women of color enter graduate school during prime childbearing years, but they do not qualify for paid or unpaid leave under the Family and Medical Leave Act. These gendered structural inequalities of the workplace are exacerbated at home, where women are inundated by the "second" even "third shift." Taking an intersectional approach, Simpson delineates how men of color are often implicated in the compounding of women's powerlessness and oppression by upholding patriarchal, gendered structures within the home. Acknowledging the difficulty in navigating the unevenly gendered structures of intimacy she offers helpful strategies— such as letting go of cultural expectations to be the main caretaker of children or negotiating a more equitable co-parenting system with partners. Renegotiating expectations and responsibilities are key to creating a sustainable support system as graduate students, mothers, and partners.
Delia Fernández draws from her own experiences as a former McNair Scholar (a federally funded initiative to increase underrepresented students in academia) to outline a framework for cultivating our own supportive spaces by finding mentors, building friendships with people with shared backgrounds, and carving out time for ourselves. Building a community of women of color scholars becomes a challenge when institutional structures do not exist. This point is nowhere more poignant than in Délice Mugabo and Jenny Heijun Wills's chapter. In it, they describe the power of a no-need-to-say-why connection between women graduate students of color, in their case, manifested in the form of a much-needed hug. These kinds of real connections allow women of color graduate students to sustain their day-to-day lives under oppressive conditions.
But a hug is more than a temporary support— these friendships serve as the building blocks for forming strong academic communities that can sustain the hard work of decolonizing the academy. In the same essay, Mugabo walks us through her experience in co-founding the Black Intellectuals' Reading Group in Montréal as a supportive space for mentorship, community building, and emotional and cultural support for students of radical Black studies. In the absence of critical race studies programs in Canada, the formation of this group becomes a transformative moment in establishing a home base for Critical Ethnic Studies and Black Studies but also starting the process of writing into existence the erased legacy of settler colonialism and slavery in the telling of French-Canadian "history."
The erasure of the histories and struggles of communities of color, however, does not just happen within the context of white academic institutions. Unfortunately, this also happens within progressive movements, many of which resist transformative change, and requires reflexivity among us. Aeriel A. Ashlee's essay addresses the omission of Asian Americans in scholarship, examining systemic racism within the academy. Linking this omission to the perpetuation of the model minority myth, which portrays Asian Americans as a homogenously "well-off" racial group, she argues that this tendency redacts the long history of Asian American racism. Although Asian American women make up less than one percent of PhD graduates in higher education, Ashlee points out Asian Americans are often excluded from IWWOC scholarship, "dangerously contribut[ing] to the erasure of Asian Americans' racialized experiences as people of color." These internal divisions are not just found in the US context but across transnational lines. Wills's work sheds light on the violence that occurs when US Ethnic Studies narratives conflate histories to establish racial consciousness on campuses in Canada in the name of a united front of "Continental North American Ethnic Studies." Despite shared experiences of marginalization, the author underscores the reflexive need to decenter the US-dominant narrative of ethnic and racialized experiences in foregrounding the distinct history of the Canadian Ethnic Studies struggle.
While powerfully framing the need for introspection from the larger scholars of color network and community, this book emphasizes the critical and transformative role of self-care. As Audre Lorde has written, "Caring for myself is not self-indulgence, it is … an act of political warfare." In her essay, Arianna Taboada describes racial battle fatigue as a daily grind in the struggle to "navigat[e] spaces in higher education where subtle institutional racism and microaggressions are constant and unrelenting." This includes being subject to triggering remarks from racist faculty and grappling with the imperial roots of our respective disciplines. In addition to finding community and carving out time for our personal lives, medical student (now doctor) Nwadiog Ejiogu reminds us in her chapter to put our health and well-being first and simply survive. This means preparing our loved ones for the demands of graduate school, picking our battles in addressing inequalities in the classroom, and anticipating demeaning remarks from faculty and creating a self-care plan for that eventuality. Ejiogu counsels activist women of color not to be afraid to see a therapist, because "survival is resistance."
Ejiogu's tips came at a good time for me, a woman of color entering the last year of my PhD program. After more than five years of non-stop fighting—for our right to unionize on campus, for the rights of graduate students of color unfairly dismissed from our program, for a safe healthcare environment free of predators—I was depleted, hollow to the point that I wanted to give up. If not for my friends, fellow graduate students of color, I wouldn't have made it. Being able to connect with other women of color graduate students through this book has, in many ways, renewed my strength and passion for doing this work. The book reinforced the truth that women of color must put ourselves first and survive. In a time of confusion and countless disappointments, Degrees of Difference guided me to embrace my "feminist killjoy" (as Sara Ahmed puts it) and stay true to myself—no matter what.
Carolyn Choi is a PhD candidate in sociology at the University of Southern California specializing in education, gender, and globalization. She has published in Sexualities, International Migration Review, and Global Networks. She is also co-author of the feminist children's book IntersectionAllies: We Make Room for All.