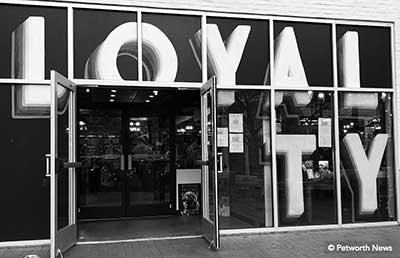 Interview with Hannah Oliver Depp, owner of Loyalty bookstore, D.C. and Silver Springs
By Jennifer Baumgardner and Jacqueline Zeisloft
After two months working with Jennifer on the Women's Review of Books, we took a trip. We drove from New York City to Nashville, visiting as many independent bookstores in Virginia, North Carolina and Tennessee as we could. Our destination was a conference in La Vergne, Tennessee but the journey itself was the star. Through casual in-person meetings with nine independent book sellers, we gained insights into the critical role of independent bookstores in local communities and publishing at large.
Publishers and authors generally love collaborating with indie bookstores. Most stores have personable staff, quiet spaces, and some even have cute cafes or furry friends that greet you at the door. Despite being a huge fan of indie bookstores myself, I had to wonder: how do they survive in a consumer landscape driven by e-commerce and huge markdowns on Amazon?
Hannah Oliver Depp's Loyalty bookstore in D.C. was our first stop—and she had a lot to tell us. Depp's D.C. book expertise is deep: she grew up nearby in Elkton, Maryland, received her Master 's in literature from American University in D.C., and she got her first job working at the famed Politics and Prose. There she climbed the ranks from bookseller to managerial roles. She moved North and served as the communications director at Word Bookstores in Brooklyn and Jersey City for three years before heading back home last year to open Loyalty Bookstores.
Depp's aptitude for leadership and exceptional accomplishments (she's in her mid-thirties) make her well-known among indie booksellers, as we found out on our trip. Eliot Berger, owner of The Regulator Bookshop in Durham (North Carolina) described her as "a force of nature." The next day, in Asheville, Malaprop's Justin Souther predicted that Hannah Oliver Depp will be "running the American Booksellers Association one day." Depp puts books into customers' hands every day (thanks, Hannah!) and she fights to keep the doors of her shop open for the benefit of a neighborhood subject to increasing gentrification. On a sunny Monday in November, we spoke with Depp about the responsibilities of being a bookseller.
—Jacqueline Zeisloft
"So, yes, I am asking you to pay $28 for a book. But in exchange I am going to create a welcoming, beautiful space for you. I'm going to host as many free events as I can. I'm going to make sure that you know that this space is a place you can come to have hard conversations and it'll be safe."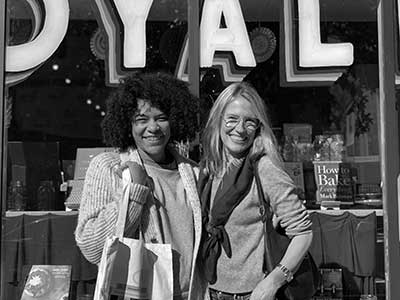 Hannah Oliver Depp and WRB's Jennifer Baumgardner out side of Loyalty bookstore, Washington D.C.
Jennifer Baumgardner:
You've worked at a lot of indie bookstores, including Politics and Prose, Word, and now opening up Loyalty in two locations. What is the role of the bookstore in democratic society?
Hannah Oliver Depp:
It's actually a fairly tense one because bookstores are private businesses. Some owners say, "We are just a general bookstore. We don't have an opinion." For me, I don't know why you would work this hard to have a bookstore without an opinion. It's so hard to run a small business. It's so hard to work in books at any part of the book chain.
JB: You mean an opinion about how to build community?
HOD: Yes, how to build community and a point of view of the store. There are stores that are fully mission-based bookstores. Some are nonprofits and some have a nonprofit wing, or they are just like, "Hey, we have a mission statement." Loyalty is entirely focused on the community it is loyal to, the community that helped create it. That's part of what's behind the name.
There are very few community gathering spaces left in America. Loyalty is a space where the doors are open a certain amount of times regularly, where you can come in without buying anything and engage in hard conversations. We are here for our community and we believe in hosting as many free events as possible, whether funny book events or cool children's readings. We have all sorts of different events because we appeal to all different parts of our neighborhood. We have to understand the image we are projecting out to people. We are creating a safe, welcoming place for our community to have conversations about gentrification or black D.C. culture. People who haven't felt traditionally welcomed in bookstores see who's working behind the counter and know that this is a place where they are welcome. They see it in the books that are face-out on the shelf.
Creating a space for conversation is very difficult, and so is functioning as a capitalist business. And that's the hard part about bookstores. That's the hard conversation we have with our community. We aren't getting discounts on books and we are going to be featuring a lot of small presses. We can't charge what big box stores and Amazon charge because books are a loss leader for them as they sell everything on the planet. We just sell books. So, yes, I am asking you to pay $28 for a book. But in exchange I am going to create a welcoming, beautiful space for you. I'm going to host as many free events as I can. I'm going to make sure that you know that this space is a place you can come to have hard conversations and it'll be safe. At the end of the day, if you don't occasionally buy a hardcover book, this bookstore is going to go away. Bookstores are different than a library or any place that can get a lot of grants or things like that. We do tread an interesting line. This is first and foremost a retail business, yet it's a retail business with a purpose.
JB: What does it mean when a vibrant neighborhood doesn't have a bookstore?
HOD: It almost always means that rent is too high. The landlord would rather have empty buildings than someone paying below market rent. The market to rent is inflated by huge corporations moving into smaller communities for the "look" of an intimate neighborhood, because that's what is in style right now.
JB: Real estate companies are selling neighborhood authenticity to people who can afford high rent, but it's your labor that creates that vibe.
HOD: Yes. Bookstores are often the anchor businesses in neighborhood revitalizations. A smart landlord sees it is better to lose a little rent on that building and have the whole neighborhood become vibrant due to the work of the bookstore—but you have to explain that to them and not all of them care. When your lease is up, they might want to push you out because they have got those other businesses now, but an independent bookstore is an investment in the overall neighborhood.
Similarly, communities have to understand that if they want a store, they have to shop there. We had an awesome Women in Business Panel for Women's History Month last year. Almost all of the businesses on the street are owned by women, so there were seventeen of us sitting on the panel. People were really moved to support the store and saying things like: "How can we help you stay open? What can we do? Should we start a fund?" I'm like, all you actually have to do is come in and spend money. Capitalism is pretty straightforward. If you come shop, we will probably stay in business.
We've sort of broken commerce. We think that the only way to keep a business alive is to have a GoFundMe—but actually, all you need to do is shop here.
JB: Even if you think of a book while you are on the bus and you have the Amazon app, wait until you can shop at the store.
HOD: Or text, call, or DM us on Twitter! Or shop on the website. I do not have an app, which is something independents are working on, but we do have websites, and most of us have social media platforms.
JB: What books this past year have surprised you, sold well, or really spoken to what you are doing?
HOD: I'm basking in the golden age of children's literature and literature in translation, which are now big sellers in indie stores. People aren't scared of short stories or autofiction. They want something different. I have been doing this full-time for ten years. I watched the change from people who felt like they had to know what they wanted when they came or it was going to be embarrassing to now when they say "recommend something interesting to me," or "here's a show I watch," or "this is what I'm missing."
For those customers, a small but powerful book like Convenience Store Woman [by Sayaka Murata, translated by Ginny Tapley Takemori, reviewed in WRB July / August 2018] is great. I love hand-selling that book. Nothing happens in that novel at all, but people love it—it moves people. Same with Lucy Ellman's Ducks, Newburyport. It's this ballsy experiment the likes of which we haven't seen in a long time, though I don't know how many people are actually finishing it. You stack up ten copies of that on a table and you're thinking, "Wow, that might've been a mistake." But, over the weekend, we sold eight of them. We are a small store, so if we're selling eight, imagine what Harvard, Politics and Prose, and the Strand are doing. It just makes me very happy.
With children's books, I hated reading African American literature as a kid and young student because it was just slave narrative, slave narrative, slave narrative. If you were like me and in a book, you were a slave. But now kids get to have sci-fi adventures. Kids are detectives. They are falling in love, getting heartbroken, being gay, or being a penguin!
JB: It's so true. Harriet Tubman is a hero and has not been given her due— yet in schools it's as if Harriet Tubman is the only black woman to have ever existed.
HOD: Harriet Tubman and Rosa Parks, with no one in between them. Yes, I love the stories of real-life women that we're learning about nowadays, and also that book, If Your Monster Won't Go to Bed, by Denise Vega. Or how in Harriet Gets Carried Away [by Jessie Sima], she has two dads but it's never mentioned. It's not the conflict or the story. It's just life. It's nice that we have books that get into the conflict of bias or when it's hard or when it's exciting even—but it's when we have books where it's not a big deal that the breadth of experiences starts to appear.
Jason Reynolds's bestselling Look Both Ways, for instance, is just a portrait of a kid wandering up and down his neighborhood, all the aunties telling him to go home or saying, "Oh no, you're chewing gum and you shouldn't be!" This is a common kid experience in D.C.—but not one I see in books too often.
You walk into a store like mine and you'll think diverse books is the norm. It's more that I've created a space where we can envision this as the norm someday. The overall stats are dire as hell. Only two percent of children's lit features an Asian American protagonist, for instance. In an independent bookstore, those special books are going to be faced out and hand-sold, but I think it's important to know that they are in the store because we have carefully chosen them and spent a long time talking about the need for them. My sales reps know that I am going to ask about the percentages of their list. When you get a HarperCollins or Penguin Random House rep, going through literally thousands of titles, their six picks of the list might be diverse authors, which is so exciting—but it is only six out of a thousand. I have to fight to get author events because there are only six of these books. There needs to be six hundred books by diverse authors. There is a wide breadth of experience being had, and we need everyone's experience out there.
Jennifer Baumgardner is the editor of the Women's Review of Books. Jacqueline Zeisloft is a WRB editorial assistant and a writer.