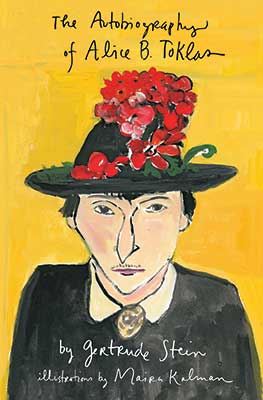 The Autobiography of Alice B. Toklas Illustrated
By Gertrude Stein; illustrations by Maira Kalman Interview by Tahneer Oksman
Maira Kalman does not have fans; she has super-fans. Her artistic oeuvre is difficult to pin down because she has produced so many kinds of works—paintings, books, children's books, exhibitions, operas—for so many types of venues. Perhaps you might recognize her bright and bold New Yorker covers. (One such illustration, titled "In full bloom," from March 19, 2018, features an elegant woman wearing a black dress with a big black sash and holding a tiny white poodle; an outlandishly outsized, bright pink hat covers the top half of the page from margin to margin, the woman's eyes and the eyes of her stylish masculine companion mysteriously hidden.) Perhaps you might recognize her New York Times blog-turned-book, And the Pursuit of Happiness. (It's an investigation of American history and politics with many unexpected digressions—from a mouthwatering illustration of lemon layer cake and a snapshot of a rainy New York City sidewalk to numerous aphoristic tidbits, characteristic Kalman-isms, like, "And anyway, everyone has to be sad part of the time; otherwise, you would be insane.") Kalman has illustrated Strunk and White's The Elements of Style, which, with composer Nico Muhly, she later transformed into an opera. She has illustrated and co-written, with food writer Barbara Scott- Goodman, a 2018 cookbook, simply titled, Cake. In short, in the domains of visual art, narrative storytelling, style, whimsy, appetite, and design, there's not much that Kalman has not, at some point or another, consummately mined.
Her latest project is The Autobiography of Alice B. Toklas Illustrated. The original book, published by Gertrude Stein in 1933, is commonly considered the prolific poet, art collector, and writer 's most accessible one, and it enjoyed commercial success early on. Written, winkingly, with Stein's life partner, Alice B. Toklas, as narrator, the book is divided into seven sections and chronicles the women's lives in Paris before, and after, World War I. Huge portions of the volume are devoted to depicting the women's interactions—many meals, walks, and talks—with Modernist greats (mostly men), from Picasso, Matisse, and Apollinaire to Hemingway, Gris, and Pound. Written in Stein's steadfastly thorough, often deadpan style, the book has always been a pleasure for so many to read, undoubtedly because Stein paints such a vivid picture of, well, a life built in and around pictures. "Gertrude Stein, in her work, has always been possessed by the intellectual passion for exactitude in the description of inner and outer reality," writes Stein-as-Toklas in The Autobiography. Reading the book with Kalman's gorgeous pictures embedded throughout—there are dozens of fullpage, vividly-colored illustrations, adapted directly from Stein's words—is a startling experience. The images keep steady pace with The Autobiography, refreshing and recalibrating scenes to great effect. In a way, Kalman's illustrations gently loosen the gears that keep Stein's prose turning. The effect is both subtle, and deeply moving.
Kalman, who was born in Tel Aviv, Israel, has lived in New York City since the age of four. We spoke in her apartment in Manhattan one morning in late 2019.
Women's Review of Books: I want to start by talking about your recent exhibition, Sara Berman's Closet, which you collaborated on with your son, Alex Kalman. I saw it in 2017 at the Metropolitan Museum of Art, and you also adapted it into a 2018 book. Could you describe how this unusual project, inspired by your mother, came about?
Maira Kalman: We adored my mother; she was an enchanting woman. After she left my father, she lived in a small studio apartment on Horatio Street. She had a room of her own. In it was a pristine closet, to put it mildly, of only white clothing.
When she died, I stood in her apartment thinking we should keep everything as it is, like a museum. But that was impractical, so we put it all in storage. Ten years later, when my son opened his Mmuseumm [a tiny museum located in lower Manhattan], we recreated and installed the closet. It was housed in a grungy alleyway, and it was visible twenty-four seven.
Later, a curator from the Met came and said they wanted to install it in the American Wing, to tell a new kind of story, a different kind of story. It became a story of feminism, identity, fashion, love, and immigration. It came to embody many different histories.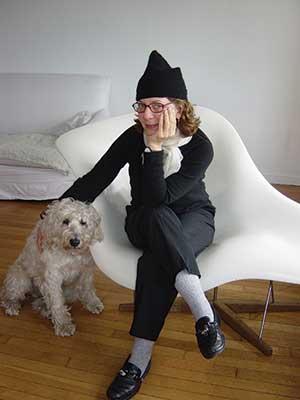 WRB: Your mother died in 2004. Do you think of Sara Berman's Closet—the exhibition or the book—as connected to your grieving process?
MK: Alex and I often talk about how it's not meant to be sentimental, and it's not meant as a memorial. We adored her, but this is conceptual. It's still emotional, but it's not meant as a tribute. We were interested in creating an image that might resonate in different ways.
WRB: You work in many modes, and you're so prolific. How do you decide what you're going to do next?
MK: It's all instinct; there's nothing esoteric about it. If something is interesting, and the person is interesting, that's fantastic. It's also a question of, how much can I take on? And then there are all kinds of things that grow out of things.
WRB: A lot of people—often women—have trouble saying no. Do you?
MK: I used to, but now I delight in saying no. I say it really quickly. It used to come with a page of excuses. Now, it's, "Thank you so much, but I can't do it. All the best." You have to edit your life as you get older. You have to get to the point, and not be afraid to hurt people's feelings.
WRB: I've heard you speak in interviews about your work as a kind of compulsion, as something you want to take more breaks from, but also as a consolation or comfort. Could you talk a bit about your relationship to work?
MK: To be occupied with something you love is the greatest gift anybody can have. To do your work can keep you, literally, from going mad. But the texture of it changes as you get older. And the delight in not working can be a nice counterpoint to working. I think I always know that I have work, and if I didn't know that I would be frightened and sad. But to know that you have work, and to be able to say, "Now, this month I'm going to go through the gardens of England." You have to know what the balance of things should be.
WRB: I read somewhere that you look over the obituaries every morning.
MK: Absolutely. I haven't opened the paper yet, but it's waiting for me today.
WRB: What do you think draws you to them?
MK: They're phenomenal narratives of how important it is to do whatever it is you need to do with your time. Each trajectory is vastly different, and it's not about success by any means. It's about living.
WRB: What attracted you to this new project, The Autobiography of Alice B. Toklas Illustrated?
MK: I was once asked to illustrate another one of Stein's books, but it wasn't the right time. Then I was talking to my agent later on, and she said, you're always talking about The Autobiography; somehow, it always manages to come up in conversations with you.
Sometimes you hear the right sentence at the right time, and you say, of course. I plunged into it, and I couldn't have been happier. As I say in the afterword, I was loathe to leave the girls. I was loathe to leave their life, with all of the complexities and all of the contradictions.
This time period attracts me tremendously. I've painted it in many previous projects. I insert paintings of real photographs from the '20s and '30s quite often in my work. This era was rich with the most inventive, beautiful, smart, extraordinary people. And obviously Matisse is a big influence on me, and Bonnard. It's a pleasure to look at the photographs of them and see the world they're in. What more could you ask for beyond Paris in the '30s? There's a wealth of imagery.
WRB: Would you talk about your process of selecting what you would turn into illustrations. Sometimes it felt like what would be illustrated was fairly obvious—the richly imagistic sentences and scenes. But more often, especially as I got absorbed in the book, the illustrations came as surprises.
MK: The process is pragmatic and also lyrical. First, I went through the book and wrote down every single person mentioned. And then I started doing photo research and asking myself, "OK. Who is interesting? Who looks interesting?" And then, of course, there were many other archival photos to choose from. Finally, I asked myself, "How much art can this text hold?" I considered the pacing of it, the sense of, "Now, it's nice to have a painting; now, it's not nice."
Then I made little sketches on 5-by-7 notecards. And I kept shifting, and shifting, and shifting, and eliminating. And finding a better image. Or deciding, this isn't working.
This happened many more times when we were working on it digitally, and with a designer, and with Penguin Press. When everything is digitized, you can work and shift and look at it forever. Which we did.
WRB: What other sort of research went into the making of the project?
MK: I travelled. I went to their house and their apartment—to so many of the places mentioned in the book. Sissinghurst [in Kent, England], where Vita Sackville-West lived. Vanessa Bell's home, and Alice and Gertrude's house, Bilignin [in a small village close to Lyon, France], and their apartment at 27 rue de Fleurus [in Paris].
I also looked at a million photos, which I adore doing, and I got a million books about Gertrude. I looked at Alice's cookbooks, and I read Janet Malcolm's Two Lives: Gertrude and Alice. And then I just researched all the other tendrils, the people; they knew everybody.
Part of my process was of going through the book and underlining certain things. For example, I went through the paperback and underlined every time she wrote, "Gertrude Stein." She wrote her own name about 600 times in this short book. It's so telling.
WRB: Stein was such a complicated person, as you mentioned. Were there moments, in doing the project, where you felt put off by her?
MK: Often. She had a falling out with everybody. Her version of the history is—well, who knows? Lots of artists and writers, including Matisse and others, rejected what she wrote and said it was nonsense. Of course, every memoir has parts that are somewhat made up—there's no such thing as the exact or complete truth.
But it doesn't matter, because this is the story she is telling. And ego is part of it. Her colossal ego is what would allow her to have the kind of life she had.
The book is essentially about the force of a woman, the unapologetic force of her personality, and how she forged this life, together with Alice.
WRB: In addition to the time they were living through, and the people they interacted with, what do you think makes the relationship between Gertrude and Alice so singular and compelling?
MK: Stein and Toklas were able to make this domestic relationship extraordinary without having to be crazy artists. They were grounded, domestic, social, and structured and ordered. They never spent a night apart from each other the entire time they were together.
WRB: Did you ever think about how Stein might react to her book—to her book with Alice—being published with your illustrations?
MK: [Laughs.] I know Stein would have had a strong reaction. I'm going to say, I think she would have liked it.
WRB: I think so too.
MK: This is my love letter to them.
Tahneer Oksman is an associate professor at Marymount Manhattan College, the author of "How Come Boys Get to Keep Their Noses?": Women and Jewish American Identity in Contemporary Graphic Memoirs (Columbia University Press, 2016), and the co-editor of the anthology, The Comics of Julie Doucet and Gabrielle Bell: A Place Inside Yourself (University Press of Mississippi, 2019). She often reviews graphic novels and illustrated works for the Women's Review of Books. You can follow her on Twitter @TahneerO.