Photography by Maryam Ashrafi
Commentary By Ellen Feldman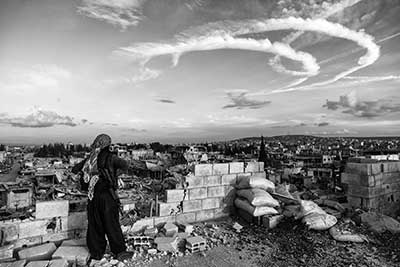 After the 2015 liberation of Kobane, Judi, a member of the YPJ (Women's Protection Units), looks over the battle-scarred streets and says, "My fellow fighters who lost their lives during the battle will never be forgotten."Photographs that speak eloquently to the human condition in war-torn regions encourage us to respond with empathy and compassion. Documentary photographers, unlike text journalists with more time to reflect and analyze, capture life as it is experienced in the moment.
Maryam Ashrafi, an independent Paris-based Iranian social documentary photographer, shot these images in Kurdish regions of northern Syria (Kobane and Raqqa), and northern Iraq (Sinjar). Her book on contemporary Kurdish life, Rising Amongst Ruins, Dancing Amidst Bullets (Hemeria Press), is forthcoming fall 2020.
Since 2013, Ashrafi has been an engaged observer of Kurdish resistance fighters, particularly women warriors. As Ashrafi has written, "In the heart of the Middle East, a region plagued by religious fundamentalism and tyranny, where women are known to be almost invisible in political and social activities, a Kurdish political and social movement has emerged in which women play a substantial role in decision-making in their societies as well as in politics and the military."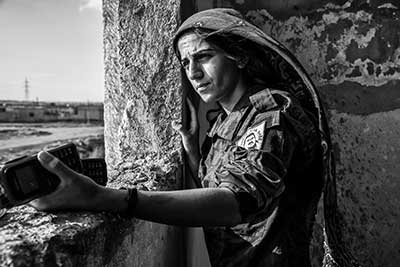 In Raqqa, another day, another battle to face. This fighter sends a warning by walkie-talkie about nearby ISIS action.Ashrafi doesn't record the horrors of battle, but traces of war are everywhere in her photos: a weapon leaning against a wall near a resting woman, a village turned to rubble, boys playing next to roadside graves, a wounded girl awaiting medical treatment. She photographs fighters and civilians finding moments to rest, to play, to laugh, and yes, even to weep. But in these moments, too, war intrudes. This is conveyed in the photograph of two men sparring across the volleyball net. Ashrafi's caption explains that these Kurdish fighters "stayed [in Sinjar after its liberation] to protect the city from further attack by ISIS." The threat of attack is not made explicit in the image, but Ashrafi's artistic decisions add more than a hint of peril. Her lowangle perspective magnifies the power of two men engaged in a kind of hand-to-hand combat; it also lowers the horizon line so that the vast stormy sky intensifies the sense of turmoil.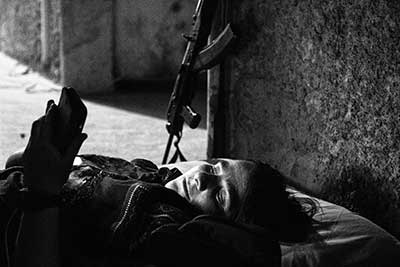 Resting between duties as the operation's logistics commander, Tekoshin checks the map of Raqqa on her phone.For her photographs of women mourning, Ashrafi uses a wide-angle lens to get us close enough to see their griefstricken expressions and gestures. A shovel filling the grave signals the cause of their distress.
Empathy can provoke momentous change; consider Ashrafi's work in the tradition of Lewis Hine's photographs of children working in coal mines, which influenced the passage of child labor laws. But even without such dramatic impact, photographs can move us to pay more attention or, better yet, rouse us to action.
Ellen Feldman, WRB's photography editor, is a photographer, curator, and book artist. Her most recent publication is We Who March: Photographs and Reflections on the Women's March, January 21, 2017. Websites: www.ellenfeldman.net and www.WeWho March.org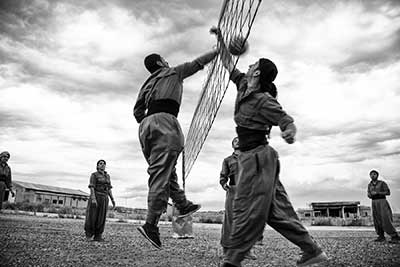 When they have downtime, Kurdish fighters in Sinjar play volleyball.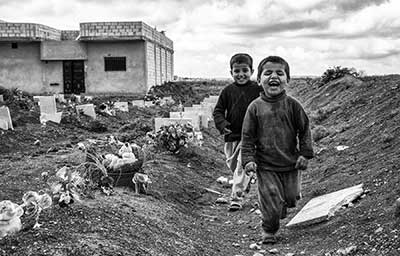 Children play in a temporary cemetery, created road-side to bury Kurdish fighters in Kabane until their bodies can be safely moved.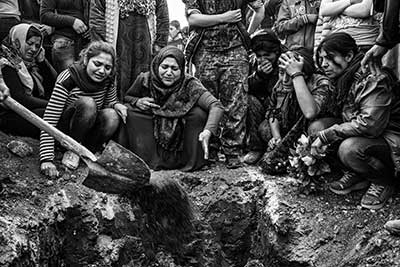 Women mourn at the grave of Ageri, a Kurdish female fighter killed during clashes with ISIS in the Eastern frontline of Kobane Canton. (April 2015)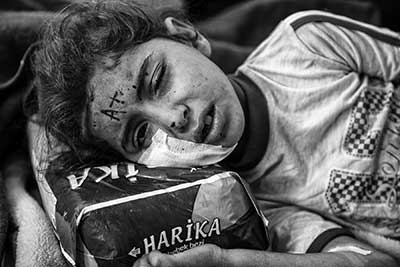 During the Raqqa operation, many families fled their homes for refugee camps, risking injury from exploding IEDs. This girl waits to be treated in the hospital; the A+ on her forehead marks her blood type.
Photos © Maryam Ashrafi, from Kobane, northern Syria (April 2015); Raqqa, northern Syria (May–June 2017); and Sinjar, northern Iraq (2016). For further information, visit http://maryamashrafi.com and Instagram: @maryamashrafi