Minor Feelings: An Asian American Reckoning By Cathy Park Hong
Reviewed by Jisu Kim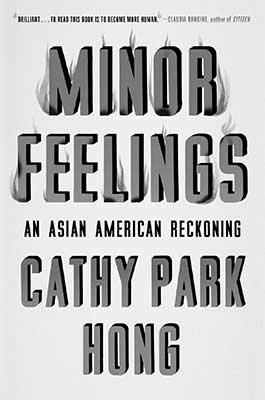 It's cringe-worthy for me to imagine describing a book by saying that I can relate to it deeply. I pride myself on being the kind of reader that insists books are more than something to be related to, and that readers should push themselves to feel alienated and decentered by their reading experience. When I find something as intimately familiar as Minor Feelings: An Asian American Reckoning, it's certainly validating—but then, just as quickly, it's uncomfortable and a bit embarrassing. Do I like this book for its literary merit (which it certainly has), or because it speaks to my identity and experience? I am resistant to enjoying the book, because I am worried that being obsessed with identity is a juvenile trait. Cathy Park Hong recounts feeling similarly as a graduate student of poetry at the Iowa Writers' Workshop. Her original anxiety is exacerbated by a classmate's anonymous and racist bullying. She internalizes the anxiety, and it emerges as selferasure and condescension toward other "too ethnicky" poetry. "It was made clear to me that the subject of Asian identity itself was insufficient and inadequate unless it was paired with a meatier subject, like capitalism," Hong writes. Asian American poetry is not enough to warrant serious consideration—especially as a model minority "next in line to be white."
"… this confusion, guilt, and overwhelming feeling that Asian American presence is somehow not enough—certainly not white enough, but not racialized enough either—is central to what Hong describes as 'minor feelings.'"
as intimately familiar as Minor Feelings: An Asian American Reckoning, it's certainly validating—but then, just as quickly, it's uncomfortable and a bit embarrassing. Do I like this book for its literary merit (which it certainly has), or because it speaks to my identity and experience? I am resistant to enjoying the book, because I am worried that being obsessed with identity is a juvenile trait. Cathy Park Hong recounts feeling similarly as a graduate student of poetry at the Iowa Writers' Workshop. Her original anxiety is exacerbated by a classmate's anonymous and racist bullying. She internalizes the anxiety, and it emerges as selferasure and condescension toward other "too ethnicky" poetry. "It was made clear to me that the subject of Asian identity itself was insufficient and inadequate unless it was paired with a meatier subject, like capitalism," Hong writes. Asian American poetry is not enough to warrant serious consideration—especially as a model minority "next in line to be white."
Hong is the award-winning author of three poetry collections, a professor at Rutgers, and the poetry editor of The New Republic. I first encountered her work in an undergraduate Asian American literature course. The professor, while fantastic, was reluctantly teaching the class at the insistence of the administration. She had originally been hired to teach Asian American literature but had veered into classes on literary theory; the administration, annoyed they had hired an Asian American professor who then mostly taught erudite French philosophy, asked that she please teach one minority literature class a semester.
Her 2011 collection Engine Empire fascinated me as part of a syllabus of Asian American classics from the 1980s that dealt mostly with shame, struggle, and the ghost of history. It wasn't that Engine Empire didn't have those things, but it had an excitingly different setting than the rest: the Wild Wild West of 1800s California. At first I thought, seeing the name on the cover, that this story about an outlaw orphan wasn't personal. Then I read the book, and thought perhaps Hong's poetry was about identity after all, except identity filtered through a mythological past and using surreal violence as a metaphor for 1990s immigrant Los Angeles. Either way, Engine Empire was like no other Asian American text I had ever been given by a teacher; those mostly embarrassed me, even when I liked them.
In her new book, this confusion, guilt, and overwhelming feeling that Asian American presence is somehow not enough—certainly not white enough, but not racialized enough either—is central to what Hong describes as "minor feelings." Minor feelings are an uneasy range of emotions, "built from the sediments of everyday racial experience and the irritant of having one's perception of reality constantly questioned or dismissed." In slippery ways, this looks like the opposite of blatant prejudice. These minor feelings are elusive and make the subject wonder, dazedly, if they've imagined this microaggression or that racist comment. They are generated not by huge societal upheavals but by the everyday rhythm of structural oppression. They are never allowed to rise to a fever pitch—the subject is told things are not really bad enough—and instead restrained into a "static of cognitive dissonance" by forced optimism and contradiction. Like in cases where a poet doesn't feel their life is interesting enough to warrant poetry, the racism of minor feelings walks hand-inhand with internalized self-loathing, the logic of assimilation, and constant psychic exhaustion.
Minor Feelings weaves together personal immigrant narrative and historical anecdote into a collection of thoughtful essays, simmering in quiet rage. I use the word "quiet" uneasily because I have no desire to cast yet another Asian American text as subdued, but the strength of this collection lies precisely in the fact that the book avoids reading like a manifesto. Hong's rage comes off as quiet not because it has less presence, but because it allows itself to be diverted and filtered through a variety of histories, perspectives, and future considerations.
Overall, the best parts of Minor Feelings occur when Hong sidesteps whiteness or white people as the central lens with which to explore race. Of course, when she breaks down the selfcongratulatory myth of white innocence or the insidious, invisible alliance between misogyny and racism, we are incensed. The feeling is satisfying. But it is very familiar.
On the other hand, Hong's use of Richard Pryor (in a chapter called "Stand Up") to both complicate and inspire her poetic process is much more interesting than when she details the injustices of her white colleagues. Pryor's brazen comedy offers no easy place for Hong to situate herself as a listener—as an Asian American woman, where does she fall on the black/white binary of his performance? But it challenges her to take the "shock of recognition" at Pryor 's emotional condition and think through it into an analysis deeper than simple recognition or alienation. While there are faceless, nameless white people in the story—in the theater seats, at the poetry reading— the story centers on Hong's working through her identity as Asian American poet through Pryor's performance of racial trauma.
"Bad English" and "An Education" also push whiteness to the side, examining Hong's experience by refracting the experience through other nonwhite cultures, nations, languages, and individuals. Of course, to some extent it is impossible to ignore whiteness's looming presence—but by focusing less on its obvious face, Hong succeeds in making clearer its invisible violence while celebrating other histories.
This is exactly what happens in "Bad English," where Hong begins by unraveling her childhood in Southern California. Hong's first example of multicultural creole is not politically motivated in the least—she describes a moody Korean-American teenager, the kind she went to church with, yelling, "Fuck him! Opa's an asshole." Yet its banality is exactly what makes it so delightful. In this essay, Hong weaves together different instances of mixedup English, exploring what it means to borrow words and stories from other groups. The resulting vernacular pokes holes in the idea of fluency. It's not always intentional, and it can be problematic. But in all of these instances—edgy teenagers, guileless t-shirts, and postcolonial poets—what happens to language is that people
queer it, twerk it, hack it, Calibanize it, other it by hijacking English and warping it to a fugitive tongue. To other English is to make audible the imperial power sewn into the language, to slit English open so its dark histories slide out.
Using bad English is not always an act of resistance, but the practice does buck ideas of cultural purity and resist reductive notions of appropriation. Hong situates a wide array of nonwhite, mostly immigrant subjects in haphazard relation to each other, often engaging in casual discrimination toward other minority groups. In wrestling with the effects and consequences of speaking like, for, and near other people, she asks how we might contend with the potential for harm without demanding sterilization or bland oneness. Hong cannot offer an answer, though, because there are too many questions.
"An Education" is haunted by whiteness in the form of assimilation, fetishism, and self-loathing, among others. The story follows the toxic but lifechanging foundational friendship Hong has with two other Asian American women at Oberlin College, as they furiously navigate their artistic ambitions and each other. The women validate and affirm each other 's art—and more importantly, their individual identities as artists—in a world that, beyond graduation, will not take them seriously. Charting her adolescent highs and lows, Hong succeeds in conveying the simultaneous ecstasy and despair fostered by codependent female friendship. Some might question what purpose a personal story serves in a collection that is, ultimately, political if creative nonfiction. But it's by using this intimate snapshot that Hong is able to chew on some of the prickly complexities—raised as questions in other chapters—around privilege, bitterness, and joy.
Throughout the book, when speaking from personal experience, Hong carefully considers what it means to face racism when one is viewed as a mostly harmless model minority, especially when one does not read as Muslim or trans. She thus punctuates grief and resentment with unanswerable questions and honest doubt, ignoring the temptation to fall into an easy accusation with faulty categories: everyone like me, versus everyone else. Asian America was conceived of in the 1960s, inspired by radical movements of the decade, but it has largely failed to continuously organize around its early goals. Rather than fostering a state of consciousness actively seeking emancipation, Hong argues that contemporary Asian American existence is ruled by a soft panopticon, "so subtle that it's internalized." An example is the film Crazy Rich Asians, touted as a triumph of representation, which demands not liberation but rather asks viewers to celebrate capitalism as retribution for racism. Rather than pushing against it as an oppressive system, it calls for Asian Americans to celebrate imperial and global capitalism—the very same system that imprisoned Japanese citizens in internment camps, set Vietnam ablaze, and let Los Angeles crumble, all the while encouraging minorities to blame each other for the violence.
In the face of this uncertain legacy, it only feels right that Hong should end some of her most declarative statements with a series of questions. She eagerly considers the idea of we as a future possibility, but she's also unsure whether or not she's a worthy wielder of the first-person plural. This seems a fitting stance for an Asian American, when the adjective seems to engulf so many experiences that makes no sense as a collective. As of now, Hong finds she can only answer by considering the actions of others—by letting her questions travel through history, collecting information and being shaped by an endless series of logical conclusions that have no ending. Minor Feelings doesn't read like an answer to, or even a declarative thesis on, Asian America. Instead, it reads like a probing new beginning. Propelled by minor feelings, itching and dissatisfied, this is a reckoning that has only just begun.
Jisu Kim is the senior marketing and sales manager at the Feminist Press. She is a graduate of Sarah Lawrence College, and now lives in Brooklyn.