Crying in H Mart: A Memoir By Michelle Zauner
Reviewed by Ariel Kim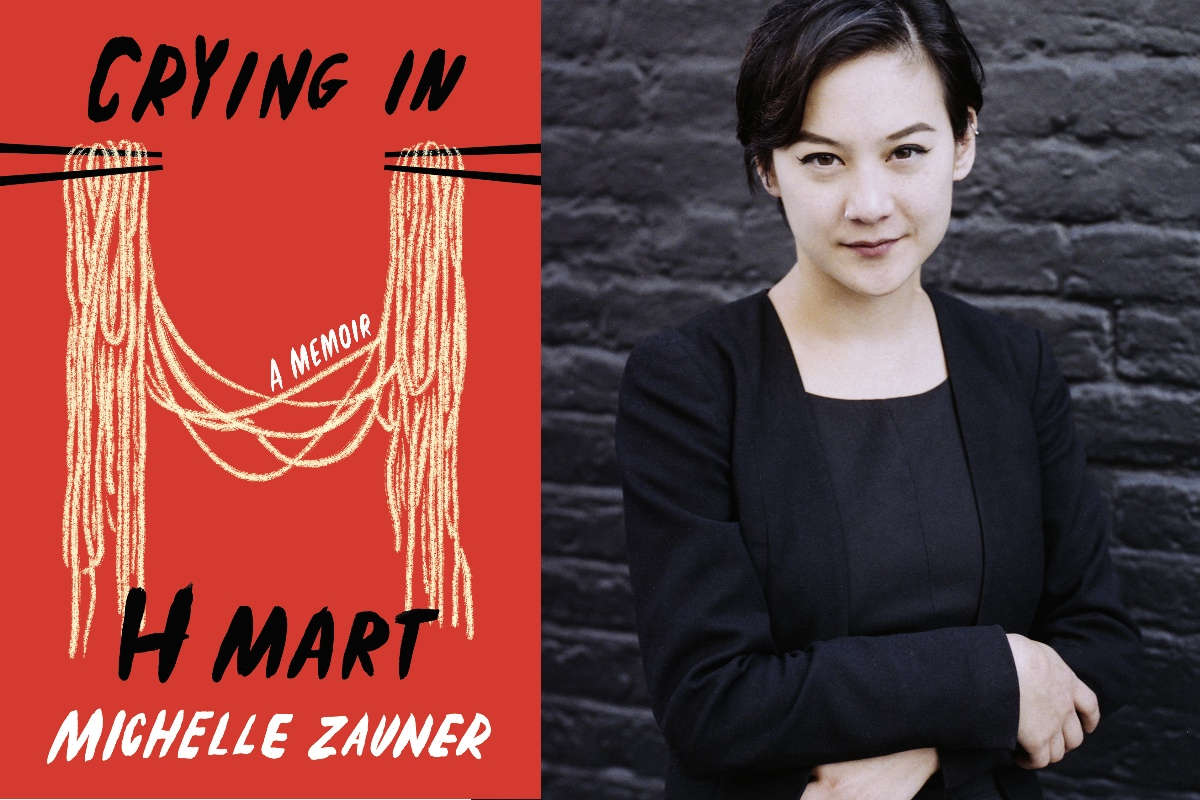 In a metacognitive episode of NPR's Code Switch, co-hosts Shereen Marisol Meraji and Gene Demby discuss the functional and frustrating phenomenon of the "explanatory comma"—a brief aside that gives context for a word, idea, or person. Depending on the audience and the subject matter, an explanatory comma can be the difference between observing the scene through a window and being invited inside to participate. Every artist, author, or journalist makes their own choices about explication and creative purpose, but people of color, in particular, often find themselves wrestling with a simultaneous reluctance and compulsion to include these explanatory asides about aspects of their respective cultures, since an omission might come at the expense of a larger audience—or worse, clarity and resonance.
But no audience is a monolith, and sometimes it's impossible to articulate the significance of kimchi or Nirvana. Either you get it, or you don't. Michelle Zauner embodies this "take it or leave it" approach in her new memoir, Crying in H Mart. From the growing pains of her "flimsy version of young adulthood" to "the pain I'd keep with me for a lifetime" after her mother's battle with terminal cancer, Zauner chronicles the cultural and emotional pilgrimage of growing up in Eugene, Oregon, with a Caucasian father and a Korean mother. She adeptly navigates the sharp curve of an explanatory comma, offering her story first, a crash course in Korean cuisine and the noughties music scene second. Crying in H Mart is a coming-of-age narrative as much as it is a reflection on loss and grief; of seeking or spectating or stumbling upon your cultural identity in a defunct, boiling-over melting pot.
This is the story of a Korean mother and her half-Korean daughter.
Her style is a cheeky cross between the charming and laidback ethnographic candor of John Jeremiah Sullivan and the vivid yet accessible emotional frequency of Amy Tan—although even as I make that analogy, I cringe apologetically and look to the Asian American women whose voices and faces are on the rise within the "mainstream," thankful that we are gaining more breadth and depth of representation in all genres, from literature to film to music. Indeed, although the titular essay of her memoir was previously published to great acclaim in The New Yorker in 2018, Zauner is probably better known as Japanese Breakfast, her indie rock solo project. She is one of the few Asian American women in the rock music scene, and the dulcet-yet-danceable songs have been rising in popularity since her first album, Psychopomp, in 2016.
Her writing, like her music, is a quietly urgent meditation on the enormity of the mundane: "My mother died on October 18, 2014, a date I'm always forgetting." She favors long and lingering visual descriptions, from the "Korean restaurants that pack the table so full of banchan side dishes that you're forced to play a never-ending game of horizontal Jenga with twelve tiny plates of stir-fried anchovies, stuffed cucumbers, and pickled everything" to the sprawling greenery of her family's woodsy outpost in the Pacific Northwest. In the first few chapters, these numerous and occasionally rambling recitations of the particulars of her biracial upbringing construct the tentative trajectory of her life and personality, which her mother's cancer diagnosis would abruptly derail.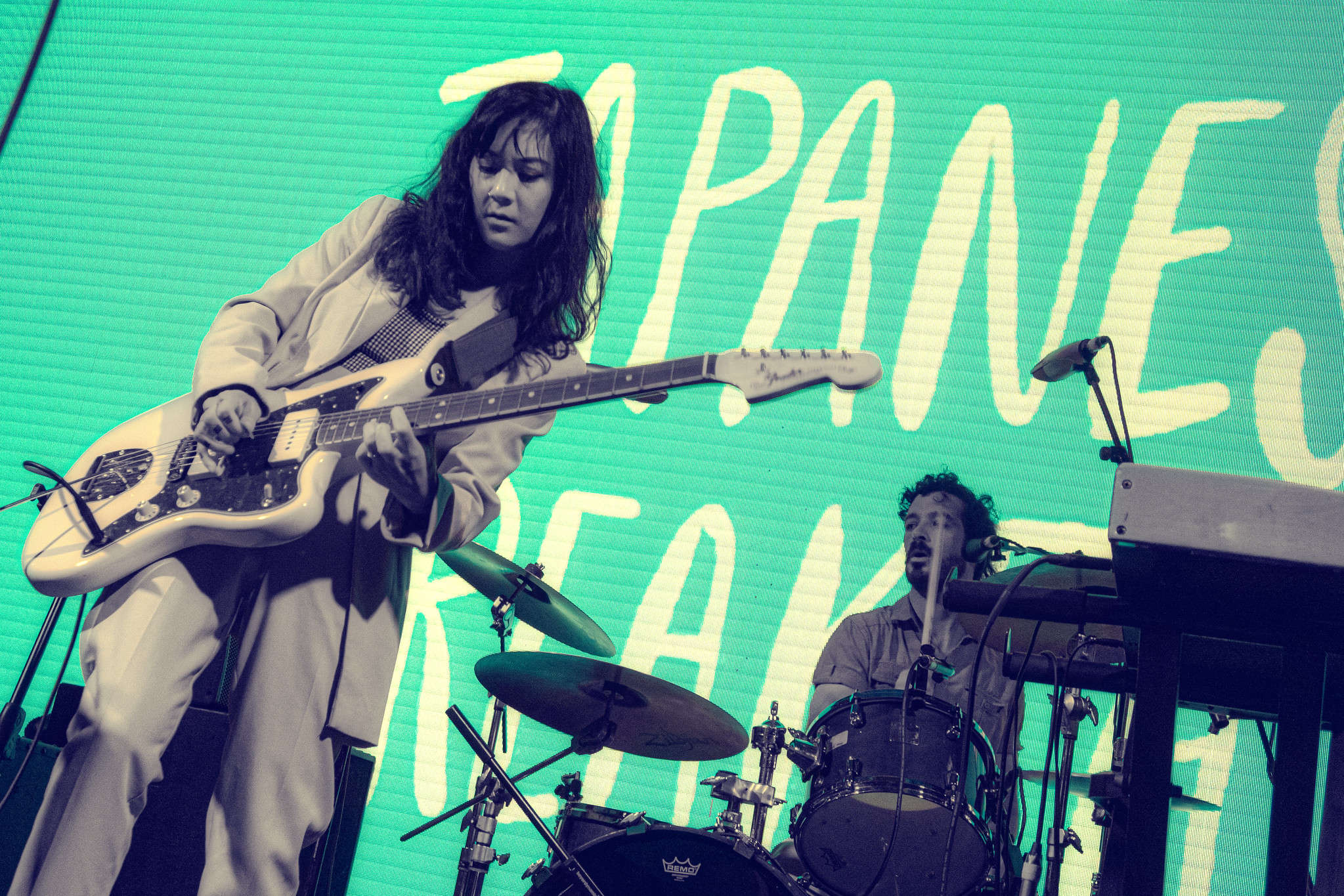 Zauner performing as Japanese Breakfast in 2019. Photo credits: David LeeZauner also shares sumptuous anecdotes that illustrate her "distinctly Korean appetite," and her "reverence for good food" is contagious. In one memory, she and her mother sneak into the kitchen of her grandmother's tiny apartment in Seoul at night, where they would "giggle and shush each other as we ate ganjang gejang with our fingers, sucking salty, rich, custardy raw crab from its shell, prodding the meat from its crevices with our tongues." But these decadent sentences are striking for more than their mouthwatering detail—Zauner's use of the phonetic anglicization of myriad Korean foods speaks to a level of unapologetic comfort with her Korean language and culture. Although she gives enough context that a discerning reader can glean her meaning, it is always for the purpose of descriptive evocation, rather than mere explanation.
In subsequent chapters, we dive into Zauner's reflections on the "auspicious privilege and … smothering consequences" of her mother's devotion, particularly during her fraught adolescence and estranged early twenties. She and her mother begin to drift apart, exacerbated by the "complicated desire for whiteness" that runs parallel to her desire to be accepted by her Korean relatives. Her middle name, Chongmi, is also her mother's name, but she pretends not to have one because she hates how her peers mispronounce it. When she complains to her mother about being the only Korean girl at school, her mother's blank stare and uncomplicated response only intensify her lack of belonging. "But you're not Korean. You're American."
When she later insists on pursuing songwriting and music production, against her mother's wishes, they have an explosive argument in a Korean restaurant. Her mother sees no future for Zauner doing "this weird thing," and doesn't understand that the uncharted waters of the music industry are empowering, rather than discouraging. But while Zauner might gesture to the significance of diverse representation in indie rock, psychological terms like "scarcity mentality" are not her primary concern. After storming out of the restaurant, Zauner lingers on the image of her mother retreating to the car and "using the mirror from the sun flap to pick the gochugaru from her teeth with the folded corner of a receipt. She was waiting for me to stop her—to chase her and beg for forgiveness. But I would not give in." This is the story of a Korean mother and her half-Korean daughter.
As Zauner shifts to tell the story of her mother's battle with stage IV squamous-cell carcinoma, she maintains this plainspoken and musing voice. She doesn't attempt to be elevated or detached, rarely imposing any interpretations or justifications for her actions. She simply presents them as they happened, awash in sentiment and immersed in the emotional maturity of that given moment. It feels as if she is bustling around her kitchen, telling you about how she just planned her impromptu wedding while sitting on the fire escape of a Seoul hospital, where her mother was delirious and bedridden after their failed attempt at a final vacation. Instead of attempting to achieve perfect prose, Crying in H Mart reads like an intimate archive of these moments—every scene could have happened just yesterday, for how raw and accessible they are in Zauner's recollection. She writes not as someone who found ways to transcend her sorrow, but rather as someone who found herself crushed by it.
In the final chapters, as Zauner coaxes herself through the aftermath of her mother's passing by reclaiming the rituals and rhythms of Korean food, the through lines of banchan side dishes, jjigaes, and jatjuk also facilitate an ongoing commemoration of culture. "Every dish I cooked exhumed a memory. Every scent and taste brought me back for a moment to an unravaged home." She makes her own kimchi for the first time—an enormous yet mundane task—sitting on the kitchen floor surrounded by bowls of bright red marinade, napa cabbage, and chonggak radishes. With vivid and barefaced detail, Crying in H Mart challenges the necessity of explanatory commas—we are invited to share in her grief, even if we've never tasted kimchi or lost a mother.
Rather than being overwrought or self-indulgent, Zauner compares the path ahead of her, the future without her mother, to the process of fermentation, which she had mistakenly believed was "controlled death. Left alone, a head of cabbage molds and decomposes. It becomes rotten, inedible. But when brined and stored, the course of its decay is altered … It ages. Its color and texture transmute. Its flavor becomes tarter, more pungent. It exists in time and transforms. So it is not quite controlled death, because it enjoys a new life altogether." By the end of her memoir, Zauner has transformed into the woman we know: accomplished essayist, successful indie rock musician, committed foodie and proud Korean American … the woman who her mother never got to see.
Ariel Kim is a recent graduate of Harvard University, where she studied English and Global Health and Health Policy. Her interests include education, social justice, and creative writing.