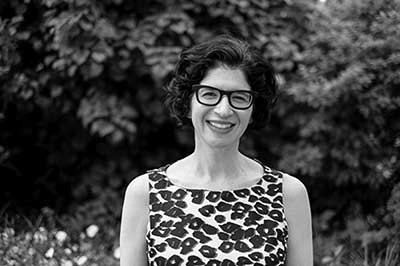 An essay by Leora Tanenbaum
Book collections are my pornography. I'm not interested in individual titles—anyone can pretend they're reading Zadie Smith. What makes my pulse race is the ways in which people arrange their books. The care of the arrangement reveals the depth of the book collector as well as the ineffable character of the books themselves. During this pandemic, we now have the ability to scan—without the slightest shame—the book collections of Cate Blanchett, Stacey Abrams, and Prince Charles along with those of public health experts, political analysts, and social justice advocates. The visibility of print books has arrived at just the right time. With a president whose favorite books are the ones ghostwritten for him and is a self-proclaimed genius, our souls need to see books more than ever before.
Before the powerful resurgence of the Black Lives Matter movement, the news was depressingly the same every day for two months. For me, it was the book collections on display that added texture to that blur. Most celebrities, pundits, and experts display their titles in the usual position—spines out, lined up vertically. But some audaciously pile their books horizontally. Others arrange their books promiscuously, fitting them in at any angle wherever there's a space. Some books have jackets; others are naked in cloth alone. The money shot is getting to see the contours of the bookcase itself—is the back covered, or is it open to the wall behind it? Freestanding or wall-mounted? Wood or laminate? Blonde, cherry, or walnut? If I knew you better, I would tell you which one I favor.
A tall, dark, and handsome bookcase supporting rows and rows of books is a sign of someone who takes knowledge and language seriously—a person with a rich interior life, who thinks deeply before taking action, who considers the effect their words have on other people. The irreverent filmmaker John Waters has said, "If you go home with someone and they don't have books, don't [spend the night with] them." (He said it more succinctly.) A person who doesn't read books, Waters suggests, isn't someone you would want to connect with, even for one evening. A person without books lacks character. The physicality of print books is what's important because print books are similar to people. When the book collector unpacks his library, wrote German Jewish philosopher Walter Benjamin in 1931, he experiences "a dialectical tension between the poles of disorder and order." The "disorder of crates"—the collector's books jostling with each other in jumbled chaos, different genres packed together—gives way to the "mild boredom of order" as books similar to each other—in subject matter, height, or another taxonomy—are lined up in straight, uniform rows. The symmetry of books lined up is beautiful, but only when something is askew—books on patriarchal religion next to those on feminism, or the price sticker from the local independent bookstore remained fixed to occasional spines.
Bookcases create a structure, a community, for books that otherwise would be solitary and perhaps overlooked. Out-of-print books are placed alongside bestsellers. When books huddle together, we can see their patterns. We see that books reveal stories of people unlike ourselves who live in ways not so different from our own, and stories of people exactly like ourselves who make choices that never would occur to us.
So, those of you interviewed on news programs or joining routine work video calls who choose to situate yourself with a backdrop of books: You are, in your way, everyday heroes to me and other book-lovers. You are covertly demonstrating the need to evaluate facts and lifting up the truth to be found in expertise. At this moment when elected leaders reject science, fail to heed history, and do not open themselves to empathy, your lens shows us what we need to see. Amid our current crises, reading books from beginning to end, sentence by sentence, committed to the experience of transformation and trusting the author to lead us to be and do better, is a radical act.
Leora Tanenbaum is the author of five books, most recently I Am Not a Slut: Slut-Shaming in the Age of the Internet. She is the editorial director of Catalyst.