Girl Gurl Grrrl: On Womanhood and Belonging in the Age of Black Girl Magic By Kenya Hunt
Reviewed by Shirley Ngozi Nwangwa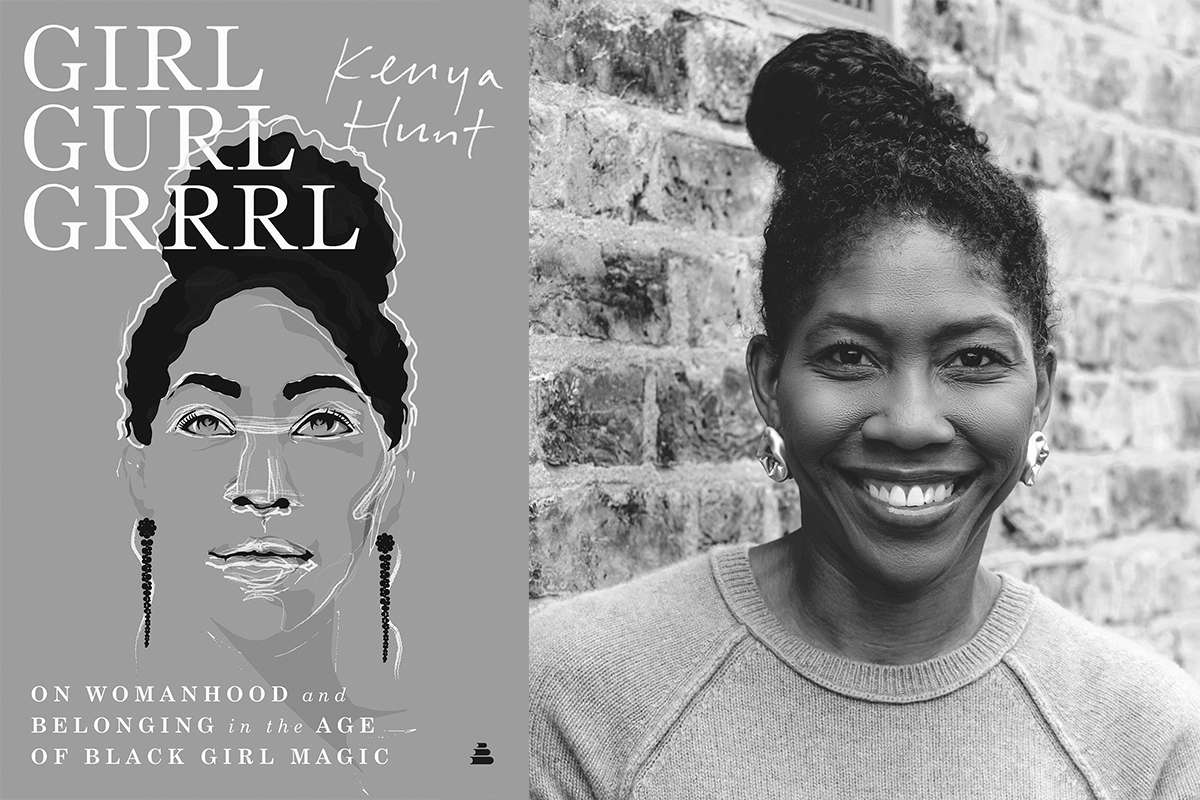 Looking back on 2020 feels like something we can finally do. As a Black, queer woman, it's hard not to think of the trash fire this year has been for people who look like me. The only progressive candidate really serious about drastically improving the material conditions of Black women lost the 2020 presidential primary. In the U.S.—where the average wealth (assets minus debts) of a single Black woman is only $200, compared to over $15,000 for a single white woman and $28,900 for a single white man—our president's denial of the severity of the pandemic and its economic consequences is slated to leave more and more marginalized Americans vulnerable to eviction (for which Black women are at the highest risk), hunger, and death. Even amidst a plague that continues to take our lives at alarmingly disproportionate rates, Black women showed up in the streets this summer, as daughters, sisters, mothers, aunties, cousins, friends in mourning of Breonna Taylor, Tony McDade, Nina Pop, George Floyd. We don't all go home to safety. Many of us join the battered and the dead at the hands of domestic partners, the police, or anyone else determined to snuff us out. Those of us who have survived and even thrived against these odds have been called many things: lucky, excellent, that bitch, bad bitch, magical. We are all of these things. We are also tired.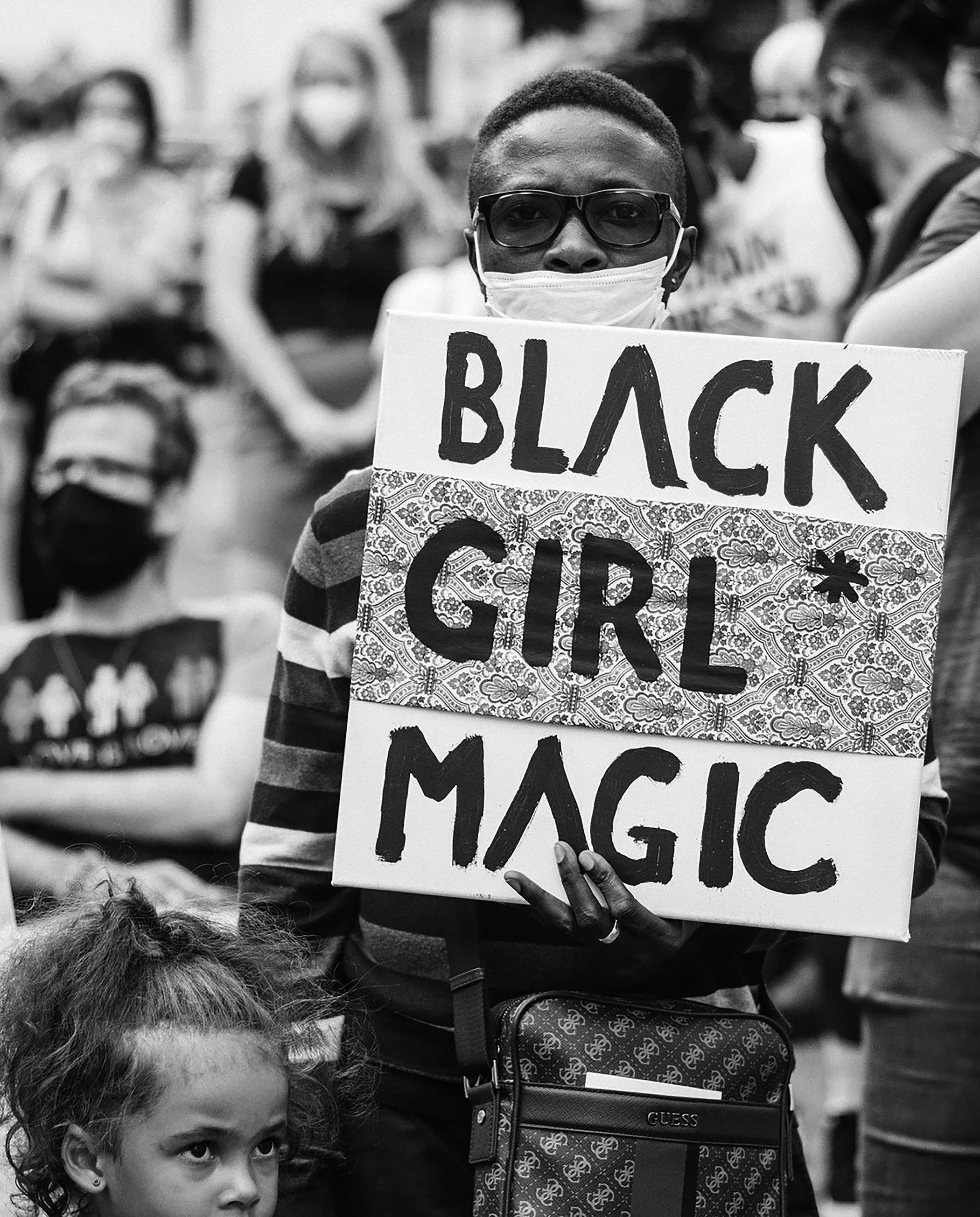 Woman with her child at Black Lives Matter Protest. Photo credit: Ivan Radic
Black women have always been the stewards of our own stories. Out of necessity and solidarity, we have done the hard and dangerous work of amplifying our voices along with those of other groups—including Black cis men and white women—who have neglected to reciprocate the gesture. Social media platforms like Twitter have seemingly democratized speech, protest, and outrage, creating fertile ground for discourse that has been historically silenced. Yet true freedom and equity for Black women is far off. In the meantime, autonomy will have to suffice. In our case, that means the ability to peer into a looking glass and see beauty and strength reflected back at us, to see the truth reflected back at us and to be able to say, I am a Black woman, I love myself, and no one gets to tell my story but me. In isolation, that looking glass could be the mirror and we could be talking to ourselves only. In the context of the greater world, as argued in Kenya Hunt's debut essay collection Girl Gurl Grrrl, that looking glass could show us BLM activist Patrisse Cullors, or actress Lupita Nyong'o in Black Panther, or the hashtag #BlackGirlsAreMagic and its many iterations on Black Twitter.
Hunt is a Black woman working as the fashion director for Grazia UK and living as an expat in London with her family. In Girl, her personal and career milestones testify to the love, truth, and heartbreak that make up the interconnectedness of Black womanhood. Any reader who is a Black woman will recognize threads of their own life story woven throughout Hunt's own. True to journalistic form, the writer does her homework, charting the evolution of cultural phenomena, at times quoting from interviews with cultural figures like CaShawn Thompson, the creator of the hashtag #BlackGirlsAreMagic. She reveals that the ubiquitous term "woke," a concept that was birthed offline by Black activist communities, in fact dates all the way back to the racial terror chronicled by abolitionist and journalist Ida B. Wells. The concept of "wokeness" is reiterated every time this country's racist past is shown to be rather present-day. It is a directive to be "perpetually attuned to discrimination," for the dual purposes of survival and pushing back against systemic racism. Moreover, Hunt drives forward the impact that historical context and the passage of time have had on the meaning of wokeness (some changes have come for the better and some for the worse), mixing philosophical waxing, sharp insights, and biting snark befitting your best girlfriends' group chat.
This relatability is a large part of why Girl is so captivating. A hilarious example is Hunt's recounting of IRL run-ins with the white nonsense that comes along with the commercialization, and thus dilution, of Blackness and Black womanhood. Take the words "girl," "gurl," and "grrrl," after which the writer named her book. These polymorphs were once primarily terms of endearment, forms of address, or proverbial head nods to fellow Black women, but now, as a result of the light-speed globalization of such rhetorical gems by way of the World Wide Web, "girl," etc. hits different. What Black woman has not encountered the "hipster racism" of the "Bearded White boys in flannel shirts" doling out "You go, girl" as if to say, Hey Black lady, I'm down, I speak the language. Even juicier are Hunt's horror stories from the circles she navigates in the fashion industry. Take the weirdness of "White gay men on the fashion party circuit who mistakenly thought their queerness excluded them from buying into cultural stereotypes and who caused me to stiffen with their awkward greeting, 'Hey, girl, I like your hair. Is it yours?'" Glimpses of Blackness and Black womanhood where there was previously a dearth of depictions cannot communicate a complete picture of who we are or what we are like. Life among non-Black people tends to reflect the Black image en vogue back at us, and so we must find ways to show each other truer images.
Reading Kenya Hunt's Girl, I felt like my circle of Black women had automatically increased; I felt less alone. This feeling was furthered by Hunt's curation of essays by other Black women within the collection, additional testimonies from corners of Black life and Black womanhood. Freddie Harrel's essay on the Black hair journey––to perm or not to perm; the ever versatile sew-in weave; the luxury of salon-styled braids––was a road map, every style and preference marking distinct stages in her life. I gasped and clutched my chest, remembering near identical internal battles of Should I or shouldn't I? Will a fro make me appear less professional at my workplace full of white people? Add that to the notes on grief, motherhood, and mental illness by Ebele Okobi, activism and African legacy by Jessica Horn, public and private identity by Candice-Carty Williams, and Black beauty by Funmi Fetto, and Hunt has presented you with new allies, friends, gurls.
Not every essay in Girl resonated with me. Many short chapters, dispersed throughout the book, are not much more than anecdotal journal entries. These segments hold meaning for the writer and add value to this product, whether through cuteness (anything surrounding Hunt's sweet son and his peculiar questions) or social justice commentary (the class implications of a fatal public housing complex fire) into which Hunt has poured some heartbreakingly personal and poignant material. What I appreciate the most about this book is the acknowledgement that, as much as Black women are connected by shared life experiences (which make us feel seen while reading this book), there exist divergences of being, thinking, acting, and believing in us that deserve a spotlight in equal measure. We bond across our similarities and differences and stand (or sit) for one another—from bad bitches who juggle the hustle with beauty regimens and fitness, to those who are chill, regular-degular, disabled, or hail from varying socioeconomic strati. There is room for all of us. If you don't see your story written, whether in Kenya Hunt's Girl Gurl Grrrl or elsewhere, please go write it.
Shirley Ngozi Nwangwa is a writer, actor, and creator living in Brooklyn, NY. She writes about race, gender, art, and politics and has bylines in New York Magazine, The Nation, Artforum, ARTnews, and others. She reviewed Bridgett M. Davis's The World According to Fannie Davis in the January 2019 issue of WRB.