By Amy Kesselman and Virginia Blaisdell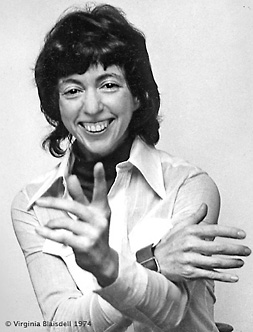 Naomi Weisstein was a multitalented, passionate, visionary feminist whose contributions to women's liberation encompassed an insightful critique of psychology, creation of the Chicago Women's Liberation Rock Band, and articles about science, music, comedy, and feminism. Naomi was a pivotal figure in the development of women's liberation, both nationally and in Chicago. As an experimental psychologist, she exposed the misogynist assumptions of psychologists in her path-breaking 1968 article "Kinder, Küche, Kirche as Scientific Law: Psychology Constructs the Female," which made a powerful argument for the effect of social expectations on women's experience.


In bed for thirty years with a severe case of a disease that has had many names but few treatments—chronic fatigue syndrome (CFS); myalgic encephalomyelitis (ME); and most recently systemic exertion intolerance disease (SEID)—Naomi battled heroically to keep herself engaged and productive. Information on the disease and its new name can be found here. Naomi died of a rapidly growing peritoneal ovarian cancer.
Virginia remembers:
The Tachistoscope Affair is what brought Naomi to New Haven in 1962. She was a second-year graduate student at Harvard, and her PhD research necessitated the use of a tachistoscope—a machine that flashes images for very brief times. Milliseconds. Harvard of course had one, but they wouldn't let her use it. She'd break it, they said. She admitted that was probably true, since the machines broke all the time. Yale, however, graciously (or perhaps competitively?) allowed her to use theirs, so she spent her research time in New Haven.

During her first year at Harvard she was appalled by the fifties-era dating rituals, which required the girls to wait demurely for the guys to ask them out. In what was probably one of her first feminist actions, Naomi organized a group of women graduate students to take notes on the quality of their dates. They then constructed a ranking order of date desirability (including the guys' names) and passed it around among themselves and to any other woman who was interested. All of a sudden they had the power: the guys wanted to improve their standing, and the women got to pick and choose and make the guys grovel.

Amy remembers:
I met Naomi in 1967 in Chicago, where we had both been involved in the radical movements of the period. After a movie we had an exciting conversation about the idea of agency in its various forms—Naomi in science, me in politics—both of us arguing against the idea of people as passive victims of circumstances. I was electrified by her brilliance. For more about our friendship and our political work in the Chicago Women's Liberation Movement go here. In the galvanizing discussions in the Westside group, an early women's liberation group in Chicago, Naomi's radicalism, her irreverence, and her belief in our ability to generate a new world pushed our thinking deeper and wider.

In 1969 members of various women's liberation groups in Chicago decided to form a city-wide organization to coordinate activities and help shape an independent women's movement. Not all radical women activists in Chicago agreed with this project, and we worried that our founding conference would be disrupted by people who believed we should work within the male-dominated left. Believing that we needed an activity that would bring women together, a group of us, including Naomi and me, set about researching material for a play about the history of women's resistance. The play began with Naomi and me dressed as witches, playing two different approaches to building a movement. Naomi was Witch #1, exuberant, inventive, and a bit wacky, and I was witch #2, humorless and a bit pompous:
Witch #1: I have an idea.

Witch #2: (turning around, walking away) Oh no, she has an idea.

Witch #1: (taps her on shoulder) Get the pot.

Witch #2: (wheels around) Get the what?

Witch #1: The pan, the cauldron. I'm going to throw in everything I hate, and then the revolution will happen.

Witch #2: Wait a minute. Wait a minute. Two steps backward, one step forward.

Witch #1: All right. (walks 2 steps backward, 1 step forward)

Witch #2: That's a metaphor.

We then threw various implements of women's oppression into a pot outfitted with a smoke bomb. After it detonated, members of the audience read quotations from women rebels from around the world and several centuries. At the end of the play, in response to shouts of "Who are you?" the two witches recited a litany (which Naomi wrote) that began.

"I am all women, I am every woman. Wherever women are suffering, I am there. Wherever women are struggling, I am there. Wherever women are fighting for their liberation, I am there."

After verses that described various feminist struggles, the litany ended

"And where there are women too beaten down to fight, I will be there; and we will take strength together. Everywhere. For we will have a new world, a just world, a world without oppression and degradation!" (See the full litany here).

Looking back, we developed an impressive collection of quotations, before the burgeoning of the field of women's history. The play worked. Everyone was crying and laughing at the end, and there was no disruption. Full script is here.

Virginia remembers:
Naomi brought her considerable musical and performance talents to her efforts to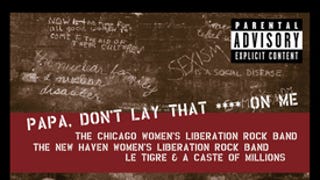 interrupt the sexist hippie rock and roll anthems of the various seventies liberation movements. "Every fourteen-year-old girl in America listens to rock," she said. "They want to hear rock music that doesn't degrade them." So she formed a band in Chicago, with women who tended to be more feminist than musical, but totally turned on to play rock nonetheless.

I visited her in Chicago and saw one of their early rehearsals, and I was turned on too. I went back to New Haven and found some women in our local feminist group who wanted to form a band. Naomi and I collaborated on everything about our bands: even our names were nearly the same: the Chicago Women's Liberation Rock Band and the New Haven Women's Liberation Rock Band. Names long enough to require a very big banner, we thought.

We also collaborated on figuring out our mission and how to convey it. Chicago outdid New Haven on performance, especially because Naomi was so good at presenting what the band was trying to do, in raps between the songs. I wouldn't exactly call our music "polished," but both bands succeeded in the area of Total Audience Involvement among the feminist and new left communities.

Amy remembers:
Naomi was an inspiring speaker who often brought audiences to their feet, as she mined her own experience with the entrenched misogyny of the scientific establishment. She described herself as "Naomi in wonderland, blunderland, plunderland," as she told the story of scientists trying to steal her work.


Virginia Remembers:
Even though I met Naomi the Serious Scientist, I came to know her as a hilarious, impish, adventurous, and deeply playful person. She loved Lenny Bruce's way of shredding the hypocrisies of convention. She even had dreams of becoming a stand-up comedian. It was her pursuit of destabilization—of scientific conventions, cultural orthodoxies, expectations of "femininity"— that made it so invigorating to be in her orbit.


Amy remembers:
A recent post on this blog by Laura Pappano exhorted readers to challenge the rape culture that nurtures sexual violence. Pappano describes the many ways women are faulted for "asking for it" by the way we dress and where we go. In 1974, Naomi evoked women's experience in a wildly funny but powerful comedy routine about rape, which she performed in several cities. How can one do a comedy routine about rape? Naomi did it! It was hilarious because it tapped in to the common experience of living with ever-present menace

"I'm walking down the street and, as usual, my head's a little bit to one side, because I won't look guys directly in the face or they'll think I want it, and I won't look down at their pants or they'll know I want it, so I'm looking at their necks."

The routine ends with a call to action to stop "a system that feeds itself on violence, on blood, on our blood." (See the entire routine, "Saturday night Special: Rape and Other Jokes.")

All of Naomi's work—her comedy, her music, her organizing—was infused with a vision of a radically transformed, just and generous world, which would be brought into being by the collective action of many groups fighting together for their liberation. Her death leaves a cavernous hole in our lives.

Naomi's papers are at the Schlesinger Library on the History of Women in America at the Radcliffe Institute. They provide a rich resource about her many interests and activities that we hope people will explore.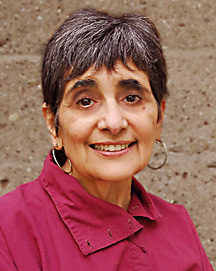 Amy Kesselman was involved with women's liberation in Chicago. She is an emerita professor from SUNY New Paltz, Women's, Gender, and Sexuality Studies Program, where she taught women's studies and women's history for 31 years. She is currently working on a book about feminist activism in New Haven, Connecticut from 1969 to 1977.


Virginia Blaisdell is a photographer and a graphic designer for UNITE HERE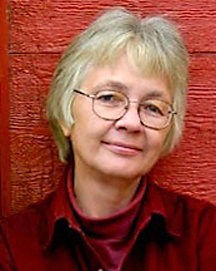 International Union. She was active in the New Haven women's liberation movement during the sixties and seventies and was a founding member of the New Haven Women's Liberation Rock Band and an editor of "Sister," a local feminist magazine.